Press Releases
Knitwear designer Sally Melville makes pattern drafting easy and accessible in Knitting Pattern Essentials
Adapting and Drafting Knitting Patterns for Great Knitwear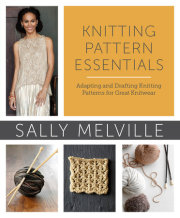 Sally Melville
Imprint: Potter Craft
On sale: March 26, 2013
Price: $24.99
Pages: 224
ISBN: 9780307965578
Contact:
Kim Small
212-572-6067
ksmall@randomhouse.com
Even the most advanced knitter has experienced the disappointment of coming to the end of a time-intensive project only to find that the finished product doesn't quite fit. Acclaimed instructor, author, and designer Sally Melville solves this problem in her new book KNITTING PATTERN ESSENTIALS: Adapting and Drafting Knitting Patterns for Great Knitwear (Potter Craft; on sale March 26, 2013; $24.99 paperback) by providing step-by-step guidance to adjusting any sweater pattern or creating one customized to your own measurements and body type. Knitters sometimes feel that pattern drafting is a complex skill that involves an in-depth knowledge of math. Mellville makes the process easy and accessible, breaking down each step and leading the reader through every calculation to ensure a proper fit for every new knitting project. Each element—from necklines to sleeves to finishing—is covered in detail. The garment elements can then be combined in an endless array of design possibilities. Melville even provides fixes for rescuing a project that doesn't turn out as expected. With 8 original patterns that beautifully illustrate the various shapes explored throughout the book, knitters will have all the tools they need to successfully adapt patterns and explore their own creative visions.
Whether you are an experienced stitcher or one working through a pattern for the first time, KNITTNG PATTERN ESSENTIALS is guaranteed to make you a more accomplished knitter!
About the Author:
SALLY MELVILLE is a widely published and highly sought after knitwear designer who every year teaches a dozen different workshops at more than 20 venues across North America. Her work has appeared in many magazines, from Vogue Knitting to Interweave Knits, and she is the author of five books, including Warm Knits, Cool Gifts, Mother-Daughter Knits, and the bestselling Knitting Experience series.
Related Posts: