Press Releases
Knitting Without Needles by Anne Weil
A Stylish Introduction to Finger and Arm Knitting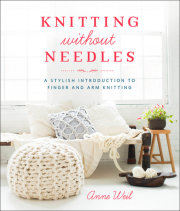 Anne Weil
Imprint: Potter Craft
On sale: September 1, 2015
Price: $19.99
Pages: 192
ISBN: 9780804186520
Contact:
Natasha Martin
212-782-8370
namartin@penguinrandomhouse.com
"This book is a must-have for anyone who wants to create something functional and beautiful from the heart without investing in expensive tools, endless supplies, or clunky machines. You only need your hands, some wool and the projects in this beautiful book. I'm not a knitter but after seeing the stunning photos of Anne's projects and reading her supportive words, I'm definitely giving Knitting Without Needles a try!"
—Holly Becker, author and founder of decor8blog.com
Drop your knitting needles and roll up your sleeves! Arm and finger knitting have taken the craft world by storm, and in Knitting Without Needles: A Stylish Introduction to Finger and Arm Knitting (Potter Craft; $19.99; on-sale 9/1/15), Anne Weil shares stylish patterns that are incredibly DIY-able, with easy-to-follow instructions and step-by-step photos that yield gorgeous and sophisticated results.
Your go-to resource for a revolutionary craft, Knitting Without Needles covers two popular techniques: Finger knitting, a form of weaving loops of yarn through one another on your hand to create long chains of knit fabric; and arm knitting, which uses your forearms to loop strands of yarn into chunky knits. These techniques are super easy and provide near-instant gratification. Imagine knitting a chunky scarf in just 45 minutes!
Complete beginners and experienced knitters alike can make the fabulous projects in Knitting Without Needles, from lavish home decor to stylish accessories you'll love to wear to fun projects to make with kids. All you need is yarn and your own two hands (literally) to create a cozy cabled blanket, a pom-pom trimmed hat, a pouf for your living room, tiny baby booties, and plenty of other must-have items.
ABOUT THE AUTHOR:
Anne Weil is a blogger and designer of craft, DIY, knit, and crochet patterns. She is a freelance contributor for MarthaStewart.com and her site is part of the "12 Months of Martha" team of bloggers selected by Martha Stewart's craft department. Her projects have been published on Design*Sponge, Design Mom, Apartment Therapy, Huffington Post, Real Simple, Mollie Makes, Pottery Barn's blog, Camille Styles, and more. She teaches knitting classes at local yarn stores, at craft workshop spaces, and at art retreats nationwide. You will also find her teaching online at Creativebug.com and at Craftsy.com. Visit her blog at www.flaxandtwine.com and follow her on Twitter, Instagram, and Pinterest as @flaxandtwine.
Related Posts: