Press Releases
Knitting in Circles by Nicky Epstein
100 Circular Patterns for Sweaters, Bags, Hats, Afghans, and More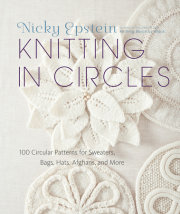 Nicky Epstein
Imprint: Potter Craft
On sale: August 21, 2012
Price: $29.99
Pages: 224
ISBN: 9780307587060
Contact:
Kim Small
212.572.6067
ksmall@randomhouse.com
Our universe is filled with circles: the earth, the moon, the sun, sewing and knitting circles, and of course circles of friends. In Nicky Epstein's latest book, KNITTING IN CIRCLES: 100 Circular Patterns for Sweaters, Bags, Hats, Afghans, and More (Potter Craft, on sale August 21, 2012, $29.99), Nicky boldly challenges how knitters think about making and using circular shapes to create stunning one-of-a-kind projects.
Nicky offers knitters more than 100 patterns for circles and circular shapes that can be used in 20 attention-grabbing projects for sweaters, dresses, bags, hats, afghans, and more. Each chapter focuses on a specific technique, from basics to ornate, colorwork to cables. Nicky then shows readers how to mix, match, and easily combine the patterns, using the cut-and-paste design templates, to create garments and accessories that are unique and individual.
Knitting circles one at a time is fast and portable, and it offers knitters a chance to experiment with new techniques before pieces are joined into a larger project. The patterns in KNITTING IN CIRCLES go beyond tradition and inspire knitters to new, creative heights. Since the circles are small, circles are travel friendly (no need to lug large garments around!), and they're also great to do as a group project with lots of friends, creating the circles together as a community.
This comprehensive and wildly inspiring volume showcases Nicky Epstein's distinctive design style to its fullest and will enable knitters to creatively "think outside the circle."
About the Author:
NICKY EPSTEIN is one of today's hottest knitwear designers. She has gained international recognition for her distinctive and innovative work, whimsical sense of style, and informative workshops. She has authored numerous books, including KnittingBlock by Block, Knitted Flowers, Knitting on the Edge, Knitting Over the Edge, and Knitting Beyond the Edge, and Knits for Barbie Doll,among others. Her designs have also been featured in Vogue Knitting and many other publications, as well as on television and at art exhibitions. Her website is nickyepstein.com.