Press Releases
King Con by Paul Willetts
The Bizarre Adventures of the Jazz Age's Greatest Imposter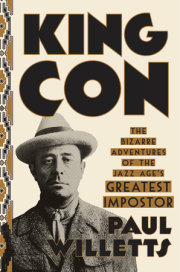 Paul Willetts
Imprint: Crown
On sale: August 7, 2018
Price: $27.00
Pages: 368
ISBN: 9780451495815
Contact:
Penny Simon
865-675-1705
psimon@penguinrandomhouse.com
"In this extensively detailed biography, Willetts traces the brazen and bizarre life of Edgar Laplante, an early 20th century drifter and conman extraordinaire… he keeps the narrative alive with the colorful anecdotes from Laplante's remarkable life." —Publishers Weekly
"Willetts weaves a fast-paced, intriguing tale. With the rise of identity theft, celebrity worship, and manipulative social media, this sprightly story of a legendary con artist's outrageous successes becomes a cautionary tale for the digital age." —Kirkus Reviews
_________________
In March 1917, war hero and famed Onondagan Olympic runner Tom Longboat arrived at San Jose's First Baptist Church to speak to the several hundred congregants gathered to hear him reminisce about his sports career and bravery on France's battlefields. After thrilling the crowd, showing off his war wounds, and pocketing a generous appearance fee, he hopped on a train to another Californian city, where he could enjoy rock star-like acclaim—as well as the cash that accompanied it.
Little did his admirers know that the flamboyant smooth-talker with whom they were so enamored was in fact a fraud. No war hero, Olympic star, or even genuine Native American, he was actually Edgar Laplante, a Rhode Island-born vaudeville performer and con man, best described as a real-life Tom Ripley-cum-Jay Gatsby (with a dash of David Bowie's sexual fluidity and showmanship). Edgar's good looks, charisma, and singing talent enabled him to travel from town to town, starring in vaudeville shows, fundraising for the U.S. war effort, and spinning ever-more-incredible tales about his past. Against the alluring backdrop of the Jazz Age excesses that were transforming American culture, Edgar took advantage of the public's growing obsession with celebrity, staying one step ahead of the investigations into him for fraud, draft dodging, and even spying for the Germans. In the novelistic, darkly comic true story KING CON: The Bizarre Adventures of the Jazz Age's Greatest Impostor (on sale August 7), Paul Willetts gives the first full account of the incomparable escapades of this one-time Coney Island huckster who, over just a few months, cheated a succession of European aristocrats out of as much as $58 million in 2018 currency, which he then gave away, bringing him worldwide fame.
Edgar's progress from small-time grifting into big-time cons began when he reinvented himself as Chief White Elk, leader of the Cherokee. Within a few months, the Governor of Utah was presiding over his lavish open-air wedding to a Native American woman (who styled herself as "princess") in front of a crowd of 5,000 people. Seeking even more lucrative, ego-massaging opportunities, Chief White Elk crossed the Atlantic, initially heading to London for a meeting with King George V. He later gravitated to the bohemian cafés and decadent nightclubs of Paris, then to the most exclusive corner of the French Riviera, where he met an enormously rich Austrian countess. She was so smitten by the man calling himself Prince Tewanna Rey, Chief White Elk that she bankrolled his "royal tour" of Italy, during which he became the darling of Benito Mussolini's fascist regime, vast crowds greeting "His Highness" at every stop. In pursuit of fame and adoration, he took to dispensing bundles of the countess's banknotes to the impoverished Italians who flocked around him. "Newspapers fêted him. The military assigned him a guard of honor. Photographers took his picture," Willetts writes. "Each piece of fan mail he received, each certificate, each fawning accolade, affirmed the vast scale on which he'd reshaped reality to suit his self-image."
KING CON proves the wisdom of that old saying about truth being stranger than fiction. With humor and cinematic verve, Willetts takes readers on an unforgettable journey through the outlandish escapades of a man who embodied both the Jazz Age's extravagances and its dark, drug-infused underbelly. This is history at its most atmospheric and surprisingly topical, showing how people with a talent for exploiting public credulity can rise to unexpected heights.
About the Author:
KING CON is the American debut of U.K.-based Paul Willetts, author of four previous works of nonfiction. One of those was adapted into a movie, The Look of Love, starring Steve Coogan (who has called Paul "a writer with a vivid and amusing turn of phrase") and Stephen Fry. Among Paul's many fans are longtime literary editor of The Sunday Times John Walsh, who praised Paul's work as "tremendously entertaining and amazingly well-researched"; the novelist Francis King, who considered Paul's writing "wonderful… informative and so psychologically perceptive"; and the biographer Richard Holmes ("very striking, very strange, and altogether fascinating").
Related Posts:
You Might Also Like