Press Releases
KILL THE SILENCE by Monika Kørra
A Survivor's Life Reclaimed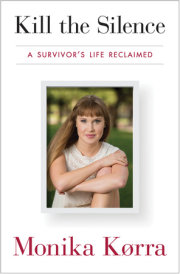 Monika Kørra
Imprint: Harmony Books
On sale: 08/25/15
Price: $25.00
Pages: 320
ISBN: 9780804139625
Contact:
Rebecca Marsh
212-572-2544
rmarsh@penguinrandomhouse.com
"I was victimized, but I refuse to be called a victim. I've been sad, but I won't let anyone feel sorry for me anymore. I've been raped, but I will never let that define who I am."
—Monika Kørra
In 2009, college sophomore and track star Monika Kørra was on her way home from a party when she was abducted and brutally raped by three men. Within hours of being released, Monika resolved that she would not be a victim—she was going to be a survivor. KILL THE SILENCE: A Survivor's Life Reclaimed (Harmony Books; $25.00; On Sale August 25, 2015) is the extraordinary story of her recovery, and the mental, spiritual, and physical work that helped her to heal.
Monika was eighteen years old when she moved halfway around the world, from her native Norway to Dallas, Texas, on a track scholarship to Southern Methodist University. At SMU, she found a new home and new friends, as well as success on and off the track. But one night during Christmas break her sophomore year, Monika was kidnapped at gunpoint, thrown into a black SUV, and gang raped.
Once she was let go, Monika remembers thinking that even though she didn't have a choice about what had happened to her, she could choose what happened next. In KILL THE SILENCE, she shares how she made herself whole again after the attack, and how running and therapy gave her the strength to tell her story.
After the assault, Monika struggled with sleeplessness, nightmares, fear, and anxiety. She writes, "It was as if my body, the thing that in many ways gave my life meaning, was lost to me." But she refused to feel ashamed about what happened, or to let it define her. In her honest and unique voice, Monika recalls how she learned to accept what happened, and even turn her fear and anger into forgiveness for her attackers.
The police ended up catching Monika's assailants, and her testimony helped put them in prison—something few sexual assault survivors have the chance to do. And though the names of rape victims are often kept confidential, Monika chose to own her story and to empower other rape victims to do the same by telling it. As she recalls in KILL THE SILENCE, she felt the need to remind herself that she was more Monika Kørra than Jessica Watkins (the alias given to her by the police). She revealed her identity to the local Dallas media, and was featured in an award-winning ESPN Outside the Lines documentary called "Breaking the Silence."
In KILL THE SILENCE, Monika writes about how exercise kept her active and focused on the future—sparing her some of the more brutal side effects of post-traumatic stress disorder and depression. Running and yoga helped her to regain control of her brain and her body. She was determined not to give up on her dream, or to let her attackers take anything else from her.
On the day Monika was raped, 1,870 other people in the United States endured the same horror. In addition to being a personal story of recovery, KILL THE SILENCE is also a call to arms to end the culture of underreporting and victim-blaming that surrounds sexual violence. According to the U.S. Department of Justice, a large percentage of sexual assaults—upwards of 80% for female college students, like Monika was—go unreported, and 97% of rapists never see the inside of a jail cell. In choosing to tell her story, Monika has embarked on a quest to "kill the silence" surrounding rape and abuse in our society.
Today, Monika is an outspoken advocate dedicated to raising awareness about rape and sexual abuse. Her nonprofit organization, the Monika Kørra Foundation, provides significant services for rape and abuse survivors and their loved ones. She encourages other survivors to speak up and speak out, and to remember that there is always a way through the nightmare.
KILL THE SILENCE is a gripping read about one woman's journey to overcome trauma, and to turn the worst day of her life into something good. Monika's message is one for anyone who has struggled with adversity or is haunted by their past—that we can use those experiences, however horrible, to make us stronger than we ever dreamed possible.
###
 About the Author
Monika Kørra is a native of Løten, Norway. She graduated in 2012 with a Bachelor of Science from Southern Methodist University, where she was also on the championship cross-country team. She is a certified advocate for rape victims through Dallas Area Rape Crisis Center's volunteer training program, and was the keynote speaker at the 8th annual Conference on Crimes Against Women. As the founder and CEO of the Monika Kørra Foundation, she has spoken about her experiences before audiences at universities, military installations, domestic abuse conferences, and more.
Related Posts: