Press Releases
KICKS by Nicholas Smith
The Great American Story of Sneakers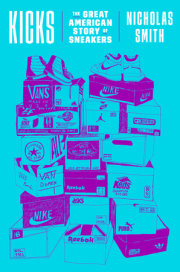 Nicholas Smith
Imprint: Crown
On sale: May 1, 2018
Price: $26.00
Pages: 320
ISBN: 9780451498113
Contact:
Gwyneth Stansfield
212-366-2201
gstansfield@penguinrandomhouse.com
 A cultural history of sneakers, tracing the footprint of one of our most iconic fashions across sports, business, pop culture, and American identity
Advance Praise for KICKS
"No background (or interest, even) in footwear is required to enjoy this entertaining read. . . . Readers of sports history, popular culture, and business will be fascinated by Smith's exciting, informative, and multifaceted narrative of the major roles the sneaker has played in U.S. branding, perceptions, and culture."
—Booklist
"Smith follows his fascination, sprinting through the evolution of the planet's hippest, most popular footwear, a history that goes way beyond sports and into the streets of the youth culture. . . . A cornucopia of factoids and fun asides bursting with a wealth of in-depth information on every aspect of sneakers, from their birth to their current and continuing explosive popularity."
—Kirkus Reviews
"A fast, smooth run through the social, financial, and athletic history of the shoes that goosed the sports boom. New slogan: It's gotta be the book!"
—Robert Lipsyte, author of SportsWorld: An American Dreamland
"Kicks is a history of great, forgotten stories. I highly recommend that anyone who's into sneakers and its culture read the book and add it to their library."
—Dee Wells, Obsessive Sneaker Disorder (OSDLive.com)
"A refreshing full-court run through two centuries via the sneakers we were inventing or wearing all along. From Daniel Webster to 'Damn, Daniel,' an entertaining account with something to say about culture, politics, and ankle support. An always fascinating book and easier to keep clean than Air Force 1's."
—Mark Chiusano, author of Marine Park
Today sneakers are a nearly $20 billion industry—one that spawns multimillion-dollar celebrity endorsement deals, fierce brand loyalty, and an entire subculture of "sneakerheads" who follow the hottest shoe releases with as much fervor as any fandom and fuel a billion-dollar resale market. The streetwear website Hypebeast gets nearly ten million visitors per month, and product drops at the SoHo streetwear shop Supreme are greeted with day-long lines rivaling any Saturday Night Live ticket stakeout. Haute couture courts shoe designers for exclusive collaborations, and scholars and museums explore the contributions of sneakers to culture. They're also ubiquitous: almost everyone owns at least a pair.
The sneaker has come a long way from its humble beginnings as beachwear and "croquet sandals" designed to meet the needs of a new American leisure class in the mid-1800s. Over the last hundred and fifty years, the sneaker has played a key role in the development of sports, fashion and consumer culture, music and celebrity, and advertising and globalization.
Now, in KICKS: The Great American Story of Sneakers (May 1, 2018; Crown), journalist and debut author Nicholas Smith traces our national love affair with sneakers in an entertaining and absorbing cultural history that explores the fascinating evolution of the athletic shoe itself, as well as its unique stamp on American identity.
Studded with larger-than-life mavericks and unexpected visionaries—from genius rubber inventor, Charles Goodyear, to road-warrior huckster Chuck Taylor, to the feuding brothers who founded Adidas and Puma, to the track coach who changed the sport by pouring rubber into his wife's waffle iron—KICKS introduces us to the sneaker's surprisingly influential, enduring, and evolving legacy.
DISCOVER:
– How sneakers arose as a by-product of the Industrial Revolution and the evolution of leisure time and its new sports: croquet, spectator walking, tennis, and basketball.
– Charles Goodyear's painstaking efforts to develop a rubber that wouldn't melt in the heat or crack in the cold, and the resulting patent case that enlisted the services of legendary orator Daniel Webster.
– Converse's innovative use of celebrity endorsement in their employment of basketball journeyman Chuck Taylor, whose salesmanship reached high school and college players, coaches, and school officials directly through traveling basketball clinics.
– The feuding German brothers who founded Adidas and Puma, against the dramatic backdrop of Jesse Owens's historic sweep of the 1936 Berlin Olympics, and the feud's enduring influence on the business of sports.
– Pioneering University of Oregon track coach Bill Bowerman's outsize influence on running and athletic shoes—from his obsessive experimentation to create the perfect sprinting spikes; to founding Nike with one of the runners he coached, Phil Knight; to his groundbreaking innovation in lightweight trainers: the waffle sole, inspired by his wife's ordinary kitchen waffle iron.
– The development of the first NBA signature shoe, the Puma Clyde, created for infamous fashion plate Walt "Clyde" Frazier of the New York Knicks.
– How a drought and an abandoned theme park catalyzed the rise of Vans, the Z-Boys, and the sneaker's evolution with California skateboarding culture.
– How Jane Fonda and the aerobics craze of the 1980s finally spurred the sneaker industry to recognize an unserved female market. With the popularity of the Reebok Freestyle came the rise of all-purpose sneakers purchased for fashion and everyday wear as much as sport—the beginnings of contemporary athleisure.
– How the rise of hip-hop contributed to the elevation of sneakers to streetwear, style, and status symbols—epitomized in Run-DMC's ode, "My Adidas
– How the Nike "Buttfaces" gambled the company's future on a fresh-faced draft pick—Michael Jordan—and how his signature shoe challenged NBA rules.
– Spike Lee and the Air Jordan—his iconic commercials with Michael, and the film that made the shoes a symbol in a conversation about race and gentrification
– Nike's sweatshop controversies at the center of the 1990s' globalization and free-trade debates.
– Sneakerhead culture, the "Sneaker Riot," hypebeasts, collecting, and the trend of limited-edition shoes.
– Over 25 indelible photos spanning sneaker history—from touchstones like Farah Fawcett skateboarding in her Nike's to archive finds like the 1895 Smith College women's basketball team.
With expert social commentary, infectious curiosity, and behind-the-scenes anecdotes of boldface names and unsung heroes alike, KICKS illuminates the enthralling history of the common sneaker—a story uncommon in its far-reaching influence and enduring legacy.
NICHOLAS SMITH's reporting and essays cover a range of topics, from stolen World War II art to melting glaciers, from Austrian indie gamers to the New York City mayoral election. He is a 2014 graduate of the Columbia School of Journalism, where he was awarded the Lynton Fellowship in Book Writing. A native of Arizona, Nick now lives in Vienna, Austria, with his wife and their two children.
Related Posts:
You Might Also Like