Press Releases
Key Moments: Experiences in a Dedicated Life By Liz Mohn
One of Europe's Leading Businesswomen Tells Her Inspiring Story and Introduces a Call to Social Action and Personal Responsibility for Companies in the Twenty-first Century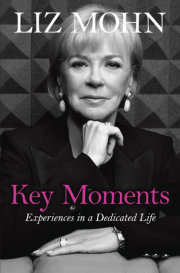 Liz Mohn
Imprint: Crown Currency
On sale: July 3, 2012
Price: $23
Pages: 208
ISBN: 9780770436018
Contact:
Campbell Wharton
(212) 572-2296
cwharton@randomhouse.com
Liz Mohn, one of continental Europe's leading businesswomen, has lived a life that is as colorful as it is inspiring and accomplished. As a member of the supervisory board at Bertelsmann AG, the owner of Random House, Inc., the world's largest trade book publisher, Mrs. Mohn is not only someone who believes in the importance of family and philanthropy but is also a distinguished businesswoman who strongly believes that business works best when it is conducted with the highest ethical standards. In her new book, KEY MOMENTS: Experiences in a Dedicated Life (Crown Business, on sale July 3, 2012), Mrs. Mohn highlights the importance of every individual being accountable to a greater good, while appealing to the social responsibility of the political and economic sectors as well. It provides a valuable call to workers at every level, and organizations of every size, to adapt to the changing criteria of how success can be measured. In describing her own career as a businesswoman and philanthropist and examining some disturbing trends in our society today, Mrs. Mohn advocates the benefits of personal responsibility and its positive impact on society at large. Mrs. Mohn's inspiring story demonstrates how we can adapt to a rapidly changing world for the greater good.
"You always saw the world as your workplace." In 2009, this was how Reinhard Mohn—the man whose leadership turned Bertelsmann AG from an unremarkable, postwar German business into a successful, international media conglomerate—described the professional dedication of his wife, Liz Mohn. As she tells in riveting detail, Mrs. Mohn was born into a seemingly hopeless world, recalling with great candor the difficult early years in Gütersloh, the small German town that is home to Bertelsmann's world headquarters, and how she grew into her role at the side of her influential husband. She met challenges with curiosity and a desire to learn from her mistakes. Through it all, she followed her life's motto: Try it. You can do it.
The proof is in her remarkable career. Mrs. Mohn grew into a proactive woman who, following her late husband's death, now represents the fifth generation of Bertelsmann's ownership. She sits on the company's supervisory board, where for decades she has brought unconventional ideas to a traditional media empire, and she also serves as vice chair of the Bertelsmann Foundation's executive board.
In KEY MOMENTS, Mrs. Mohn also openly discusses:
–  How an illness in her family inspired her to support the development of the German Stroke Aid Foundation.
–  The formation and development of the Bertelsmann Foundation, one of Germany's largest and most respected philanthropic institutions.
–  Why she established the Liz Mohn Foundation for Culture and Music.
–  The importance of work/life balance, and fostering religion and spiritual orientation.
Also among Mrs. Mohn's topics are some fascinating thoughts on the success of Bertelsmann's corporate culture and what the future holds for the global corporation.
An active philanthropist, Mrs. Mohn highlights in KEY MOMENTS the importance of every individual being accountable to a greater good. She makes the case that each of us is called to contribute his or her part toward creating a successful future through our accepting a measure of social responsibility toward the political and economic sectors. This, of course, is what Liz Mohn has done all of her life. In light of her efforts and successes, she is often asked, "How do you do it all?"
KEY MOMENTS gives readers a captivating insight into the answer.
###
ABOUT THE AUTHOR
Following the death of her husband, Reinhard Mohn, in 2010, LIZ MOHN represents the fifth generation of the Bertelsmann and Mohn founding families. She is the vice chair of the Bertelsmann Stiftung board. In addition, she has served as president of the Spain-based Fundación Bertelsmann since October 2005.
Her other activities at the Bertelsmann Stiftung focus on the annual Carl Bertelsmann Prize, the International Cultural Forum series, work/life balance issues, and initiatives concerning corporate leadership and culture.
At Bertelsmann AG, she is a member of the supervisory board, where she represents the founding Bertelsmann and Mohn families. In 1999, she joined the Bertelsmann Verwaltungsgesellschaft (BVG), which exercises the voting rights held by the Mohn family and the Bertelsmann Stiftung. She has been chair of the BVG executive board since 2002.
She is also involved in the Bertelsmann Relief Fund and the Medical Information Service, as well as the German Stroke Aid Foundation and the Liz Mohn Foundation for Culture and Music, both of which she founded.
Related Posts:
You Might Also Like