Press Releases
Kara Cooney's biography of Hatshepsut, the longest-reigning female pharaoh in Ancient Egypt, in The Woman Who Would Be King
Cooney recounts Hatshepsut's audacious rise to power in a man's world.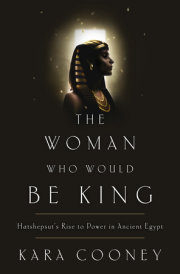 Kara Cooney
Imprint: Crown Publishers
On sale: October 14, 2014
Price: $28.00
Pages: 320
ISBN: 9780307956767
Contact:
Lauren Kuhn
212-782-8637
lkuhn@penguinrandomhouse.com
Advance Praise for The Woman Who Would Be King
"The life of Hatshepsut, Egypt's second female pharaoh, was replete with opulent living, complex royal bloodlines, and sexual energy; in short, the kind of drama that fuels ancient Egypt's enduring appeal. . . . From Hatshepsut's self-perception, political prowess, and lifestyle emerge an image of the 'ultimate working mother' and a compelling insight into ancient gender roles." —Publishers Weekly
"This biography could only be based on conjecture and guesswork, but the addition of expertise makes it well worth reading. The author's Egyptology background provides the nitty-gritty of daily life and animates this king (at the time, there was no word for 'queen') . . . Cooney's detective work finally brings out the story of a great woman's reign." —Kirkus Reviews
"Egyptologist Cooney peels back the layers of the life of Hatshepsut, Egypt's second female pharaoh, providing a multidimensional portrait of a woman of strength, intelligence, and substance." —Booklist
"What Stacy Schiff did for Cleopatra, Kara Cooney has done for Hatshepsut. An absolutely fantastic read about one of the most powerful Pharaoh-Queens in ancient Egypt. Completely unputdownable!" –Michelle Moran, bestselling author of Nefertiti
"The Woman Who Would Be King is a fascinating look at one of the most formidable and successful women in all of ancient history. Before Cleopatra there was Hatshepsut. Now, thanks to Kara Cooney, the real Hatshepsut stands before us in all her glory." —Amanda Foreman, Georgiana: Duchess of Devonshire and A World on Fire: Britain's Crucial Role in the American Civil War
When we think of women in Egypt, Cleopatra immediately jumps to mind. Perhaps she is followed by Nefertiti, the ancient and famously beautiful queen. However, both rulers are surpassed in terms of power by a woman we hardly remember: Hatshepsut, the longest-reigning female pharaoh. THE WOMAN WHO WOULD BE KING: Hatshepsut's Rise to Power in Ancient Egypt (Crown: October 14, 2014) is the definitive biography of the ephemeral and influential ruler whose reign was practically erased mere decades after her death. 
KARA COONEY, a professor of Egyptian art and architecture at UCLA, is a leading figure in the field of Egyptology and has long been fascinated by Hatshepsut. Her immense knowledge of Egypt's ancient history allows her to craft an illuminating biography of its least well-known female king. Her research is paired with compelling fictional vignettes—vivid imaginings of Hatshepsut's daily life; her relationships with family and other high-born Egyptians; and the challenges she faced in leading an empire. The intervening millennia have eroded much of the physical evidence of Hatshepsut's life and reign, but Cooney paints a compelling, intimate, and startlingly modern portrait of a very powerful woman.
In pharaonic Egypt, women's power depended on their relationship to the king. Hatshepsut was at once daughter, sister, and wife of a king; she was born into a life of power and her name translates to "Foremost of Noble Women." She ascended to the highest ranks as a priestess, and then was Chief Wife to her brother, who became king. Their failure to conceive a male heir was the twist of fate that led to her extraordinary life. With quiet calculation, Hatshepsut consolidated her power, ultimately reigning for fifteen years not as a queen, but as a co-king—pharaoh in her own right.
An archaeologist who spent years at various excavations in Egypt, Cooney draws from the latest field research to fill in gaps in the physical record of Hatshepsut. While Cooney draws on some physical evidence—statues, temple carvings, commissioned temples and obelisks, funerary texts—Hatshepsut's mummy has never been concretely identified. Her legacy as king was threatened by a damnatio memoriae that included a scratching out of her hieroglyphic name on stones and temples. Intact representations of the "cross-dressing king" are also rare, as much of Hatshepsut's ambitious building projects and monuments were destroyed soon after her death, and many of her reliefs were defaced or reassigned to earlier male pharaohs. However, this erasure is evidence itself of Hatshepsut's influential presence. Cooney traces her power grabs, tracking changes in her honorifics, as well as representation in statuary and reliefs during her lifetime. Early depictions show Hatshepsut as a woman—full-breasted and feminine, wearing a dress. As her reign progressed, reliefs show the woman king with the bare chest of a man; even later depictions show Hatshepsut with the broad shoulders, full regalia, headdress, and false beard typical of pharaohs.
Hatshepsut draped herself in the trappings of kingship, inserting herself into the existing royal power structure, and her claim to the divine right of kings. Her methodical ascension to the throne is a lesson in power, perseverance, and passion. The Woman Who Would Be King explores the obstacles facing women who seek positions of prominence and prestige in a society that equates authority with masculinity, and our complicated reactions to women in power. 
ABOUT THE AUTHOR: KARA COONEY is an associate professor of Egyptian art and architecture at UCLA in the Department of Near Eastern Languages and Cultures. In 2005, she was co-curator of Tutankhamun and the Golden Age of the Pharaohs at the Los Angeles County Museum of Art. Cooney produced a comparative archaeology series with her husband, Neil Crawford, entitled Out of Egypt, which aired in 2009 on the Discovery Channel and is streaming on Netflix and Amazon.
Related Posts:
You Might Also Like