Press Releases
Kanye West Owes Me $300 by Jensen Karp
And Other True Stories from a White Rapper Who Almost Made It Big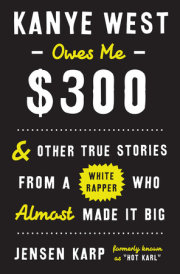 Jensen Karp
Imprint: Crown Archetype
On sale: June 7, 2016
Price: $26.00
Pages: 320
ISBN: 9780553448153
Contact:
Ellen Folan
212-782-8944
EFolan@penguinrandomhouse.com
After the Beastie Boys and Vanilla Ice, but before Eminem, there was Hot Karl, the Jewish kid from the L.A. suburbs who became a rap battling legend—and then almost became a star.
KANYE WEST OWES ME $300
And Other True Stories from a White Rapper
Who Almost Made It Big
By Jensen Karp
Formerly known as "HOT KARL"
"The funniest person I follow on Twitter finally got smart and wrote about his unlikely—and hilarious—odyssey as teenage rapper Hot Karl. Karp's sharp wit and gossipy giggles keep you turning pages, but what lingers is the story of a survivor. This book should be mandatory reading for or anyone who has ever wanted to be famous."
—Kevin Smith, New York Times bestselling author of Tough Sh*t
"If I had kids, I'd read passages from this to them at night. Rap careers definitely haven't been explored from this perspective, and I'm excited to see the ripples. Jensen's gonna make some enemies, though. I've been on television."
—Hannibal Buress
"I remember hearing faint whispers about a white kid on the west coast who got like the craziest deal ever from some radio freestyles or some shit. But we never saw anything concrete, so I assumed he was hip-hop's Bigfoot and left it at that. Who knew it was real??!!! This is the story of the rap game's Sasquatch."
—Bun B, Grammy-nominated rapper
"Sure, everyone is curious to know what it's like to be a white rapper, but only Jensen Karp has the wit and humility to reveal what it was like to get knocked down by the music industry, dust off his Cross Colours, and keep moving."—Paul Scheer
"Jensen's story is so funny and so well-written that it's impossible there's any truth to it."
—Kay Cannon, writer, Pitch Perfect and 30 Rock
---
When 12-year old Jensen Karp got his first taste of rapping for crowds at his friend's bar mitzvah in 1991, little did he know that he was taking his first step on a crazy journey—one that would end with a failed million-dollar recording and publishing deal with Interscope Records when he was only 19, but along the way would also include feuding with Fred Durst, opening for Snoop Dogg, blacking out with Mark McGrath, and recording with a young Kanye.
In Kanye West Owes Me $300: And Other True Stories from a White Rapper Who Almost Made It Big (Crown Archetype, On sale June 7, 2016), Karp finally reveals the true story of his wild ride as Hot Karl—"the rap game's Sasquatch"—the most famous white rapper you've never heard of. On his way to (almost) celebrity status, Jensen shares his childhood run-ins with rock-listening, southern California classmates, who tell him that "rap is for black people," and then recounts his record-breaking rap battling streak on popular radio contest "The Roll Call," a run that caught the eye of a music industry hungry for new rap voices in the early '00s. He introduces his rap partner, Rickye, who constitutes the second half of their group, XTra Large; his supportive mom, who performs with him onstage; and the soon-to-be-household-name artists he records with, including Kanye, Redman, Fabolous, Mya, and will.i.am. Finally, he reveals why his album never saw the light of day (two words: Slim Shady), the downward spiral he suffered after, and what he found instead of rap glory.
Full of rollicking stories of sex, drugs, and hip-hop from Hot Karl's close brush with fame, this is the perfect read for lovers of the late 90's/early '00s hip-hop scene, fans of Rap Genius, and the guy who always performs "Nuthin' But a G Thang" at karaoke. But at its heart, Jensen's memoir is the ultimate fish-out-of-water story about a guy who follows an unlikely passion despite what everyone else says; who gets a tantalizing taste of living the dream (until it becomes a nightmare); and who turns the pain of missing his shot at fame into something way more profound. It's 30 Rock for the rap set; 8 Mile for the suburbs; and quite the journey for a white kid from the valley.
Related Posts:
You Might Also Like