Press Releases
THIS IS WHAT YOU JUST PUT IN YOUR MOUTH? by Patrick Di Justo
From Eggnog to Beef Jerky, the Surprising Secrets of What's Inside Everyday Products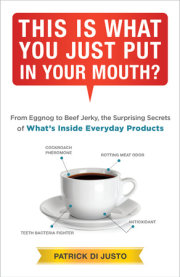 Patrick Di Justo
Imprint: Three Rivers Press
On sale: 2/3/15
Price: $15.00
Pages: 272
ISBN: 9780804139885
Contact:
Rebecca Marsh
212-572-2544
rmarsh@penguinrandomhouse.com
Based on one of Wired's most popular columns, an irreverent, informative look at what's really inside the products we use every day
"Lively, informative, and sometimes downright disturbing… [Di Justo] injects humor and accessibility into each entry… The goal, he explains, isn't to scare readers or enrage them but to inform and educate. Readers will never take the products around them for granted again."
—Publishers Weekly
Have you ever wondered what makes Play-Doh pliable, why red wine causes headaches, or if that's really pepperoni in your Hot Pocket? We surround ourselves with products like these every day, but we don't actually know that much about what's inside them or how they work.
Lucky for us, author Patrick Di Justo solves these mysteries and more in THIS IS WHAT YOU JUST PUT IN YOUR MOUTH?: From Eggnog to Beef Jerky, the Surprising Secrets of What's Inside Everyday Products (Three Rivers Press; Trade Paperback Original; $15.00; On Sale February 3, 2015). In this irreverent and enlightening new book, Di Justo exposes the secret ingredients of common household items—with surprising, fascinating, and occasionally disgusting results.
Based on Wired's popular What's Inside column, THIS IS WHAT YOU JUST PUT IN YOUR MOUTH? is an entertaining mix of careful research and dry humor. Di Justo takes a cold, hard, and hilarious look at everything from baby formula to deodorant to golf balls. He'll have you giving your shampoo a side-eye and Doritos a double take, as you discover the dirty little secrets of your favorite foods, drinks, and more.
 In each chapter, Di Justo breaks down a different product, explaining what each ingredient actually does, what its side effects are, what other uses it may have, and how it interacts with the other components to make the product work. His strange but true discoveries include how the magnetic properties of mascara can screw up an MRI and how NASCAR tires are made of the same type of rubber used in chewing gum. Along the way, he gives readers the scoop on product histories, decodes label jargon, and boils down the chemistry behind everything from Midol to Hostess fruit pies.
Among the many questions Di Justo answers in THIS IS WHAT YOU JUST PUT IN YOUR MOUTH?: 
What do a cup of coffee and cockroach pheromones have in common?
Why is there horse fat in your fabric softener?
How is the liquid in a chocolate cherry cordial kind of like spit?
If I Can't Believe It's Not Butter isn't butter, what is it?
How many Slim Jims would it take to kill you?
What percentage of spray cheese is actually cheese?
Why was there a 30-year government cover-up involving eggnog?
What exactly is in the "wings" you get from drinking a can of Red Bull?
THIS IS WHAT YOU JUST PUT IN YOUR MOUTH? combines the best Wired columns with plenty of brand new material, including Di Justo's wacky research stories—like the time he tried to convince Scotland Yard to let him photograph heroin, or when he tracked down a condiment heir on Facebook. In the name of journalism, Di Justo has dyed his hair, poisoned himself, and Google Image searched "pedunculated hemorrhoids." He has interviewed professors, doctors, chemists, celebrity chefs, government officials, snack-food executives, and even the PR person for the National Potato Council. The result is a shocking, amusing, and undeniably intriguing examination of what's really in the products we consume and use every day.
 Packed with facts you didn't know you needed to know, THIS IS WHAT YOU JUST PUT IN YOUR MOUTH? will have you entertaining dinner party guests or fellow shoppers at the grocery store in no time.
 About the Author
PATRICK DI JUSTO is currently an editor at MAKE, and was the author of Wired's most popular column, What's Inside. In addition to writing for the New York Times, the Atlantic, the New Yorker, Popular Science, Scientific American, New York, Dwell, and more, he has also designed experiments for NASA, worked as a robot programmer, and done stand-up comedy.
Related Posts: