Press Releases
Joe Biden to write foreword for transgender activist's new memoir
Tomorrow Will Be Different by Human Rights Campaign press secretary Sarah McBride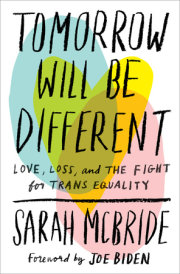 Sarah McBride
Imprint: Crown Archetype
On sale: March 6, 2018
Price: $26.00
Pages: 288
ISBN: 9781524761479
Contact:
Kathryn Santora
212-572-2544
ksantora@prh.com
JOE BIDEN, 47th VICE PRESIDENT OF THE UNITED STATES, TO CONTRIBUTE FOREWORD TO LGBTQ ACTIVIST SARAH MCBRIDE's FORTHCOMING MEMOIR
TOMORROW WILL BE DIFFERENT to be published March 6, 2018
A timely and compelling memoir about gender identity set against the backdrop of the transgender equality movement
(EMBARGOED UNTIL 11 AM ET; October 4, 2017, New York, NY) Crown Archetype, an imprint of the Crown Publishing Group, a division of Penguin Random House, announced today that Joe Biden, 47th Vice President of the United States, will contribute the foreword to Sarah McBride's informative and empowering memoir, TOMORROW WILL BE DIFFERENT: Love, Loss, and the Fight for Trans Equality. McBride, the national press secretary for the Human Rights Campaign, is a respected LGBTQ activist who made history in 2016 when she became the first openly transgender person to speak at a national party convention.
TOMORROW WILL BE DIFFERENT is scheduled for publication on March 6, 2018, and will be released simultaneously in the United States and Canada in print and digital formats.
Crown Archetype executive editor Jennifer Schuster acquired world, electronic book, and first-serial rights from Katie Zanecchia of the Ross Yoon Agency and will edit the book.
With emotional depth, TOMORROW WILL BE DIFFERENT recounts McBride's lifelong struggle with gender identity. After coming out publicly as transgender in a viral post while serving as her college's student body president, she realized just how much impact her experiences could have on the country. Five years later, McBride is one of the nation's most prominent transgender activists, walking the halls of the White House, advocating the passing of laws, and addressing the country in the midst of a heated presidential election. And she'd found her first love and future husband, Andy, a trans man and fellow activist, who complemented her in every way . . . until cancer tragically intervened.
McBride's story of identity, love, and loss serves as a powerful entry point for readers who want to gain a deeper understanding of gender identity and what it means to be openly transgender. From issues like bathroom access to health care to gender equality, McBride weaves the important political and cultural milestones into a personal journey that will open hearts and change minds.
Says Vice President Biden in his foreword, "We are at an inflection point in the fight for transgender equality, what I have called the civil rights issue of our time. And it's not just a singular issue of identity, it's about freeing the soul of America from the constraints of bigotry, hate, and fear, and opening people's hearts and minds to what binds us all together. And that's what makes Sarah's book so powerful."
Says Ms. McBride, "When I came out as transgender five years ago, I never would have imagined the experiences ahead, including the honor of working with the talented team at Crown on a book chronicling my journey of self-acceptance, transformative love, and life-affirming advocacy. While every trans person's path is different, each of us has hopes, dreams, and a story to tell. I hope my story can help humanize the issues at the center of our national debate and, in doing so, make a little more room for others to be able to live openly and authentically."
TOMORROW WILL BE DIFFERENT is a love story and a call-to-arms that shines a light on personal stories within the trans community, and demonstrates why the fight for equality and freedom has only just begun.
About Sarah McBride:
SARAH MCBRIDE is the national press secretary at the Human Rights Campaign, working tirelessly to advocate for LGBTQ equality. In 2016, Sarah made history when she became the first openly transgender person to address a major party convention. She has been featured in the New York Times, the Washington Post, Time, Cosmopolitan, Elle, Vogue, Rolling Stone, and The New Yorker, and she speaks regularly at national LGBTQ and political events. A native of Delaware, Sarah lives in Washington, D.C.
# # #
Crown is an imprint of the Crown Publishing Group, a division of Penguin Random House LLC. Penguin Random House (penguinrandomhouse.com) is the world's first truly global trade book publisher. It was formed on July 1, 2013, upon the completion of an agreement between Bertelsmann and Pearson to merge their respective trade publishing companies, Random House and Penguin, with the parent companies owning 53 percent and 47 percent, respectively. Penguin Random House comprises the adult and children's fiction and nonfiction print and digital trade book publishing businesses of Penguin and Random House in the U.S., the U.K., Canada, Australia, New Zealand, and India; Penguin's trade publishing activity in Asia and South Africa; DK worldwide; and Random House's companies in Spain, Mexico, Argentina, Uruguay, Colombia, and Chile. Penguin Random House employs more than 10,000 people globally, across almost 250 editorially and creatively independent imprints and publishing houses that collectively publish over 15,000 new titles annually. Its publishing lists include more than seventy Nobel Prize laureates and hundreds of the world's most widely read authors.
Related Posts:
You Might Also Like