Press Releases
From Jim Gaffigan—the comedian whose name is synonymous with Hot Pockets and bacon—comes a new book about the subject he and his fans love most
Food: A Love Story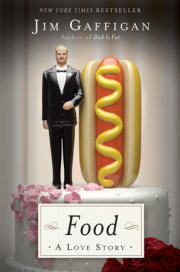 Jim Gaffigan
Imprint: Crown Archetype
On sale: October 21, 2014
Price: $26.00
Pages: 352
ISBN: 9780804140416
Contact:
Tammy Blake
212-572-2542
tblake@penguinrandomhouse.com
Bacon. McDonald's. Cinnabon. Hot Pockets. Kale. Stand-up comedian and New York Times bestselling author Jim Gaffigan has made his career rhapsodizing over the most treasured dishes of the American diet ("choking on bacon is like getting murdered by your lover") and decrying its worst offenders ("kale is the early morning of foods"). His debut book, Dad Is Fat, chronicled his life as the father of five young children and spent 24 weeks on the New York Times bestseller list. Now in the much-anticipated follow-up, FOOD: A Love Story (Crown Archetype; $26.00; on sale October 21, 2014), readers will learn why this dad is fat, as Jim gives his fans what they really crave: his thoughts on all things culinary(ish).
FOOD: A Love Story is an in-depth, thoroughly uninformed look at everything from health food to artery-clogging treats such as the Baconator and deep-fried ravioli. Everyone's favorite food comedian digs into his specialty—stuffing his face—and reveals his most intimate food memories, opinions, and fantasies. After all, what better culinary tour guide is there than the man whose stand-up set lists are indistinguishable from grocery lists and who was once identified on CNN as Jim "Hot Pocket" Gaffigan?
Readers will learn why Jim believes coconut water was invented to get people to stop drinking coconut water, why pretzel bread is #3 on his list of most important inventions of humankind (behind the wheel and the computer), and the answer to the age-old question, Which animal is more delicious: the pig, the cow, or the bacon cheeseburger? Among the gastronomic topics Jim discusses:
• The dangers and delights of a buffet: There's a reason why all-you-can-eat buffets and casinos go together: the buffet is the food equivalent of gambling, and it's always rigged for the house. But that doesn't stop Jim from trying to beat the odds and fulfill his patriotic duty to eat his money's worth.
• The geography of American food: Jim breaks down our great nation into ten categories, including Mexican Foodland (Southwest to Texas), Eating BBQland (the South), and Food Anxietyland (New Orleans). He discusses his disdain for lobsters (seabugs) and oysters (snot from a rock), and he sings the praises of Chicago's deep-dish pizza and New Mexico's green chile while making keen observations about regional delicacies. On grits: "If you like the taste of biscuits and gravy but without the taste of biscuits and gravy, then you'll love our manmade wet sand."
• The horrors of eating vegetables: Jim may be forced to eat vegetables in front of his kids, but he knows the truth. Unless they're deep-fried, covered in salt, or dipped in ranch dressing, there's really no point. Or as he puts it, "At their best vegetables are the sidekicks. The opening band you didn't come to see at the concert. The asparagus next to the steak. The expectation is that the entrée is so good you won't notice that you are eating mutant blades of grass."
• The glory of a good steak: It's not surprising that Jim adores steak—after all, he is a meat lover, and steak is "the tuxedo of meat." It's delicious, decadent, and manly. It has its own knives and is often cooked by fathers hovering over grills or in restaurants owned by sports heroes. And they're not even called steak restaurants. They're steakhouses. Steak is so great, it gets its own house. By contrast: "There's no tunahouse. Tuna gets a can."
• Fast-food embarrassment: Jim also dishes on all his fast-food favorites, from McDonald's and Wendy's to Popeyes and Domino's. He explains why eating alone in a food court will make you look like a serial killer, and how the drive-thru was invented to let us hide our shame in our cars. He catalogues our changing attitude to fast food as we age: we love it as kids, but as (sober) adults we treat a Burger King like someone we used to date. "You drive by and look at them like, 'I can't believe I went there.' Then a couple of nights later you find yourself at their doorstep: 'It's late. I'm drunk. How about one for old times' sake?'"
In addition to sharing his thoughts on poutine, barbecue, and why Triscuit eaters are more attractive than Wheat Thin eaters, Jim also muses on his perennial favorite food topics. He extols the virtues of bacon bits ("the fairy dust of the food community, sprinkling magical taste on undesirable dishes") and the BLT ("You would never be crass enough to order a bacon sandwich in the afternoon. You must speak in code."). And he gets honest about his relationship with a certain meat pastry in a chapter entitled "Hot Pockets: A Blessing and a Curse."
Jim doesn't claim to be a food expert or a "foodie"—he's a self-proclaimed eatie, and he's got the gut to prove it. FOOD: A Love Story is full of his tips and tricks for eating, like why you should never consume a gyro without alcohol and where to find the best cheeseburgers in America (hint: his favorite is in his hometown in Northwest Indiana, but he's looking into building a Shake Shack in his apartment).
FOOD: A Love Story has something for everyone. With his typical candor and gusto, Jim Gaffigan celebrates his love of food with stories that will keep you laughing all the way to the refrigerator.
###
About the Author
JIM GAFFIGAN is a New York Times bestselling author, comedian, and actor who only wishes he was as thin as the cake-topper groom on the cover of this book. When he is not eating in airports before flying to some city to eat and do stand-up comedy, he overeats in New York City and also lives there with his five young children and much smarter and thinner wife, Jeannie.
Related Posts:
You Might Also Like