Press Releases
Jessica Alexander's eye-opening and intimate memoir
Alexander recounts her experiences as a worker in the field in Rwanda, Sudan, Sierra Leone, and Haiti.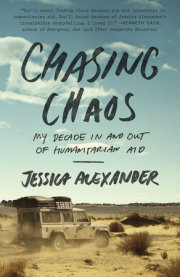 Jessica Alexander
Imprint: Broadway Books
On sale: October 15, 2013
Price: $15.00
Pages: 400
ISBN: 9780770436919
Contact:
Lauren Kuhn
212-782-8637
lkuhn@randomhouse.com
Advance Praise for Chasing Chaos 
"Terrific new memoir. . . . It's Wild in Sudan." —Nicholas Kristof, New York Times columnist 
"In Chasing Chaos, Alexander takes us to a place where few outsiders can go, cracking open the rarefied world of humanitarianism to bare its contradictions—and her own—with boldness and humor. The result is an immensely valuable field guide to the mind of that uniquely powerful and vulnerable of beasts: the international aid worker." —Jonathan M. Katz, author of The Big Truck That Went By: How the World Came to Save Haiti and Left Behind a Disaster 
"You'll start Chasing Chaos because you are interested in humanitarian aid. You'll finish because of Jessica Alexander's irresistible storytelling: her honesty, her humanity, her wackadoodle colleagues, her dad. I loved it." —Kenneth Cain, author of Emergency Sex (and Other Desperate Measures): True Stories from a War Zone
"A hardened idealist's challenging look at the contradictions, complications, and enduring importance of humanitarian aid." —Robert Calderisi, author of The Trouble with Africa: Why Foreign Aid Isn't Working 
Disillusioned with her marketing job after college, JESSICA ALEXANDER dove into the humanitarian aid community, hoping to find a sense of purpose that the corporate world could not offer. Her eye-opening memoir, CHASING CHAOS: My Decade In and Out of Humanitarian Aid (Broadway Books; On Sale October 15, 2013), sheds light on this all-consuming, extraordinary line of work, which most people know little about.
Alexander arrived in Rwanda in the aftermath of the 1994 genocide as an eager intern, ready to contribute, but unsure of what to expect. The world that Alexander encountered in the field was dramatically different from anything she could have imagined. It was messy, chaotic, and difficult—but she was hooked.
In CHASING CHAOS, Alexander delivers an honest and compelling memoir that reveals the realities of life as an aid worker. Readers watch as she manages a 24,000-person camp in Darfur and collects evidence for the Charles Taylor trial in Sierra Leone. In the aftermath of the 2004 tsunami that ravaged South Asia and Haiti's devastating earthquake in 2010, Alexander is on the front lines, contributing to the massive, international aid efforts. But we also see the alcohol-fueled parties and fleeting romances, the burnouts and self-doubt, and the struggle to do good in places that have long endured suffering. CHASING CHAOS chronicles Alexander's frustrating battles against corruption and inefficiency, but also her small and large victories in the field.
Tracing her personal journey from wide-eyed and naïve newcomer to hardened cynic and, ultimately, to hopeful but critical realist, Alexander transports readers to some of the most troubled locations around the world and shows us not only the seemingly impossible challenges, but also the moments of resilience and recovery.
ABOUT THE AUTHOR
JESSICA ALEXANDER is a former Fulbright scholar who has worked for various NGOs as well as UN agencies. She is an adjunct professor at Columbia's Mailman School of Public Health, the Institute of International Humanitarian Affairs at Fordham University, and the Wagner School of Public Service at New York University. Alexander received a Master of Public Health and Master of International Affairs from Columbia University in 2005.  She is currently pursuing her PhD at the London School of Hygiene and Tropical Medicine, focusing her research on accountability in humanitarian action.
Related Posts: