Press Releases
Jennifer Finney Boylan's remarkable memoir about parenting, Stuck in the Middle with You
Including incredible interviews with Richard Russo, Edward Albee, Ann Beattie, Augusten Burroughs, Susan Minot, Trey Ellis, Timothy Kreider, and others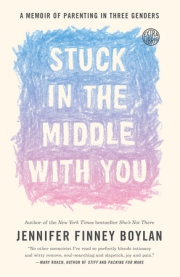 Jennifer Finney Boylan
Imprint: Broadway Books
On sale: April 22, 2014
Price: $14.00
Pages: 304
ISBN: 9780767921770
Contact:
Rachel Rokicki
212-782-8455
rrokicki@randomhouse.com
"Parents will recognize the basics here: The days go on forever; the years fly by; the heart is gripped by an aching, terrified love. The fact that Boylan changes her gender along the way—father of babies becomes mother of teenagers—does not make this memoir a cabinet of curiosities. It's a family love story, bighearted and fearlessly funny. 'To accept the wondrous scope of gender,' Boylan writes, 'is to affirm the vast potential of life, in all its messy, unfathomable beauty.' And her story, interspersed with celebrity interviews on parenting, is messy and beautiful indeed. In the end…as Boylan's mother puts it, 'love will prevail.'" —More magazine
"Stuck in the Middle also comes with vivid observations….Boylan remains a role model for her brisk prose and her high spirits as well as for her public advocacy and attention to her wife and their sons." —Los Angeles Times
"Stuck in the Middle With You blends memoir with reportage to paint a vivid shifting landscape of the American family."—PopMatters 
"No other memoirist I've read so perfectly blends intimacy and witty remove, soul-searching and slapstick, joy and pain. As a child—or as a reader—one could not ask for a wiser, warmer, more engaging companion than Jennifer Finny Boylan." —Mary Roach, author of Stiff and Packing for Mars 
Jennifer Finney Boylan is the author of twelve books, including She's Not There, a groundbreaking and critically acclaimed bestseller. A regular contributor to the New York Times op-ed page and Condé Nast Traveler, Jennifer's appearances on the Today show, The Oprah Winfrey Show, a Barbara Walters special, and NPR's Talk of the Nation and Marketplace, to name a few, demonstrate her charm and charisma. Jennifer now brings us her thoughtful, tear-jerking, hilarious memoir STUCK IN THE MIDDLE WITH YOU: A Memoir of Parenting in Three Genders (Broadway Books; April 22, 2014).
Jennifer, then Jim, emerged as transgender when her two children were young, and as Jennifer transitioned from a man to a woman and from a father to a mother, her family—sons, Zach and Sean, and wife, Deirdre—faced unique challenges and questions. In STUCK IN THE MIDDLE WITH YOU, Jennifer asks what it means to be a father, or a mother. As the only widely published American author who has been both, Jennifer recounts her own experiences at either end—and in the midst—of the gender spectrum, illuminating what it means to be a parent. From the friends who support Jennifer and Deirdre's new configuration and to those who question it, Jennifer's family grows and changes together in ways both utterly exceptional and entirely commonplace, as their sons turn into teenagers and a relationship of many years weathers illness, loss of parents, and a husband turning into a wife.
Throughout her memoir, Jennifer skillfully includes insightful interviews with Richard Russo, Edward Albee, Ann Beattie, Augusten Burroughs, Susan Minot, Trey Ellis, and Timothy Kreider to delve deeper into what family means to different people. Jennifer examines relationships with fathers and mothers, people's memories of the children they were and the parents they had, and the many different ways a family can grow and change. With an afterword by Anna Quindlen that includes Jennifer and her wife discussing the challenges they've faced and the love they share, STUCK IN THE MIDDLE WITH YOU tests our assumptions about gender and parenting while it charms and engages.
About the Author:
Jennifer Finney Boylan is a professor of English at Colby College in Maine. She has served on the judging committee of the Fulbright Scholar Program, administered by the U.S. Department of State. She lives in Maine with her wife, Deirdre, and their children, Zach and Sean. Boylan is a Random House Speaker's Bureau client, visit: http://www.rhspeakers.com/speaker/jennifer-finney-boylan/.
Related Posts: