Press Releases
Jennifer Clement offers a gorgeously written story of Jean-Michel Basquiat's partner, her past, and their life together in Widow Basquiat
A striking portrait of the artist as he's never been seen before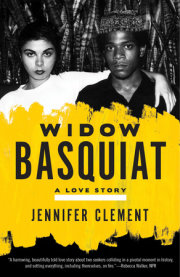 Jennifer Clement
Imprint: Broadway Books
On sale: November 4, 2014
Price: $16.00
Pages: 208
ISBN: 9780553419917
Contact:
Lauren Kuhn
212-782-8637
lkuhn@penguinrandomhouse.com
Advance Praise and International Acclaim for WIDOW BASQUIAT
"Stunningly lyrical . . . original, insightful, and engrossing. . . . While filled with pop culture anecdotes art fans might seek—Andy Warhol and Rene Ricard both make appearances, for instance—Clement's account is an honest love story above all else."—Publishers Weekly (starred)
"With short, episodic chapters, Clement delivers real insight into the life of the brilliant artist as well as the glittering—but ultimately chaotic—world that consumed him. A disturbing and poetic biography of a talented but massively flawed artist." —Kirkus Reviews
"Sublime, poetic . . . A harrowing, beautifully told love story about two seekers colliding in a pivotal moment in history, and setting everything, including themselves, on fire." —Rebecca Walker, New York Times bestselling author of Black, White, and Jewish
"A beautifully evocative, poetic memoir . . . Basquiat was aware of the criteria with which posterity would judge him. Widow Basquiat should be part of those criteria." —The Herald (UK) 
"An engrossing narrative . . . Clement offers far more clues to the cryptic symbols which litter his [Basquiat's] paintings than any art critic could." —The Times (UK) 
"A brilliant account of the relationship between Basquiat and his muse and lover . . . a compelling book that leaves a giant-sized lump in the throat . . . Clement hypnotises us with a vivid portrait of Basquiat, powerfully evoking his inventiveness as an artist." —Independent on Sunday (UK) 
Jean-Michel Basquiat's first great love, Suzanne Mallouk, arrived  in New York City in the 1980's, after she escaped a painful childhood in Canada. She worked jobs in bars and struggled to find her place in a city as alluring as it was dangerous. She kept her heroin inside her beehive hairdo, the white powder hidden in the tease and spit where the cops and drug addicts couldn't find it. Basquiat lived on the benches of Washington Square Park, his crayons kept with his other belongings in a plastic bag. Not long after the two met at a dark, seedy bar called Nightbirds, they became inseparable, together in a bygone New York both glamorously synonymous with art, music, and the Mudd Club and notorious for its violence, drugs, and crime.
In Widow Basquiat: A Love Story (Broadway Books; November 4, 2014), award-winning author Jennifer Clement, who first met Suzanne while waitressing at a Mexican restaurant after her own move to New York, has created an enchanting portrait of her close friend, poignantly capturing her voice in passages of monologue interspersed throughout the book's poetic narrative. What emerges is a gorgeously written memoir of Suzanne's passionate and complicated love affair with the troubled yet brilliant, enduringly influential artist.
Born in Brooklyn to a Haitian father and a Puerto Rican mother, Basquiat dropped out of school at seventeen and began writing on walls around New York City signed with the tag "SAMO" (standing for "same old shit") and a copyright symbol. After SAMO's unveiling, Basquiat's ascension from street art to paintings that would sell for millions of dollars in the chic gallery spaces of Manhattan brought the artist into the company of many of established and rising figures, from Andy Warhol to Madonna to William Burroughs.
But just as Basquiat arrived on the art scene as "art itself began to reveal a change from the cool and cerebral to the volatile and passionate," as a 1985 New York Times Magazine feature proclaimed, Suzanne experienced firsthand how well Basquiat himself fit the same description. Sometimes, he read her poems from his "Black and White Notebooks," brought her cakes and pastries, called her Venus and painted her; other times, he picked up men and women at the Mudd Club, disappeared for days, and ordered her not to speak because he couldn't stand her accent. He was at once "engagingly shy and temperamental," wrote New York Times Magazine, and had a conflicted relationship with his own fame. After one dealer visited his loft, he emptied the jar of fruits and nuts she had brought him over her head as she left, angry because he said she had tried to convince him her black driver worked with her in her gallery as opposed to chauffeuring her. Ultimately and tragically, his new life of celebrity and access was also his greatest downfall; unable to deal with the pressure and demands his fame brought, in 1988—at the age of twenty-seven—Basquiat died from a heroin overdose.  
Widow Basquiat, first published in the UK to incredible acclaim, is the striking story of an artist whose impact would echo beyond his time in the visual art world—in the United States and abroad—and through the voices of musicians such as Macklemore, Jay Z, and Frank Ocean alike. A captivating coming-of-age story, a heartbreaking romance, and a powerful exploration of love, addiction, race, fame, and the commodification of art, Widow Basquiat shows the artist as you've never seen him before.
ABOUT THE AUTHOR 
Jennifer Clementstudied literature in New York and Paris. She was awarded the NEA Fellowship for Literature and the Sara Curry Humanitarian Award for her most recent novel, Prayers for the Stolen, to be published in paperback on November 4, 2014. Formerly president of PEN Mexico, she currently lives in Mexico City.
Related Posts: