Press Releases
Jayson Lusk's rollicking indictment of the liberal food elite's hypocrisy, The Food Police
Ban trans fats? Outlaw Happy Meals? Tax Twinkies and soda? What's next?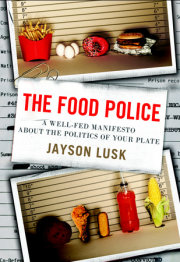 Jayson Lusk
Imprint: Crown Forum
On sale: April 16, 2013
Price: $24.00
Pages: 240
ISBN: 9780307987037
Contact:
Sarah Breivogel
212-572-2722
sbreivogel@randomhouse.com
Praise for Jayson's Lusk's THE FOOD POLICE:
"Whether or not readers agree with Lusk's views on agriculture and the politics of food production, he will make you think about your food choices." —Kirkus
"If you are looking for one book to set the record straight on the progress in American food, start here."
—Tyler Cowen, author of An Economist Gets Lunch
A catastrophe is looming. Farmers are raping the land and torturing animals. Food is riddled with deadly pesticides, hormones, and foreign DNA. Corporate farms are wallowing in government subsidies. Meat packers and fast-food restaurants are exploiting workers and tainting the food supply. Mayor Michael Bloomberg has just banned sodas as if they're filled with smallpox, and Paula Deen has diabetes. Something must be done!  So says an emerging elite in this country who think they know exactly what we should grow, cook, and eat. They are the food police. Taking on the commandments and condescension from the likes of Michael Pollan, Alice Waters, and Mark Bittman, Jayson Lusk, one of the most cited food economists of our generation and now author of THE FOOD POLICE: A Well-Fed Manifesto About the Politics of Your Plate (Crown Forum, April 16, 2013) casts overdue skepticism on fascist food snobbery, debunking the myths propagated by the holier-than-thou foodie elite who think they know exactly what we should grow, cook, and eat.
In THE FOOD POLICE you'll learn why:
Organic food is not necessarily healthier or tastier (and is certainly more expensive)
Genetically modified foods haven't sickened a single person but they do hold the promise of feeding impoverished Africans
Voguish locavorism is not greener or better for the economy
Fat taxes and soda bans won't slim our waists (economic research shows these have trivial effects on weight) and are in fact akin to reducing people's income
"Fixing" school lunch programs won't make our kids any smarter
The food police believe an iPad is a technological marvel but that food technology is an industrial evil
In an interview, Lusk can also answer questions such as whether or not he believes salt, sugar, and fat really are addictive, why the food elite has such a problem with farm subsidies and the advances of farming techniques, whether or not consumers are so weak as to succumb to the whims of big food and their flavor construction, as well as discuss his own concerns for the rise in obesity in America and what we can do to improve the issue. 
Amid books like Michael Moss's Salt Sugar Fat: How the Food Giants Hooked Us and Melanie Warner's Pandora's Lunchbox: How Processed Food Took Over the American Meal, and a barrage of alarmist outcries over the state of food in America demanding further regulation, Lusk's message is vital: the food elite's push for soda and Twinkie taxes, promotion of local foods, attempts to regulate processed and fast food, and aversion to biotechnology all make it harder on the poor to meet the most basic necessity of fending off starvation, and by denying the massive efficiencies of modern food technologies, the food police are hurting the folks they say they're trying to help.
Lusk argues that the food police, powerfully anti-processing, anti-modifying champions of all things local and organic, of foods "clean," "green," and "slow," is, like Obamacare, another liberal intrusion on individual rights for choice. A wicked rebuttal to books like Fast Food Nation, The Omnivore's Dilemma, and Food, Inc., THE FOOD POLICE cries foul about a culture run amok by folks who think they know better and urges us to take back our forks and foie gras before Big Brother and Animal Farm merge into a socialist nightmare and it's too late.
ABOUT THE AUTHOR: JAYSON LUSK is a professor and the Willard Sparks Endowed Chair in the agricultural economics department at Oklahoma State University. Lusk has published more than one hundred articles in peer-reviewed journals on topics related to consumer behavior and food marketing and policy. He is among the most cited food economists of his generation.
Related Posts:
You Might Also Like