Press Releases
Jenni Fagan's stunning debut novel, The Panopticon, returns in paperback
One of Granta's Best Young British Novelists of 2013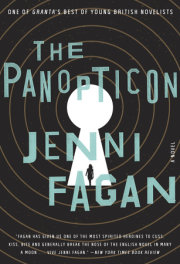 Janni Fagan
Imprint: Broadway Books
On sale: April 22, 2014
Price: $15.00
Pages: 304
ISBN: 9780385347952
Contact:
Abigail Grace Murdy
212-572-2247
amurdy@randomhouse.com
SHORTLISTED FOR THE DESMOND ELLIOTT AWARD
SHORTLISTED FOR THE JAMES TAIT BLACK PRIZE
SHORTLISTED FOR THE DUNDEE INTERNATIONAL BOOK PRIZE
LONGLISTED FOR THE 2013 INTERNATIONAL IMPAC DUBLIN LITERARY AWARD
NPR'S GREAT READS 2013
LIBRARY JOURNAL'S TOP TEN BOOKS OF 2013
AMAZON'S BEST OF THE YEAR 2013
"Fagan has created a feisty, brass-knuckled yet deeply vulnerable heroine, who feels like sort of a cross between Lisbeth Salander, Stieg Larsson's Girl With the Dragon Tattoo, and one of Irvine Welsh's drug-taking Scottish miscreants from Trainspotting or Skagboys. Her novel is by turns gritty, unnerving, exhausting, [and] ferocious . . . A deeply felt and genuinely affecting novel."
—New York Times

"Fagan has given us one of the most spirited heroines to cuss, kiss, bite and generally break the nose of the English novel in many a moon . . . there is no resisting the tidal rollout of Fagan's imagery. Her prose beats behind your eyelids, the flow of images widening to a glittering delta whenever Anais approaches the vexed issue of her origins . . . Vive Jenni Fagan . . . whose next book just moved into my 'eagerly anticipated' pile."
—New York Times Book Review (cover)

"[Fagan] grew up in what's euphemistically called 'the care system,' and she writes about these young people with a deep sympathy for their violently disordered lives and an equally deep appreciation of their humor and resiliency…
[Fagan has a] rousing voice, with its roundly rendered Scottish accent."
—Washington Post
"A classic coming-of-age tale."
—Boston Globe

"Fagan's style calls to mind fellow Scottish writer Anthony Burgess, whose novel A Clockwork Orange used similar lexicographic liberties to reinforce a theme of teenage dystopia."
—Daily Beast
"[A] terrific portrait of a young criminal . . . Fagan makes this ugly life somehow beautiful."
—NPR
"The Panopticon [is] a terrifically gritty and vivid debut."
—Cleveland Plain Dealer

"She's Oliver, with a twist. Anais Hendricks, fifteen, and the female protagonist of poetess Fagan's first novel, cuts right to the chase as she chronicles the modern British foster care system."
—New York Post
"Fagan creates a complex and vulnerable character . . . [and] even though Anais makes it hard for you to love her, you can't help wishing her out of her plight and cheering her upward."
—Bust (four stars)
"Ferocious and devastating, The Panopticon sounds a battle-cry on behalf of the abandoned, the battered, and the betrayed. To call it a good novel is not good enough: this is an important novel, a book with a conscience, a passionate challenge to the powers-that-be. Jenni Fagan smashes every possible euphemism for adolescent intimacy and adolescent violence, and she does it with tenderness and even humor . . . I will be recommending this book to everyone I know."
—Eleanor Catton, author of the Man Booker Prize winning novel The Luminaries
"In the Margaret Atwood/The Handmaid's Tale vein—very literary and suspenseful. I like books set in an altered reality—one that feels familiar and yet also deeply unfamiliar, that embodies some of the dailiness of life, and yet slowly reveals itself to be a very different, much more sinister place."
—Gillian Flynn, author of the New York Times Bestseller Gone Girl
Published first in the United Kingdom to wide acclaim, THE PANOPTICON (Hogarth; On Sale: April 22, 2014) instantly earned JENNI FAGAN a place on the literary map. Its reception in the United States was no less dramatic, with the debut novel garnering rave reviews from Tom Shone on the cover of the New York Times Book Review, from Michiko Kakutani in the New York Times, and from Ron Charles at the Washington Post. This past fall Fagan signed a deal with Sixteen Films to produce a film adaptation with Jim Loach directing. Now readers can experience this remarkable novel in paperback.
The book begins, "I'm an experiment. I always have been. It's a given, a liberty, a fact. They watch me. Not just in school or social-work reviews, court or police cells—they watch everywhere. They watch me hang by my knees from the longest bough of the oak tree; I can do that for hours, just letting the wishes drift by. They watch me as I outstare the moon. I am not intimidated by its terrible baldness."
Anais Hendricks has been watched since birth—not by her mother but by a system, an "experiment." Born into Scottish foster care, she made her way through twenty-three placements before turning seven. Now at age fifteen, she sits in the back of a police car, headed toward the Panopticon, a home for chronic young offenders. She can't remember what's happened, but across town a policewoman lies in a coma, and Anais's school uniform is covered in blood. In THE PANOPTICON, Anais relates the story of her young life in poignant fighting words, her imaginative voice at once lonely and defiant. At the Panopticon she forms a family with the other inmates—the social care workers insist on calling them all "clients" —and together they live, hope, and despair in the face of a failed system.
This story stems partly from JENNI FAGAN's own upbringing. She spent her childhood in the Scottish "care system," living in foster placements, children's homes, caravan parks, and bedsits. At sixteen years old, she left care, moved to the city on her own, and began writing, eventually earning her degree in creative writing. With insights into a system that most have never experienced and cannot comprehend, Fagan was driven to craft a novel that reflected her unique experiences.
JENNI FAGAN was born in Livingston, Scotland. She graduated from Greenwich University and won a scholarship to the Royal Holloway MFA. A published poet, she has won awards from Arts Council England, Dewar Arts, and Scottish Screen, among others. She has twice been nominated for the Pushcart Prize and was shortlisted for the Dundee International Book Prize. In 2013, she was named one of Granta's Best of Young British Novelists. THE PANOPTICON is her first novel. She lives with her partner and their daughter in Scotland.
Related Posts: