Press Releases
THE INVOICE by Jonas Karlsson
Jonas Karlsson, author of the international bestseller The Room, brings us a brilliant, new laugh-out-loud novel about cherishing simple pleasures in our modern world—and the price we put on happiness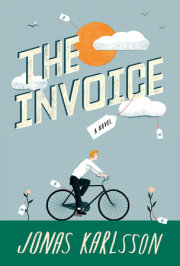 Jonas Karlsson
Imprint: Hogarth
On sale: July 12, 2016
Price: $24.00
Pages: 208
ISBN: 9781101905142
Contact:
Hannah Frail
212-572-2247
hfrail@penguinrandomhouse.com
Advance Praise for The Invoice:
"A fable for the ages. [The Invoice] should be read alongside The Trial and 1984 as an antidote." —Kirkus Reviews
"Karlsson's story recalls the work of Jorge Luis Borges and Franz Kafka, if those two had been, well, happy. The narrator, an affable fellow at loose ends, understands his uncluttered life better than he thinks he does, and the author's sympathetic portrayal of him, as well as the mirror his experience holds to an increasingly Byzantine and humorless society, wins the day." —Publishers Weekly
International Praise for The Invoice:
"Entertaining, thought-provoking, and delivered with a good humour that makes it hard to resent its irrepressible hero."                           —The Guardian, UK
"Karlsson's wry, whimsical novel excels at describing the simple pleasures of everyday life: it's as if Kafka decided to look on the bright side." —Mail on Sunday, UK
"A spectacular little book . . . a small gem full of humor." —Livres Hebdo, France
"Jonas Karlsson has written a flawless portrait of a happy, lazy rebel." —Libération, France
One of Sweden's most prominent actors, Jonas Karlsson has been nominated four times for Sweden's Guldbagge Award (the Swedish equivalent of the Academy Award) and won in 2004 for best actor. Following up his 2005 success as a playwright, Karlsson published his dark, humorous first novel, The Room. Since hitting the bestseller list in Sweden, The Room has sold in eleven other countries and has been translated into more than twenty languages. Currently shooting a film adaptation of Jo Nesbø's The Snowman alongside Michael Fassbender and Rebecca Ferguson and appearing in the British television series Black Mirror, Karlsson floats effortlessly between his many roles and creative mediums, and his newest novel, THE INVOICE (Hogarth; July 12, 2016), is another charming, absurdist literary gem.
In THE INVOICE, we are introduced to our unnamed, unassuming protagonist who works part time in a video store, has a few close friends, and lives in a one-room flat in Stockholm. His life is extremely ordinary, but he is pleasantly content until he receives a mysterious invoice for an astronomical amount of money. This figure, 5.7 million kronor, represents the price that he has to pay for everything he has thus far experienced in his life, including his childhood, friendships, and long-lost loves. In his quest to discover the roots of this unfathomable invoice, he is obliged to revisit old memories, reevaluate his current feelings of satisfaction, and determine how he, a movie buff with no goals or aspirations, can ever hope to pay back this monumental sum—all while wrestling with the realization that he might be falling for the voice on the other end of the customer service line.
Karlsson keeps the wheels turning throughout this delightful novel, calling into question what "happiness" means within the constructs of our modern society and how it is measured. Written with delightful humor and a sharp eye for the foibles of our time, THE INVOICE is also a moving love story—one that might just change the way you view your own life.
ABOUT THE AUTHOR
JONAS KARLSSON writes plays and short fiction. An acclaimed Swedish actor, Karlsson has performed on Sweden's premier stage and in several acclaimed feature films and television series. In 2005, Karlsson made his debut as a playwright, earning rave reviews from audiences and critics alike. Spurred by the joy of writing for the stage, Karlsson began writing fiction.
Related Posts: