Press Releases
The internationally acclaimed coming-of-age novel, Barracuda by Christos Tsiolkas
Man Booker Prize-longlisted author of The Slap (soon to be an NBC miniseries) returns in an "immensely moving" (Sunday Times) story of a young athlete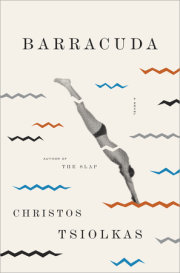 Christos Tsiolkas
Imprint: Hogarth
On sale: September 9, 2014
Price: $26.00
Pages: 448
ISBN: 9780804138437
Contact:
Dyana Messina
212-572-2098
dmessina@penguinrandomhouse.com
International Praise for Barracuda
"Immensely moving . . . At times, the prose is near to poetry . . . There are shades of Faulkner in this brilliant, beautiful book. If it doesn't make you cry, you can't be fully alive." —Sunday Times
"[Tsiolkas is] a master chronicler of the zeitgeist. . . . If The Slap was excellent material for a TV series, then Barracuda's more substantial plot has all the hallmarks of a feature film." —The Guardian
"This involving and substantial tale—surprisingly tender for all its sweary shock-value—is carried swiftly along by Tsiolkas's athletic, often lyrical prose." —Daily Mail
"Christos Tsiolkas is in his natural element, too, with sentences gliding elegantly until the reader is utterly submerged in this absorbing story." —Metro
"Resonant, epic, and supremely accomplished . . . subtle, textured, profoundly human, and riveting . . . This is the work of a superb writer who has completely mastered his craft but lost nothing of his fiery spirit or instinct in so doing. Barracuda is a big achievement. Not least because, for all its power and glory, for all its sound and fury, it everywhere manifests 'the ruthless calm of the truth." —The Observer
"Rhapsodic  . . . Barracuda may tell an old, old story, but it has rarely been told in a better way." —The Telegraph
U.S Praise for The Slap
"Tsiolkas is a master of seamless joints . . . a hard-edged, powerful writer . . . [The Slap] transcends both suburban Melbourne and the Australian continent, leaving us exhausted but gasping with admiration." —Washington Post
"Like a solid, tightly written TV series, [The Slap] tells a layered, briskly paced story about complex people. Think Tom Wolfe meets Philip Roth. Or The Sopranos meets The Real Housewives of Orange County. . . . [Tsiolkas] has the admirable ambition and the skill to portray as intimately as he can the inner and private lives of his characters. . . . What impresses are the seriousness and sensitivity with which Tsiolkas handles his themes while keeping his narrative tight and detailed." —Los Angeles Times
About the Book
With his 2008 novel, The Slap, Christos Tsiolkas reached a new level of success as an author. Winner of the Commonwealth Prize for Literature, shortlisted for Australia's Miles Franklin Award, longlisted for the Man Booker Prize, the recipient of world-wide acclaim, and adapted into an international Emmy nominated mini-series, The Slap was a worldwide phenomenon, selling more than one million copies. For Tsiolkas, the attention surrounding The Slap was certainly welcome—and also incredibly thought-provoking. In The Slap he questioned how we, as individuals and as a society, view relationships and family, class and success. In his bracing new novel, BARRACUDA (Hogarth; September 9, 2014), Tsiolkas again addresses these moral questions, this time through the story of an Olympic-caliber swimmer.
Danny Kelly is a typical fifteen-year-old, working-class teenager in suburban Melbourne. There is one thing, however, that sets Danny apart: he is an extraordinarily talented swimmer. His skill in the pool has made him something special in the eyes of everyone—his younger brother, Theo, his best friend, Demet, the boys at his elite prep school (which he is only able to attend because of his athletic scholarship), and even his father, a pragmatic realist who has never quite understood his son's devotion to the sport. But Danny is the best, the fastest, the strongest—able to bend the water to his will, earning him the nickname "Barracuda." He might even be the best in the world, a "golden boy" with the potential to compete for Australia in the Olympics. Danny gives everything of himself to that dream, only able to see himself as "Barracuda" in both his own eyes and the eyes of everyone he knows and loves. But when a crushing loss ends that dream, what is left? Twenty years later, it is the question that Dan Kelly struggles with each day as he fights to overcome the mistakes and disappointments that have shaped his life. Can he shed the shame of his past and reinvent himself? And can he finally forgive himself so that those he loves can forgive him too?
With BARRACUDA, Tsiolkas offers a sharp, yet tender coming-of-age story that explores the internal and external factors that combine to make us who we are. Through the character of Danny, he asks what makes a man a "good man"—to his friends, to his family, to society, and to culture—but most important, to himself. Beautifully observant and lyrically written, BARRACUDA has received overwhelming praise in Tsiolkas's native Australia and in the UK, and has taken this talented writer to a new level of literary achievement.
About the Author
Christos Tsiolkas is an internationally bestselling and award-winning novelist, playwright, essayist, and screenwriter. He lives in Melbourne, Australia.
Related Posts: