Press Releases
Instantly Southern By Sheri Castle
85 Southern Favorites for Your Pressure Cooker, Multicooker, and Instant Pot®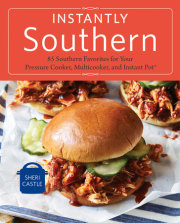 Sheri Castle
Imprint: Clarkson Potter
On sale: October 9, 2018
Price: $16.99
Pages: 176
ISBN: 9781984822475
In Instantly Southern (Clarkson Potter | $16.99 | on sale 10/9/18) Sheri Castle shares 85 recipes that give us new, quick, easy, and convenient ways to prepare fresh, delicious Southern cuisine. There's a taste of tradition and comfort food, plus inventive recipes that showcase beloved Southern ingredients, such as rice, seafood, chicken, and plenty of garden-fresh produce.
There are delectable soups and stews (and a gumbo, of course), but also wholegrain salads, tantalizing side dishes, fun appetizers, breakfast delights, and pages of tempting desserts. Hearty entrees range from quick weeknight suppers to Sunday dinners and holiday celebrations—just what we need to make quick work of satisfying family meals and gracious entertaining.
An acclaimed food writer and beloved cookbook author, Sheri is known for her thoughtful, reliable recipes that are peppered with practical tips and hints that make cooks feel confident and excited about home cooking – and it's never been quicker or easier thanks to the one-button shortcuts of a multicooker. With only a few fresh groceries, a handful of pantry staples, and an outlet to plug in the pot, home cooks of all skill levels can create fabulous, memorable Southern meals and treasured family recipes with ease.
Recipe highlights include:
5-Minute Mac and Cheese
Chicken and Fluffy Dumplings
Spring Vegetable Medley with Fresh Herbs
Shrimp and Stoneground Grits
Braised Pork and Apples in Cider-Gingersnap Gravy
Texas Bowl of Red
Bourbon and Cola Beef Short Ribs
Holiday Ham with Ginger-Peach Glaze
Slow-Cooked Pulled Chicken Sandwiches in Cheerwine Barbecue Sauce
Hummingbird Coffee Cake with Pineapple-Cream Cheese Glaze
Praline Cheesecake
Salted Caramel Banana Pudding
# # #
About the Author
SHERI CASTLE is a Chapel Hill-based cookbook author, recipe developer, and cooking teacher. She co-authored the Southern Living Community Cookbook and the Southern Foodways Alliance Community Cookbook. Her cookbook, The New Southern Garden Cookbook, was the winner of Cookbook of the Year by the Southern Independent Booksellers' Association. Sheri is a frequent contributor to Southern Living, The Kitchn, and many others.
About the Book
Instantly Southern: 85 Southern Favorites For Your Pressure Cooker, Multicooker, and Instant Pot®
By Sheri Castle
On sale October 9, 2018 | $16.99 | ISBN: 9781984822475
Related Posts: