Press Releases
Instant Loss Cookbook
Cook Your Way to a Healthy Weight with 125 Recipes for Your Instant Pot®, Pressure Cooker, and More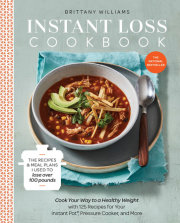 Brittany Williams
Imprint: Harmony Books
On sale: October 2, 2018
Price: $19.99
Pages: 240
ISBN: 9780525577232
Contact:
Tammy Blake
212-572-2542
tblake@penguinrandomhouse.com
Brittany Williams, the utterly charming Instant Loss blogger who lost more than 125 pounds in a year shows how she did it with homemade, whole foods, and with the help of her Instant Pot®
Brittany Williams has struggled with weight her whole life. Between pregnancies, an autoimmune disorder, and juggling her family of five's busy schedule, she tried everything to lose the excess weight, but nothing worked— by 2016, she was 260 pounds. As she says, "I started and stopped so many different diets that I lost count. My entire life revolved around the fact that I was fat and trying to get UNFAT."
However, when her four-year-old daughter Avey was diagnosed with an autoimmune disease, Brittany saw how dramatically the condition was alleviated by a whole-food-based diet. She decided she owed her own body the same care she provided for her daughter, and, on January 1, 2017, made herself a promise: to make every meal for her family from scratch for one year, with the help of the Instant Pot® her husband had given her as a gift. That promise yielded remarkable results—by February 2017, Brittany lost nineteen pounds; by March, forty-six. At the end of the year, she had dropped 125 pounds. Brittany was thrilled to see how the versatility and ease of an electric pressure cooker made creating wholesome family meals a breeze.
Now in her debut book, INSTANT LOSS COOKBOOK (Harmony Books, On Sale October 2, 2018; $19.99; Trade Paperback), Brittany is sharing 125 recipes for breakfast, lunch, and dinner, to help you get the most out of your Instant Pot® or electric pressure cooker—plus a handful of recipes that don't require firing up your device at all.  Along the way, Brittany shares her best advice on avoiding processed snacks, takeout, and other temptations she encountered during her year of Instant Loss. Woven throughout are tips and tricks for maintaining a low-sugar, dairy-limited, grain-free diet by utilizing ingredients you can find at any grocery store, as well as the meal plans Brittany followed to lose the weight.
With the intimate rapport of a best friend, Brittany's guidance will ensure that you and your family are living healthfully and happily. The INSTANT LOSS COOKBOOK shows how to make healthy eating convenient, which is the key to sustainable weight loss.
###
ABOUT THE AUTHOR:
Brittany Williams is a mother of three, a blogger and a self-proclaimed lover of food. She decided to make a big change in her diet by removing processed snacks, takeout and high-calorie meals from her family's menu and she replaced those foods with healthier meals she could make in her Instant Pot®. She has since lost 125 pounds. Find her online at instantloss.com or Instagram.com/instantloss
Related Posts:
You Might Also Like