Press Releases
Inspiralized and Beyond by Ali Maffucci
Spiralize, Chop, Rice, and Mash Your Vegetables into Creative, Craveable Meals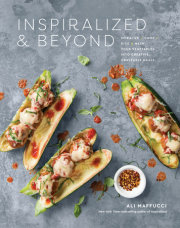 Ali Maffucci
Imprint: Clarkson Potter
On sale: May 1 2018
Price: $21.99
Pages: 288
ISBN: 9781524762681
Contact:
Jana Branson
jbranson@penguinrandomhouse.com
In New York Times bestselling author Ali's Maffucci's third cookbook, Inspiralized & Beyond: Spiralize, Chop, Rice, and Mash Your Vegetables into Creative, Craveable Meals (Clarkson Potter | May 1, 2018 | $21.99 | Paperback)—it's no longer just about the veggie noodles.
Readers will be delighted to discover that Maffucci's latest cookbook offers brand-new innovation for carb and even meat replacements, while still providing all-new spiralizing favorites. All of her recipes use common, easy-to-find vegetables that shine as the primary focus of flavorful, healthy meals. Sweet potato slabs replace toast, cauliflower becomes pizza crust, broccoli turns into tots, avocado gets moussed, jackfruit mimics pulled meat—and that's just the beginning.
Sample chapters and recipes featured in the book include:
BREAKFAST: Flourless Breakfast Crepes with Peaches & Sunflower Butter; Cinnamon-Raisin Sweet Potato Bagels with Maple Cashew Cream Cheese; Delicata Squash Egg Cup Bake with Lentils and Feta
APPETIZERS & SIDES: Artichoke & Olive Sausages with Hummus; Ricotta & Fig Golden Beet Crostini; Zucchini Pork Dumplings
SOUPS & SALADS: Stracciatella Soup with Broccoli Noodles; Cacio e Pepe Kale with Fried Egg; Beet Poke Bowl with Seaweed
SANDWICHES: Sweet Potato Waffle Grilled Cheese; Philly Cheesesteaks in Bell Pepper Cups; Mushroom-Walnut Larb in Lettuce Cups
PASTA & NOODLES: Spicy Broccoli, Quinoa & Sausage Pasta with Parmesan; Shredded Brussels Sprouts Carbonara with Peas & Pancetta; Lemon-Grilled Baby Artichokes with Asparagus Noodles
CASSEROLES: Eggplant Rolls with Chicken Shawarma & Tahini Drizzle; Shepherd's Pie with Celeriac & Butternut Squash Crust; Cabbage-Wrapped Veggie Enchiladas
VEGETARIAN MAINS: Southwest BBQ Jackfruit Bowls; Cauliflower Steaks & Chimichurri with Corn Succotash; Socca Flatbread with White Bean Spread and Caramelized Leeks
NON-VEGETARIAN MAINS: Spicy Cumin Lamb Meatballs & Cucumbers with Herbed Tahini-Yogurt Sauce; Gingery Braised Short Ribs with Scallion-Spaghetti Squash Cakes; Fish Taco Bowls
DESSERTS: Vegan Eggnog Chia Pudding; Watermelon Dessert Pizza; Mint Chocolate Chip Avocado Ice Cream
With 125 recipes and nearly 100 stunning photographs, as well as an extensive section for home cooks on "How to Get Inspiralized & How to Go Beyond," Ali's latest book, Inspiralized & Beyond, offers even more fun and creative ways to fit vegetables into any diet.
# # #
ABOUT THE AUTHOR:
Ali Maffucci is the founder of the culinary brand Inspiralized, the ultimate resource for cooking creatively, healthfully, and deliciously with the spiralizer, the kitchen tool that turns vegetables and fruits into noodles. In June 2013, Ali quit her corporate job to pursue Inspiralized, the brand referred to as a "spiral empire" by Food & Wine magazine. Since then, Ali has authored two New York Times bestselling cookbooks, Inspiralized and Inspiralize Everything, as well as produced her own branded spiralizer, the Inspiralizer. She lives in Jersey City, New Jersey, with her husband, Lu, and their son, Luca.
# # #
INSPIRALIZED & BEYOND
Spiralize, Chop, Rice, and Mash Your Vegetables into Creative, Craveable Meals
By Ali Maffucci
Clarkson Potter/Publishers
May 1, 2018
ISBN: 978-1-5247-6268-1• $21.99 • Trade Paperback
Related Posts: