Press Releases
Inside the Cult of CrossFit — LEARNING TO BREATHE FIRE by J.C. Herz
The Rise of CrossFit and the Primal Future of Fitness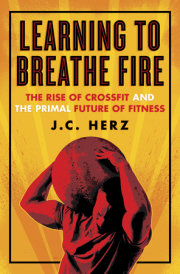 J.C. Herz
Imprint: Crown Archetype
On sale: June 3, 2014
Price: $25.00
Pages: 368
ISBN: 9780385348874
Contact:
Rebecca Marsh
212-572-2544
rmarsh@randomhouse.com
A FASCINATING ACCOUNT OF CROSSFIT'S ORIGINS, EXPLOSIVE GRASSROOTS GROWTH, AND EMERGENCE AS A GLOBAL PHENOMENON
"Learning to Breathe Fire is one of those books that comes along every generation or so that brings to life a subculture so vividly, so deliciously, that it makes you want to run out now and become a part of it! Written with great verve, comprehensive research, and a novelist's knack for deft characterizations, this is CrossFit's War and Peace."
—Charles Gaines, New York Times bestselling coauthor of Pumping Iron
"One of the best sports books I've read in years. Filled with vivid characters, insightful observations, and mind-opening descriptions of a new kind of fitness regimen that is sweeping the country . . . Herz captures the joy of going beyond what you think are your limits and in the process becoming a new person."
—Bill Bradley, former US Senator and star of the New York Knicks
When it comes to CrossFit, observers of the red-hot workout regimen tend to fall into two camps: true believers and those who can't imagine what would possess someone to push that hard. Or, as journalist J. C. Herz puts it, for some people it's a "lightning bolt: this is what I've been searching for. The rest think it's a sign of mental illness."
But there's no denying that CrossFit has recently exploded in popularity, and become one of the world's most fascinating sports subcultures. Today there are over 7,000 CrossFit gyms (or "boxes") in dozens of countries, and millions of devoted participants—including elite special forces and first responders, along with plenty of regular Joes and Janes. In her new book, LEARNING TO BREATHE FIRE: The Rise of CrossFit and the Primal Future of Fitness (Crown Archetype; $25.00; On Sale June 3, 2014), Herz delves deep into this "insane fitness cult," vividly bringing it to life. In rich and riveting detail, she explores the science behind why CrossFit works, as well as the people who champion it and the fierce spirit that fuels them.
Herz traces CrossFit's rise from a single underground gym in Santa Cruz to a global movement, going behind the scenes with the founders, star competitors, and everyday enthusiasts whose lives have been transformed by the training. Fusing action-packed sportswriting with riveting psychological profiles, she introduces readers to unforgettable characters such as CrossFit founder Greg Glassman, never-say-die Masters competitor Jerry Hill, and two-time Games champion Annie Thorisdottir—recently dubbed "the fittest woman on the planet" by Vogue. The characters in LEARNING TO BREATHE FIRE run the gamut from surfer chicks to Navy SEALS. But they share an underlying ethos: they are willing to seek and endure discomfort, and their intense physical trials forge powerful group bonds. In the CrossFit parlance, "It never gets easier. You just get stronger."
Modern-day stoicism, the ability to endure unpredictable adversity, is the key to CrossFit's transformative power. Herz explains that traditional gym equipment, like the Stairmaster and the elliptical, is designed for minimally taxing, low-intensity, and passive exercise. By contrast, CrossFit workouts—called WODs (Workouts of the Day)—are known for their variety and intensity. They combine many different fitness elements, including gymnastics, sprints, and weightlifting, in an ever-changing fashion, forcing the body to adapt. Think of a WOD as a timed obstacle course meant to mimic what any of us might be called on to do in an emergency situation. The results are concrete and measurable, as CrossFitters find themselves doing things they never dreamed of being able to do, whether it's a single pull-up or a 15-foot rope climb.
LEARNING TO BREATHE FIRE also takes readers inside the excitement and drama of the annual CrossFit Games, which began as an informal throwdown on a California ranch and has evolved into a televised global event—a veritable Olympics of fitness. Designed to be a true test of human physical capacity, the Games are filled with competition, camaraderie, and superhuman feats of strength and endurance. Herz taps in to that fervor, chronicling the grueling challenges and spotlighting elite athletes as they battle it out in the arena.
As the Games demonstrate, CrossFit draws heavily on ancient forms of athletic ritual. It taps into the primal human experience and the power of the pack. We are geared to form tribes and spring into action as "first responders." The experience of pushing our physical limits connects us to ancient hunters and warriors. In LEARNING TO BREATHE FIRE, Herz brilliantly connects the old and the new.
About the Author
J. C. Herz started doing CrossFit in 2010 at a gym favored by the presidential Secret Service detail. A journalist-cum-polymath and Harvard graduate, she has written for Rolling Stone, Wired, and The New York Times, conducted military research at DARPA, founded an analytics startup, and given two TED talks. She is the author of two previous books, Joystick Nation and Surfing on the Internet.
More Praise for LEARNING TO BREATHE FIRE
"Effort alone is all we may bring to life. Everything else—our genes, our talents, and our teachers—are gifts. J. C. Herz has written a compelling book around this truth as embodied in the CrossFit culture . . . she writes with sweep and depth about great characters, often racked with doubt, finding their limits and surpassing them."
—Kenny Moore, award-winning writer for Sports Illustrated and author of Bowerman and the Men of Oregon
"This book succeeds as history, love story, and cultural theory, all held together by a beautifully crafted narrative. I devoured it."
—Nadia Bolz-Weber, New York Times bestselling author of Pastrix: The Cranky, Beautiful Faith of a Sinner & Saint
 "Learning to Breathe Fire is the battle hymn of CrossFit. From Santa Cruz to Fallujah, J. C. Herz goes behind the scenes and tells the story of the firebreathers who built CrossFit out of sweat, blood, mud, tears, and heart."
—John Durant, author of The Paleo Manifesto
"A beautifully written mix of evocative vignettes and lucid explanations that shows us what we're capable of when we train hard and connect with our instinctive nature. This is a book about digging deep, about kindling a spirit that allows us to push past our wildest expectations. Whether your fitness habit involves going it alone or tunneling through an extreme workout as part of a group, you'll find this CrossFit journey thoroughly immersive."
—Marshall Ulrich, Badwater 146 record holder and author of Running on Empty
"CrossFit is a phenomenon, both as a radical way to confer fitness and as a virally successful business. Herz tells both stories with exceptional insight—plus the inside lore of a dedicated CrossFitter."
—Stewart Brand, creator of the Whole Earth Catalog (and CrossFitter at age 75)
"J. C. Herz expertly debunks many longstanding fitness beliefs and shows how high-intensity exercise can yield the greatest return on your workout investment. Her Learning to Breathe Fire chronicles the rise of CrossFit, showing—in a way that is always interesting and insightful—how ordinary people have achieved extraordinary results following this program. A must-read for anyone looking to maximize his or her potential."
—Dean Karnazes, ultra-endurance star, New York Times bestselling author, and one of Time Magazine's "100 Most Influential People"
"I couldn't put this book down. J.C. spares no detail in helping us see into the heart and soul of a CrossFitter. Her description of what CrossFit athletes overcome is truly unbelievable. She captures the essence of the sport and what it represents, most especially the ability to push through barriers, whether physical or mental. This is about the gut-busting journey to the last rep, but it's also about life. Whether you've tried CrossFit or just thought about trying it, Learning to Breathe Fire is a must-read."
—Chrisanna Northrup, New York Times bestselling author, CrossFit Level 1 coach, and former CrossFit Box owner  
"Learning to Breathe Fire is a brilliant book describing CrossFit's grassroots beginnings and its early adoption by the military and first responder communities. . . . You don't need much to do CrossFit: a small space, some ammo cans, a tactical vest, and 100,000 cubic feet of heart and lungs to achieve the desired thrashing. Herz captures the magic of CrossFit's simplicity, and, with the skill of a trained sniper, delivers a truth about what the human spirit can accomplish. This is a must-read." 
—Tim Kennedy, Pro UFC fighter, US Army Special Forces veteran, and Trauma CrossFit co-owner 
 "Essential reading for the avid CrossFitter as well as the novice gym goer who has lurked outside CrossFit box windows staring at the madness occurring inside. J. C. Herz's story of the rise of a fitness program that has built a passionate community around it is an engaging reminder of the reasons that keep people flocking to the box!"
—Jason Sturm, US Army Sergeant (retired), CrossFit Walter Reed coach, adaptive athlete, and Working Wounded Games competitor
 "J. C. Herz's new book is a riveting account of the hottest and most effective fitness movement in America. Told with nerve and verve, it's the inside story of CrossFit, its history, the athletes who swear by it, and the science behind why it works. Herz will inspire CrossFit fans to push twice as hard in their next WOD and motivate those who haven't yet tried it to get in the best shape of their life."
—David Lefer, author of The Founding Conservatives: How a Group of Unsung Heroes Saved the American Revolution
"With each page of Learning to Breathe Fire the reader receives a prescribed dose of inspiration and comes to appreciate the struggle to push through discomfort. Like a motivated coach, J. C. Herz magnificently stirs our emotions—her words are a stimulus to take us to the next level. Fair warning: while reading about the characters in this real-life story you may find yourself alternately astonished and fighting back tears. For me, this book was a walk down memory lane, reconnecting me to how my special operations career thrust me into CrossFit and turned on the fitness 'lightbulb,' increasing my appetite to read and learn more. I highly recommend Learning to Breathe Fire. It will awaken your dormant fitness DNA, 'stoke the coals,' and lift you to a new level of commitment."
—Duncan Smith, US Army Special Operations officer, casual CrossFitter, and rugby enthusiast  
 "Do you think brains are what made humans the most fearsome creatures on earth? Profiling a dozen 'fire breathers,' J. C. Herz shows how stunning we can be physically. That is, those who are willing to go all the way."
—David Brin, New York Times bestselling science fiction novelist and award-winning nonfiction author 
 "Learning to Breathe Fire brought me back to my first WOD as a brand-new member of a Special Forces team. Exactly ten years ago, I simultaneously started my career in SOF and CrossFit; in my mind, the two are symbiotic—I can't imagine one without the other. J. C. perfectly captures the physical and emotional epiphanies that occur as someone experiences the CrossFit metamorphosis. She also poignantly demonstrates the strength of the CrossFit community's bonds, particularly the link between the military and civilians; this is what makes this movement truly powerful. Learning to Breathe Fire shows how empowering it is to transform one's mind and body. But it also expresses the raw emotion involved in breaking through limits that previously seemed impossible. This important book will reshape the CrossFit movement by bringing it back to its early roots."
—Nate R., US Army Special Forces officer
Related Posts:
You Might Also Like