Press Releases
Inside the Criminal Mind: Revised and Updated Edition, by forensic psychologist Stanton Samenow, Ph.D.
From expert witness Samenow comes a brilliant, no-nonsense profile of the criminal mind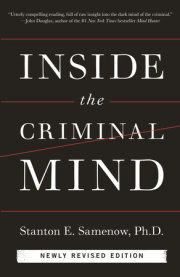 Stanton E. Samenow, Ph.D.
Imprint: Broadway Books
On sale: November 4, 2014
Price: $15.00
Pages: 368
ISBN: 9780804139908
Contact:
Rebecca Welbourn
212-782-9634
rwelbourn@penguinrandomhouse.com
When DR. STANTON E. SAMENOW first wrote INSIDE THE CRIMINAL MIND thirty years ago, it broke new ground in criminology, presenting revolutionary approaches to criminal "habilitation" that correctional facilities across the country continue to use today. A clinical psychologist, Samenow has spent over forty years as a researcher, clinician, consultant, and expert witness specializing in criminal behavior. Now, in a brand-new edition (Broadway Books; November 4, 2014), he has fully revised and updated his classic text—over fifty percent of the material is new—exploring the most pressing trends in modern crime, while offering alarming insight about the mechanisms at work inside the minds of offenders he has examined for decades.
New material in this edition includes:
An exploration of the Internet as a rapidly growing arena for criminal activity
An expanded discussion of how drug manufacturing, distribution, and use provide the criminal unique opportunities for intrigue, excitement, and financial gain
An examination of two different homicide cases in which the perpetrators came from opposite backgrounds, highlighting Samenow's findings that the criminal mind cannot be blamed on social upbringing
A new chapter on sex in the life of the criminal, arguing that sex crimes have little to do with sexual fulfillment
Samenow's thorough argument favoring the scarcity of successful insanity pleas
A closer look inside prison walls, offering a vivid picture of what employees at correctional facilities encounter every day
A radical new approach to anger management based on Samenow's research and clinical practice
Updated findings of genetic and biological research into whether some people are "wired" to become criminals
Using new, persuasive evidence, Samenow shows that, despite committing different types of crimes, criminals exhibit similar patterns of thought. He refutes widely held theories that criminal activity can be attributed to broken homes, TV violence, video games, or societal pressures. Instead, he redirects attention to the criminals themselves, with this book providing a detailed guide as to how they actually think and behave. Only once equipped with such an unvarnished understanding, Samenow effectively argues in this insightful and thought-provoking new edition, will we be able to move toward real change in our criminal system.
STANTON E. SAMENOW, Ph.D., is a clinical psychologist who has spent over forty years as a researcher, clinician, consultant, and expert witness specializing in criminal behavior. He has also served as an independent evaluator in adversarial child custody disputes and has been appointed to three presidential task forces on law enforcement, victims' rights, and a drug-free America. Among numerous other national venues, he has appeared on 60 Minutes, The Today Show, Oprah, Good Morning America, and Larry King Live. In addition to INSIDE THE CRIMINAL MIND, he is the author of Before It's Too Late and Straight Talk About Criminals.
Related Posts: