Press Releases
Inside Black Mirror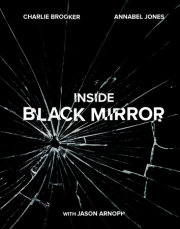 Charlie Brooker, Annabel Jones, and Jason Arnopp
Imprint: Crown Archetype
On sale: November 20, 2018
Price: $30
Pages: 320
ISBN: 9781984823489
Contact:
Ellen Folan
212.78.8944
efolan@prh.com
"Back in 2010 the general view of technology was still a rosy one.  Now it's all gone sour. It's all gone a bit 'Black Mirror', in fact. Which is bad for human civilization, but good publicity for our little TV show. Every cloud, eh?"
—Charlie Brooker
Black Mirror is the TV show of our cultural moment, ruthlessly exploring the convergence between humanity and technology, and a promised future. Inside Black Mirror (Crown Archetype, November 20, 2018) takes the millions of fans of the popular and provocative hit Netflix original series on an unprecedented journey behind its creation – from original concept to its current status as one of the biggest cult TV shows. Fans are given the chance to get inside Charlie Brooker's head for the first time. They'll read full accounts of the inspiration, creative genesis and thought process behind each of the four seasons to date.
Feted by global media, Black Mirror has attracted talent from around the globe. Key actors and directors relive their own involvement in this extraordinary programme – from Jodie Foster and Hayley Atwell, to Jon Hamm and Alex Lawther, to Bryce Dallas Howard and Gugu Mbatha-Raw. 2018 Primetime Emmy® nominations include Jess Plemons and Letitia Wright, and a BAFTA nomination for Jimmi Simpson for their Season Four performances. Alongside in-depth interviews is an astonishing and exclusive selection of imagery, on-set photography and ephemera.
This jam-packed book's never-before-revealed highlights include:
* Actor Bryce Dallas Howard reveals that her director dad Ron Howard had a panic attack when they first watched her episode Nosedive
*Actor Rupert Everett arriving on set very much in character for his role as a Simon Cowell-esque talent show judge in Fifteen Million Merits and refusing to remove his mirror shades.
*How the team were forced to use CGI to remove one major actor's beard for a climactic scene, which proved to be that season's most intensive effects shot …
*All the challenges the production team had to face in Black Mirror's early days, in order to create a powerful and polished show on a very limited budget.
*Charlie and executive producer Annabel Jones discuss Black Mirror's move from Channel 4 to Netflix.
*Charlie confesses that the show's first ever feature-length film Hated In The Nation almost never got made, when he abandoned his script two-thirds of the way through, believing it to be "ridiculous."
*How the grand emotional climax of Season Four's Hang The DJ was rescued in post-production.
*During the making of Season Four's Black Museum Douglas Hodge and Letitia Wright admit to have taken method-acting to an extreme on-set.
This is the unflinchingly candid and geek-friendly Black Mirror bible every fan always wanted, detailing each film's evolution, the never-before-told stories and the endless procession of issues that arose during production, right down to epic arguments about whether it really would rain in the fictional resort of San Junipero. Novelist, screenwriter and journalist Jason Arnopp has expertly woven the oral history together.
"Loved Black Mirror. Terrifying, funny, intelligent. It's like The Twilight Zone, only rated R."– Stephen King
"Black Mirror is hands down the most relevant program of our time, if for no other reason than how often it can make you wonder if we're all living in an episode of it."– New York Times
"Black Mirror: the future is already here, and it's terrifying."– Telegraph
Black Mirror is an addictive anthology series that uses science fiction tropes to make trenchant and unsettling commentary on the convergence between humanity and technology, and a promised future. Seasons one and two originally aired on Channel 4 between 2011 and 2014. In September 2015, Netflix commissioned a third season and the worldwide release in October 2016 led to further international critical acclaim and two Emmys® for beloved season three episode San Junipero. The heavily anticipated fourth season was released on Netflix in December 2017. In tribute to Black Mirror's enduring success, Charlie and Annabel were awarded the Producers' Guild of America in Jan 2018 for Long-Form Television, and were presented with a Special Judges' Award at the Royal Television Society Awards in March 2018. Black Mirror season 4 episode USS Callister won three 2018 Emmys® including Outstanding Television Movie, and the show has been nominated for three further awards at the 2018 Emmys®. It is produced by House of Tomorrow, part of Endemol Shine Group.
Charlie Brooker is an award-winning writer, producer and broadcaster whose career has spanned television, radio, print, and online media. Brooker is the creator and writer of Black Mirror, whose fourth season launched on Netflix at the end of 2017. It has been nominated for eight awards at the 2018 Emmys®, won a BAFTA Craft Award and was nominated for three BAFTA TV Awards. The critically-acclaimed, mind-bending anthology series originally launched on Channel 4 in 2011 and over its four seasons has collected awards including Primetime Emmys® for Outstanding TV Movie and Outstanding Writing for a TV Movie, Producers Guild of America, Rose d'Or, BAFTA, BAFTA Craft, International Emmy® and Peabody.
Charlie has presented numerous television shows including three series of his BBC Two satirical review show Weekly Wipe, the third series of which was nominated for the 2015 BAFTA for Best Comedy and Comedy Entertainment Programme, and the annual shindig Charlie Brooker's End of Year Wipe, which won a BAFTA for its 2016 edition. Charlie is also behind the BBC Two series Cunk on Britain, nominated for a Rose d'Or, and the BAFTA-nominated Cunk on Shakespeare with regular Weekly Wipe contributor Philomena Cunk.
Annabel Jones is a long-term collaborator of Charlie Brooker's. She serves as co-show runner and executive producer on Black Mirror, which Brooker created and writes. In addition to its recent BAFTA TV nominations and BAFTA Craft win, over its four seasons Black Mirror has garnered awards at the Primetime Emmys® for Outstanding TV Movie and Outstanding Writing for a TV Movie, Producers Guild of America, Rose D'or, BAFTA, International Emmy® and Peabody.
Previously Jones executive produced a number of shows presented by Charlie Brooker including three series of the BAFTA-nominated BBC Two satirical review Weekly Wipe; all seven editions of the annual shindig Charlie Brooker's End of Year Wipe, which won a BAFTA for its 2016 edition; How Video Games Changed the World; Newswipe, which won the 2009 Royal Television Society Award for Best Entertainment Programme; Gameswipe; and the How TV Ruined Your Life series for BBC Two. Recently, Jones served as executive producer on the BBC Two series Cunk on Britain.
Jason Arnopp is a novelist and scriptwriter of film, web series and audio. He is the author of the terrifying Orbit Books novel The Last Days Of Jack Sparks, acclaimed by the likes of Ron Howard, Sarah Lotz and Alan Moore. His previous fiction work includes Doctor Who and Friday The 13th tie-in fiction, BBC Radio 4 comedy, Beast In The Basement, A Sincere Warning About The Entity In Your Home, Auto Rewind, the 2012 web series Tempting Fates and the 2011 Edinburgh International Film Festival selection Stormhouse.
Before the wonderful world of Black Mirror consumed him, Arnopp wrote the non-fiction books From The Front Lines Of Rock and How To Interview Doctor Who, Ozzy Osbourne And Everyone Else. His background is in journalism for such titles as SFX, Doctor Who Magazine, Heat, Q and Kerrang! He lives in Brighton, UK, and can be found at JasonArnopp.com and on Twitter as @JasonArnopp.
#  #  #
You Might Also Like