Press Releases
THE INKBLOTS by Damion Searls
The first-ever biography of Rorschach and the story of his legendary inkblot test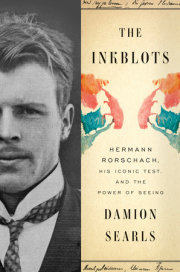 Damion Searls
Imprint: Crown
On sale: February 21, 2017
Price: $28.00
Pages: 416
ISBN: 9780804136549
Contact:
Liz Wetzel
212-572-6049
lwetzel@penguinrandomhouse.com
THE INKBLOTS
Hermann Rorschach, His Iconic Test, and the Power of Seeing

*with unprecedented access to newly discovered source material*
***
Advance Praise for Damion Searls and The Inkblots
"It seems incredible that no one before Damion Searls has ever written a biography of Rorschach."—Lorin Stein, The Paris Review
"A richly detailed, sensitive biography of Rorschach's short life and long afterlife."—Kirkus Reviews
"A marvelous book about how one man and his enigmatic test came to shape our collective imagination. The Rorschach test is a great subject and The Inkblots is worthy of it: beguiling, fascinating, and full of new discoveries every time you look."—David Grann, author of The Lost City of Z
"What an amazing book. The Rorschach inkblot is like the enigmatic corpse in a mystery novel, and Damion Searls is the passionate and encyclopedic detective who unpacks the intricate and twisted story of how it came to be. By the end, one feels that Rorschach and his test are the key to understanding the whole twentieth century. Searls is a wonderful writer: funny, compassionate, and unfailingly attentive to all the magical coincidences (or are they?) and twists of human history."—Elif Batuman, author of The Possessed
---
The Rorschach test sits uniquely at the intersection of art, science, journalism, law, and popular culture. No idea from psychology has saturated culture as thoroughly as the inkblots. However, when we think of the most influential interpreters of the human psyche, Hermann Rorschach may not be among the first to mind. With THE INKBLOTS: Hermann Rorschach, His Iconic Test, and the Power of Seeing (Crown; on sale: February 21, 2017), Damion Searls sets out to change that. In this first-ever biography of both the Rorschach test, or inkblot test, and the man who created it, Damion Searls, a well-known French and German translator as well as the recipient of a Guggenheim Fellowship and a Cullman Center fellowship from the New York Public Library, documents Rorschach's groundbreaking contributions to modern psychology as well as the surprising—and deeply enduring—afterlife of his work, as the inkblots spread out of the clinic and into our cultural imagination.
In 1917, working alone in a remote Swiss asylum, psychiatrist Hermann Rorschach devised an experiment to probe the human mind using ten ambiguous yet carefully designed inkblot drawings. For years he had grappled with the theories of Sigmund Freud and Carl Jung while also absorbing the aesthetic of a new generation of modern artists. He had come to believe that who we are is less a matter of what we say, as Freud thought, than what we see. After Rorschach's tragic death in 1922 at the young age of thirty-seven, less than a year after publishing the test, the inkblots became kind of a sorcerer's apprentice, moving around the world into countless applications without his mastery and guiding hand.
Rorschach himself was a visual artist, and his test quickly made its way to America, where it took on a life of its own. Co-opted by the military after Pearl Harbor, it was a fixture at the Nuremberg trials and in the jungles of Vietnam. It became an advertising staple, a cliché in Hollywood and journalism, and an inspiration to everyone from Andy Warhol to Jay-Z. Both President Barack Obama and Secretary of State Hillary Clinton have said that they are "like a Rorschach test." The test was also given to millions of defendants, job applicants, parents in custody battles, workers applying for jobs, and people suffering from mental illness—or simply trying to understand themselves better. The Rorschach test's power to reach unconscious thought has led scientists to use it in researching everything from the neuroscience of perception to Alzheimer's disease.
Searls's unique background as a literary translator supplied him with the distinctive tools that allowed him to write this comprehensive study of Rorschach and his inkblot test. While visiting the Robert Walser Archive in Bern, Switzerland, Searls first saw the Rorschach Archive. The vast majority of Rorschach's writings, and all of his letters and personal history, were untranslated. Searls also made an amazing discovery of an unknown second archive. Wolfgang Schwarz, an American who had discovered the Rorschach test as a student in 1946, stayed up all night reading Rorschach's book, Psychodiagnostics, and, inspired by him, become a psychiatrist. Schwarz went to Switzerland in the late 1950s to track down and interview everyone he could find who had known Rorschach. Although Rorschach had died in 1922, his widow, sisters, and two children were still alive. Schwarz found and interviewed Rorschach's colleagues, his best friend from school, his favorite cousin, and his live-in maid. Schwarz walked away with a cache of hundreds of family photographs, letters, and drawings.
In 2013 Damion Searls sat down at Schwarz's widow's living-room table in Tarrytown, New York, in front of a large metal lockbox and a thousand-page printout. The three hundred and sixty-two pages of Schwarz's interview notes were a treasure trove, giving Searls unparalleled access to Rorschach's life and character and forming the basis of a far more personal, vivid look at Rorschach, the man, than has ever been possible.
Searls tells the unlikely story of the Rorschach test's creation, its controversial reinvention, and its remarkable resilience—and what it all reveals about the power of perception. Elegant and original, THE INKBLOTS shines a light on the twentieth century's most visionary synthesis of art and science.
***
About the Author: Damion Searls has written for Harper's, The Paris Review, Vice, Bookforum, Los Angeles Review of Books, The Believer, n+1, and The Awl. Searls is also a well-known French and German translator, with his translation of Hans Keilson's Comedy in a Minor Key becoming a finalist for the 2010 National Book Critics Circle Award. He received the 2012 Biography Fellowship from the Leon Levy Center of Biography at CUNY to write this book. He also received a 2012 Guggenheim Fellowship and a prestigious Cullman Center fellowship from the New York Public Library. Searls graduated summa cum laude from Harvard with a degree in German and earned his PhD from Berkeley.
Related Posts:
You Might Also Like