Press Releases
In their second book, Brooklyn Brew Shop's Erica Shea and Stephen Valand travel the globe in pursuit of great beer
Make Some Beer: Small-Batch Recipes from Brooklyn to Bamberg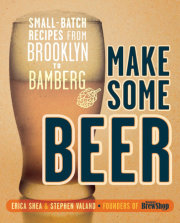 Erica Shea & Stephen Valand
Imprint: Clarkson Potter
On sale: May 13, 2014
Price: $19.99
Pages: 176
ISBN: 9780804137638
Contact:
Anna Mintz
212-572-6186
amintz@randomhouse.com
Recently named to the 2014 Forbes "30 Under 30" list, Erica Shea and Stephen Valand have returned with their second book, Make Some Beer: Small-Batch Recipes from Brooklyn to Bamberg (Clarkson Potter/Publishers; May 13, 2014; $19.99; trade paperback). The cofounders of Brooklyn Brew Shop and EST Brewing Company, Erica and Stephen are always on the hunt for creative new ways to brew and flavor beer. In Make Some Beer, they travel the globe in pursuit of great beer, interviewing innovative brewers and collecting recipes and ideas along the way.
"We've spent the past four years visiting incredible breweries around the world to meet the people making our favorite beers," says Erica. "Along the way, we took photos, collected stories, and gathered inspiration for future batches."
"In Make Some Beer, we share recipes inspired and contributed by the world's most innovative and storied breweries," Stephen continues. "And since beer's best with food, we included tasty recipes cooked with beer and spent grain."
Make Some Beer: Small-Batch Recipes from Brooklyn to Bamberg features more than 30 exclusive new beer recipes and profiles of dozens of breweries, including Goose Island in Illinois, Brewery Ommegang and Brooklyn Brewery in New York, Left Hand Brewing Company in Colorado, Hill Farmstead in Vermont, and Birrificio Montegioco in Italy. Among the most talked-about recipes in the book are Six
Hop IPA, Smoked Wheat, Rum Barrel Porter, Dandelion Gruit, and a chocolate stout from Brooklyn Brewery's cofounder Steve Hindy.
Also in the new book are tips for planning beer-tasting tours, an introduction to making beer at home, and new recipes for cooking with beer and spent grain. Some of the best new food recipes in the book include IPA Hummus, Beer & Bacon Mac & Cheese, Farmhouse Ale Risotto, and Shandy Ice Pops. With recipes and anecdotes from the world's best breweries, fun illustrations, and introductory information to get aspiring brewers started, Make Some Beer is the definitive guide for the craft beer-obsessed.
ABOUT THE AUTHORS:
ERICA SHEA & STEPHEN VALAND are co-owners and cofounders of the Brooklyn Brew Shop and EST Brewing Company and the authors of The Brooklyn Brew Shop's Beer Making Book: 52 Seasonal Recipes for Small Batches. Launched in 2009 with no outside financing, Brooklyn Brew Shop sells beer-making kits, beer-making mixes, and beer accessories in more than 3,000 stores in 14 countries, including Whole Foods, Bed, Bath & Beyond, Nordstrom, and Urban Outfitters. Erica and Stephen were named to the 2014 Forbes "30 Under 30" list in the Food & Wine category and have lectured and taught classes for Etsy, Stone Barns Center, Beer Bloggers Conference, South by Southwest Interactive, and the American Museum of Natural History. Both they and their kits have been featured in Food & Wine, the New York Times, Real Simple, Cosmopolitan, and Forbes and on The Early Show, Regis & Kelly, ABC, NBC, and Fox.
Related Posts:
You Might Also Like