Press Releases
James Beard award-winning authors share Charleston recipes
The Lee Bros. Charleston Kitchen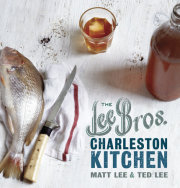 Matt Lee and Ted Lee
Imprint: Clarkson Potter
On sale: February 26, 2013
Price: $35.00
Pages: 240
ISBN: 9780307889737
Contact:
Erica Gelbard
212-572-6182
egelbard@randomhouse.com
For Matt Lee and Ted Lee, Charleston has always been a place of discoveries and small miracles when it comes to food. Raised in Charleston from the time they were small boys, the Lee brothers learned to shuck oysters and pick blue crabs as kids and to watch for the day in April when the loquats on street trees ripened. To capture the true culinary spirit of Charleston, Matt and Ted venture beyond the grocery store to the gardens, outdoor oyster roasts, and Lowcountry boils that enliven the city. THE LEE BROS. CHARLESTON KITCHEN (Clarkson Potter/Publishers; on sale February 26, 2013) is their story of how growing up and living in the Holy City made them the award-winning cookbook writers they are today.
Charleston, South Carolina, has recently emerged as one of the country's hottest food destinations. And for most visitors, the points of entry to the city's culinary life are its award-winning restaurants. But there's a larger story to be told about the area's food community—about the home cooks and restaurant chefs; the nineteenth-century kitchen-innovator Sarah Rutledge; about Susie Backman, the tough-as-nails shrimp-boat captain whose fleet dominated the market in the 1960s; about the firebrand farmer Sidi Limehouse, still foraging for chainey briar to deliver to a handful of families South of Broad; and a host of food sages and flat-out eccentrics who have made the town such a compelling place to cook and dine out in today. In The Lee Bros. Charleston Kitchen local heroes Matt Lee and Ted Lee bring to life the cuisine of this vibrant Southern city in a narrative-with-recipes that will resonate with food lovers and cultural explorers wherever they may live.
In their new cookbook, which doubles as a love story to their hometown, they share recipes that perfectly reflect the spirit and charm of Charleston, including:
SNACKS, HORS D'OEUVRES, AND SALADS: Henry's Cheese Spread; Shrimp Popovers; Guinea Squash Dip, Pickled Shrimp with Fennel; Pecan Cheese Wafers
SOUPS: Frogmore Soup; Lowcountry Gumbo; Tomato and Watermelon Gazpacho with Shrimp; Peanut and Oyster Stew; Celery and Crab Soup
VEGETABLES: Hoppin' John; Matt's Four-Pepper Collards; Brussels Sprouts with Benne and Bacon; Pan-Roasted Okra, Corn, and Tomatoes; Butter Beans with Butter, Mint, and Lime
FISH AND SHELLFISH: Whole Flounder with Sunchoke and Shrimp Stuffing; Deviled Crab, Fried Oysters; Cornmeal-Crusted Mahi with Jerusalem Artichoke Tartar Sauce
POULTRY AND OTHER MEATS: Herb-Roasted Turkey with Madeira Gravy; Smothered Pork Chops; Fried Chicken with Fried Chicken Gravy; Mulberry-Glazed Venison Loin; Roast Fresh Ham
DESSERTS: Syllabub with Rosemary-Glazed Figs; Pineapple Cornbread Pudding; Huguenot Torte; Grapefruit Chess Pie; Peach Upside-Down Skillet Cake; Benne Wafers
DRINKS: Muscadine Sangria; Lowcountry Limoncello; Rock and Rye; Moonshine Martini; Kumquat Margarita
THE LEE BROS. CHARLESTON KITCHEN picks up where The Lee Bros. Simple Fresh Southern leaves off, charting an even more intimate journey in Matt and Ted's lives, and reflecting just how one-of-a-kind Charleston's food scene is. With countless stories, 100 recipes, 75 color photographs, driving-tour and walking-tour maps that correspond to recipes, and the most thorough Charleston food bibliography in print, THE LEE BROS. CHARLESTON KITCHEN will inspire home cooks to whip up Shrimp and Grits and Huguenot Torte like locals.
# # #
ABOUT THE AUTHORS
MATT LEE and TED LEE, founders of The Lee Bros. Boiled Peanuts Catalogue, a mail-order source for Southern pantry staples, grew up in Charleston, South Carolina. They are the authors of The Lee Bros. Southern Cookbook, which won the James Beard award for Cookbook of the Year in 2007, and The Lee Bros. Simple Fresh Southern, which won the IACP award for Best American Cookbook in 2011. They are contributing editors for Travel + Leisure and contributors on Cooking Channel's Unique Eats.
@TheLeeBros
Related Posts:
You Might Also Like