Press Releases
In The Art of Simple Food II, chef and activist Alice Waters offers delicious and simple ways to serve the best of each season
Recipes, Flavor, and Inspiration from the New Kitchen Garden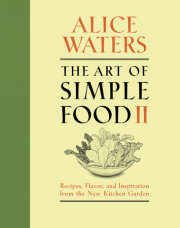 Alice Waters
Imprint: Clarkson Potter
On sale: October 29, 2013
Price: $35.00
Pages: 448
ISBN: 9780307718273
Contact:
Kate Tyler
212-572-2551
ktyler@randomhouse.com
Step into the garden with iconic chef and activist Alice Waters and her highly anticipated book THE ART OF SIMPLE FOOD II: Recipes, Flavor, and Inspiration from the New Kitchen Garden (Clarkson Potter/Publishers; October 29, 2013; $35.00; hardcover).
Alice brings vegetable-forward meals to the table in this follow-up to her bestselling classic The Art of Simple Food. The leader and authority of the sustainable food movement, Alice gives readers a tour through her kitchen garden, advising how to plant, grow, harvest, and serve. With 300 seasonal recipes and 300 exquisite line drawings, The Art of Simple Food II empowers readers to nourish a responsible and rewarding relationship with the garden.
In The Art of Simple Food II, Alice asks us to
Treasure the farmer
Nurture the soil
Plant wherever you are
Learn from nature
Cultivate your palate
Make your own
Eat whole foods
Share the harvest
Teach children the art of simple food
-continued-
With recipes featuring everything from flowers, herbs, fennel, peas, and melons to peppers, plums, huckleberries, and figs, The Art of Simple Food II offers delicious and simple ways to serve the best of each season. Alice also includes extensive lessons on soil health and garden planning, canning, drying, composting, and pruning, as well as a section on the best tools and resources.
ABOUT THE AUTHOR:
ALICE WATERS is a chef, activist, and proprietor of Chez Panisse Restaurant and Café, and has championed local, sustainable farms for more than four decades. She has been awarded the James Beard Best Chef in America, France's Légion d'Honneur, and the Lifetime Achievement award from Restaurant Magazine's World's 50 Best Restaurants. She is the founder of the Edible Schoolyard, a model public education program that integrates edible education into the core curriculum of the public school system, and brings children into a new relationship to food with hands-on planting, harvesting, and cooking. The mission of her nonprofit organization, The Edible Schoolyard Project, is to gather and share the lessons and best practices of school gardens, kitchens, and edible education programs worldwide. She is the author of many cookbooks, most recently 40 Years of Chez Panisse, In the Green Kitchen, and The Art of Simple Food.
Related Posts: