Press Releases
In Nigellissima, Food Network Star and an internationally bestselling cookbook author celebrates the pleasures of Italian cuisine
Nigellissima: Easy Italian-Inspired Recipes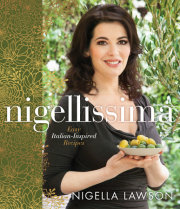 Nigella Lawson
Imprint: Clarkson Potter
On sale: February 12, 2013
Price: $35.00
Pages: 288
ISBN: 9780770437015
Contact:
Erica Gelbard
212-572-6182
egelbard@randomhouse.com
"It was when I was sixteen or seventeen that I decided to be Italian. Not that it was a conscious decision. . . . No: I simply felt drawn to Italy." —Nigella Lawson                                                                                                                                                                       
Before she was a Food Network Star and an internationally bestselling cookbook author, Nigella Lawson decided she wanted to be Italian. At the age of seventeen she applied to study Italian at Oxford and spent her gap year working as a chambermaid in a family-run pensione in Florence, earning meager wages but learning a wealth of hands-on knowledge in Italian cooking from "Nonna—the paternal grandmother, straight from Central Casting"—in the kitchen. Today, Nigella brings as much of Italy as she can into her own kitchen, and now she celebrates the pleasures of Italian food with you in her first Italian cookbook NIGELLISSIMA: Easy Italian-Inspired Recipes (Clarkson Potter/Publishers; on sale February 12, 2013).
Nigella believes every ingredient must earn its place in a recipe, and she gives tips and techniques for making the most of your time in the kitchen. A stash of sweet vermouth saves you from opening a bottle when you just need a splash. If a recipe calls for the juice of a lemon, Nigella uses the zest, too—that's where its force and fragrance live. She guides you on stocking your pantry with a few supermarket ingredients and shows you how to make the most of them for spontaneous meals that taste boldly Italian.
Going beyond Bolognese, NIGELLISSIMA inspires us to dress our tables with the delicious flavors of Italy in chapters that include:
PASTA: Sicilian Pasta with Tomatoes, Garlic, and Almonds; Curly-Edged Pasta with Lamb Ragu; Quick Calabrian Lasagna; Mini Macaroni and Cheese All'Italiana, Spaghettini with Lemon and Garlic Bread Crumbs; Spaghetti with Tuna, Lemon, and Arugula
MEAT, FISH & FOWL: Lamb Cutlets with Mint, Chili, and Golden Potatoes; Pork Loin with Parma Ham and Oregano; Beef Pizzaiola; Shortcut Sausage Meatballs; Squid and Shrimp with Chili and Marjoram; Italian Roast Chicken with Bell Peppers and Olives
VEGETABLES & SIDES: Green Beans with Pistachio Pesto; Roast Butternut Squash with Sage and Pine Nuts; Spinach Baked with Ricotta and Nutmeg; Garlic Mushrooms with Chili and Lemon; Sicilian Cauliflower Salad; Gnocchi Gratin; Mascarpone Mashed Potatoes
SWEET THINGS: Iced Berries with Limoncello White Chocolate Sauce; Sambuca Kisses; Chocolate Pasta with Pecans and Caramel; Tiramisini; Chocolate Hazelnut Cheesecake; Yogurt Carton Cake; Chocolate Olive Oil Cake; One-Step No-Churn Coffee Ice Cream
AN ITALIAN-INSPIRED CHRISTMAS: Pannetone Dressing Squares; Parmesan Shortbreads; Polenta Triangles with Chili Tomato Sauce; Pappardelle with Chestnuts and Pancetta; Fig and Olive Chutney; Cranberry and Pistachio Biscotti; Chocolate Nougat Cookies
With 120 simple, fast, and mouthwatering recipes and beautiful color photographs, NIGELLISSIMA is a love letter to the pleasures of cooking—and eating—the way Italians do. With a nod to the traditional and in Nigella's signature style of distinctive twists and robust flavor, here are recipes that excite the imagination without stressing the cook. 
ABOUT THE AUTHOR
NIGELLA LAWSON, food enthusiast, television personality, and journalist, is the author of eight bestselling books including Nigella Kitchen, Nigella Fresh, Nigella Christmas, Nigella Express, Feast, Nigella Bites, How to Be a Domestic Goddess, and How to Eat, which have sold more than 6 million copies worldwide. Her books and groundbreaking iPhone app and television shows on Food Network, E! Entertainment Television, and Style have made her a household name globally. She hosts an innovative new culinary competition series "The Taste" with Anthony Bourdain, Ludo Lefebvre, and Brian Malarkey, which premiered in January 2013 on the ABC Television Network. She lives in London with her family. Visit her at www.nigella.com.
Related Posts: