Press Releases
In his latest cookbook, James Beard Award–winning New Orleans chef Donald Link takes home cooks to a region where drinks are slung back, great food is made to be shared, and too many desserts is just the right amount
Bourbon, Pork, Gulf Shrimp & Second Helpings of Everything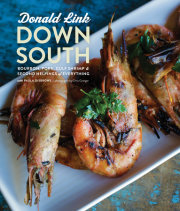 Donald Link
Imprint: Clarkson Potter
On sale: February 25, 2014
Price: $35.00
Pages: 256
ISBN: 9780770433185
Contact:
Erica Gelbard
212-572-6182
egelbard@randomhouse.com
James Beard Award–winning New Orleans chef Donald Link has said, "It's impossible for me to say which part of the South has the best food, because each place has its own soul," and in his latest cookbook, DOWN SOUTH: Bourbon, Pork, Gulf Shrimp & Second Helpings of Everything (Clarkson Potter/Publishers; $35.00; on sale February 25, 2014), he unearths true down-home Southern cooking so that everyone can pull up a seat at the table and sample some of the region's finest flavors.
Link has a knack for sniffing out a backyard barbeque wherever he travels and scoring an invitation to sample some of the best fare around. Jumping into the world of DOWN SOUTH means learning to drink bourbon over only one—maybe two—ice cubes with the grandson of Pappy Van Winkle (don't you dare mix Coke with it); getting tips from beloved writer Julia Reed on how to entertain folks, including how pecans, not peanuts, should grace the cocktail table because they're fancier and discovering that the tastiest lamb can be found at a ranch outside of Austin, where it's roasted slowly over a campfire.
In DOWN SOUTH, Link serves up 110 recipes from regional standouts, including:
Let's Start with a Drink: Herbsaint Champagne Cocktail, Deer Stand Old-Fashioned, Flora-bama Rum Punch, Antiguan Julep
Old-School Southern Cocktail Parties: Southern Bruschetta with Bacon and Tomato, Cajun-Spiced Soda Crackers, Blue Crab Beignets with White Rémoulade Sauce
Cook It Outside: Grilled Chicken on a Stick with Alabama White Barbecue Sauce, Grilled Ham Steak with Charred Blood Oranges, Spicy Grilled Quail with Grilled Peaches, Beer-Smoked Beef Short Ribs
Roast, Braise, Simmer, and Fry: Smothered Chicken, Hunter's Style Braised Duck, Tupelo Honey–Glazed Ham, Slow-Roasted Pork Shoulder with Kumquats and Chiles
Heads, Feet, Neck, and Bones: Fried Fish Collars with Chile Vinegar, Breakfast Sausage, Monday Red Beans and Rice, Spaghetti with Pork Jowls and Fried Eggs, Crispy Lamb Neck
Seafood from the Gulf and South Atlantic: Beach House Ceviche, Crawfish and Spring Onion Gratin, Grilled Scallops with Green Garlic Butter, Catfish Court Bouillon
Fresh, Seasonal Southern Sides: Collard Green Slaw, Mustard-Marinated Turnips, Spring Peas with Feta and Mint, Smoked Ham and Rice Salad
Southern-Style Sweets: Sea Salt Turtles, Cream Soda Sherbet, Banana Pudding with Moonshine Whipped Cream, Bing Cherry and White Chocolate Bread Pudding
With plenty of tall tales, DOWN SOUTH takes home cooks to a region where drinks are slung back, great food is made to be shared, and too many desserts, as it turns out, is just the right amount.
About the Author:
DONALD LINK is the chef-owner of Herbsaint, Cochon, Cochon Butcher, Pêche, and Calcasieu in New Orleans. He won the James Beard Award for Best Chef South in 2007 and his first book, Real Cajun, won the James Beard Award for Best American Cookbook. PAULA DISBROWE is the author of Cowgirl Cuisine and coauthor of Real Cajun and Susan Spicer's Crescent City Cooking. She lives in Austin, Texas.
Related Posts:
You Might Also Like