Press Releases
In his latest cookbook, Food Network star Tyler Florence turns simple ingredients into superstars
A new look at easy and sophisticated cuisine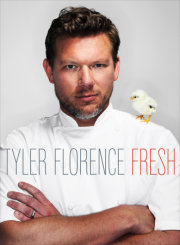 Tyler Florence
Imprint: Clarkson Potter
On sale: 12/4/12
Price: $35.00
Pages: 256
ISBN: 9780385344531
Contact:
Erica Gelbard
212-572-6182
egelbard@randomhouse.com
Tyler Florence, bestselling author, television star, and critically acclaimed chef, turns fresh foods into superstars in TYLER FLORENCE FRESH (Clarkson Potter/Publishers; on sale December 4, 2012), a vibrantly photographed new cookbook that showcases everyday foods prepared in easy, innovative ways.
In TYLER FLORENCE FRESH, his most visually dazzling book to date, Tyler Florence shows that using fresh, unprocessed foods, whether from the farmers' market or your local grocery store, is easier than you think. Using each fresh ingredient as a launching pad, Tyler builds innovative dishes flavor by flavor, showing you how to put easy-to-find ingredients to work in unexpected ways. Applying a chef's eye to the notion of healthy cooking, Tyler shows that even readily available foods from the supermarket can quickly become restaurant-worthy plates that balance an abundance of nutrients with the arresting flavor combinations he is justly celebrated for.
Tyler's approach is grounded in the alchemy of ingredients, giving each recipe a twist by casting an unexpectedly delicious ingredient as its hero. For those ingredients that call out to be celebrated—the first bunch of spring asparagus or the freshest scallops at the fish market—Tyler's recipes are chances for each flavor to stand out. Ripe summer blueberries transform a frisée salad when tossed with whipped blue cheese and candied pecans; fresh basil makes for a delicious ice cream paired with balsamic vinegar and sliced figs; winter limes and oranges are a zesty side for smoky roasted chicken. Contrast is key, as Tyler plays with sweet, sour, tangy, tart, and spicy flavors to surprise the palate. Once you've tasted halibut with watermelon, peaches with prosciutto, and zucchini with grapefruit, you'll never look at your market the same way again.
This is a chef's kind of food made just for the home cook, minus the expensive, hard-to-get ingredients and high-end equipment. Filled with vibrant photographs and recipes that will surprise and delight everyone at your table, Tyler Florence Fresh is Tyler's most showstopping, delicious book yet.
Related Posts: