Press Releases
Chew co-host Michael Symon proves that you can make fabulous 5-ingredient meals in 5 minutes
Michael Symon's 5 in 5 by Michael Symon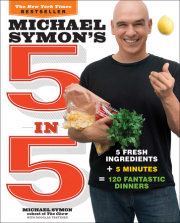 Michael Symon with Douglas Trattner
Imprint: Clarkson Potter
On sale: September 3, 2013
Price: $19.99
Pages: 224
ISBN: 9780770434328
Contact:
Erica Gelbard
212-572-6182
egelbard@randomhouse.com
When co-host Michael Symon first joined ABC's The Chew what excited him most was the thought of being able to inspire home cooks to create affordable and delicious food. With harried home cooks in mind, Michael developed a simple, brilliant formula to help home cooks pull together fresh meals on weeknights: a maximum of 5 fresh ingredients that cook in 5 minutes. MICHAEL SYMON'S 5 IN 5: 5 Fresh Ingredients + 5 Minutes = 120 Fantastic Dinners (Clarkson Potter; on sale September 3, 2013; $19.99; Trade Paperback) ties perfectly into his segment—the most popular one on the show—featuring dazzlingly quick, satisfying dinners that the whole family will love.
By embracing fresh, all-natural ingredients, Michael proves that you can make fabulous meals using no more than 5 ingredients and some pantry staples, all of which cook in 5 minutes and cost less than $5 a serving. Even if it takes you an extra minute or two to pull together a dish (we're not all Iron Chefs!) Michael guarantees that you will end up with a delicious, made-from-scratch meal that's cheaper and more delicious than fast food. Michael first teaches readers how to set up their pantries with essentials that make whipping up dinner easy—from stocking up cans of San Marzano tomatoes to having plenty of capers, soy sauce, and Dijon mustard handy.  He then shares fascinating tips and mouthwatering recipes for pastas, skillet dinners, egg dishes, grilled mains, kebabs, foil packets, and sandwiches, including:
Fresh Orecchiette with Sausage & Kale
Sirloin with Lemon & Oregano
Pork Tenderloin with Soy, Ginger & Cilantro
Turkey & Avocado Melt
Mussels with White Wine & Garlic
Salmon with Rosemary & Garlic
Fried Salami & Fontina Frittata
Poached Eggs Parmesan
Garlic Chicken with Asparagus
Shrimp with Orange & Pine Nuts
Trout & Green Beans
Grilled Skirt Steak with Chickpea Salad
Salted Caramel Sundae with Peanuts
Michael's expert guidance will help home cooks to once and for all solve that classic cooking conundrum: "What's for dinner?" With 120 delicious recipes and 75 color photographs, MICHAEL SYMON'S 5 IN 5 is bound to become the essential reference for home cooks looking for fresh and affordable weeknight inspiration.
# # #
ABOUT THE AUTHOR:
MICHAEL SYMON is a co-host of ABC's The Chew, an Iron Chef on Food Network's Iron Chef America, and the host of Cooking Channel's Symon's Suppers. He is the chef and co-owner of the acclaimed restaurants Lola and Lolita in Cleveland, Ohio; the B Spot burger restaurants in and around Cleveland; and Roast in Detroit, Michigan. He is the author of Michael Symon's Live to Cook and Michael Symon's Carnivore. Visit Michael at www.SymonSays.typepad.com and follow him on Twitter (@chefsymon).
# # #
Related Posts:
You Might Also Like