Press Releases
In I'd Like to Apologize to Every Teacher I Ever Had, award-winning actor Tony Danza gives readers a backstage pass to what it's really like today in America's classrooms.
Danza offers an absorbing account of his year spent teaching tenth-grade English at Philadelphia's largest high school, Northeast High.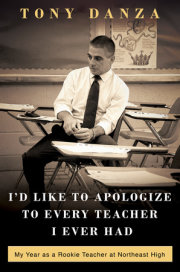 Tony Danza
Imprint: Crown Archetype
On sale: September 11, 2012
Price: $24.00
Pages: 272
ISBN: 9780307887863
Contact:
Sarah Breivogel
212-572-2722
sbreivogel@randomhouse.com
Select Praise for I'D LIKE TO APOLOGIZE TO EVERY TEACHER I EVER HAD:
"Brutally and beautifully real. With humor and honesty, Tony highlights the emotional toll of teaching and describes how one of the most important careers in America is still one of the most unappreciated."
—Erin Gruwell, author of the #1 New York Times bestselling The Freedom Writers Diary
 "The story he tells is moving, eye-opening, and compellingly honest…Read this book."
—Joel Klein, former New York City schools chancellor
"Tony Danza put himself forward to teach children and learn from them, knowing that the more he really understood these kids the better teacher he could be for them. We easily forget how truly difficult it is to be a transformational teacher and in the pages of I'd Like to Apologize you can see that's what he became."
—Rosalind Wiseman, New York Times bestselling author of Queen Bees & Wannabes 
"In this endearing memoir, Danza defies expectations…[filled with] refreshing honesty…provides insights into a teacher's daily life." —Publishers Weekly
As an actor, Tony Danza had conquered nearly every entertainment realm—TV, the movies, even Broadway—when one day three years ago, he felt a powerful urge to chase a childhood dream and become a teacher. He'd been inspired by a documentary made by Teach for America, the organization that trains college graduates to teach in rural and urban public schools, and he wanted to give something back. After dazzling viewers of such hit TV shows as Taxi and Who's the Boss? and delighting Broadway audiences, he figured that, even with his lack of teaching experience, he still stood a good chance of keeping a classroom of high school kids engaged. How hard could it be?
As he found out, really hard. Entering Philadelphia's Northeast High School's crowded halls in September 2009, Tony found his way to a tenth-grade classroom filled with twenty-six students who were determined not to cut him any slack. They cared nothing about his showbiz credentials, and they immediately put him on the hot seat, asking questions like, "Does anyone else think it's weird that you're teaching English?" and "Are you nervous—because, your shirt is totally soaked?" In I'D LIKE TO APOLOGIZE TO EVERY TEACHER I EVER HAD: My Year as a Rookie Teacher at Northeast High (Crown Archetype, September 11, 2012), Tony shares experiences that ranged from the infuriating to the deeply rewarding as he relives the amazing story of what happened. In his tenure at Northeast High Tony did it all, teaching Shakespeare, working detention, assisting the music and drama departments, coaching football, and helping a special group of young people through some of the most daunting personal and emotional issues. It was an experience that often wrung Tony out, but it also fostered an appreciation for the amazing job the average teacher does these days. The intensity and dedication Tony found among his colleagues gives the lie to popular notions that teachers don't care.
A surprisingly poignant account (made especially vivid because Tony was able to draw from personal journals, lesson plans, e-mails, YouTube postings, and video records to write the book), I'D LIKE TO APOLOGIZE TO EVERY TEACHER I EVER HAD reveals the daunting struggles so many teachers face as they play out a myriad of roles in their students' lives, alternately functioning as parent, counselor, friend, and social worker. The book also reveals—in ways that are often fresh and startling—how a modern high school really works.
About the Author:
TONY DANZA, before he grew up and starred in such classic TV series as Taxi and Who's the Boss? as well as appeared on Broadway, was a "discipline problem" at Long Island's Malverne High School, for which he is deeply apologetic. These days, he divides his time between New York City and Los Angeles.
Related Posts:
You Might Also Like