Press Releases
In Brave Genius, Sean B. Carroll recounts the intersection of two of the most insightful minds of the twentieth century, Albert Camus and Jacques Monod
A dramatic story of how war, resistance, and courage can catalyze genius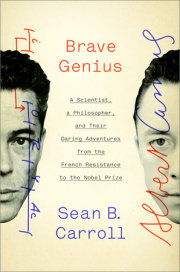 Sean B. Carroll
Imprint: Crown Publishers
On sale: September 24, 2013
Price: $28.00
Pages: 576
ISBN: 9780307952332
Contact:
Lauren Kuhn
212-782-8637
lkuhn@randomhouse.com
Advance Praise for Brave Genius
"Readers will learn a good deal about symbolism in Camus' fiction and biochemistry in Monod's molecular biology. But, above all, they will learn about a luminous friendship forged in dark times. A rare chronicle of valiant thinkers fighting political oppression and transcending professional boundaries." —Booklist (starred review) 
"A chronicle of the friendship between writer Albert Camus and biologist Jacques Monod, skillfully combining science, biography and history… An important story well-told."—Kirkus 
"Carroll deftly weaves science and history together in his account of the lives, accomplishments, and friendship of two exceptional men…. Spanning history, science, and philosophy, this dual biographical study of two significant twentieth-century figures will appeal to a diverse audience."—Library Journal 
"Carroll has a winning way with words, and everything he writes about (especially difficult matters of science) sparkles with clarity."—Publishers Weekly 
"I have known only one true genius: Jacques Monod," claimed Albert Camus. Known to biologists for his Nobel Prize–winning, pioneering genetic research, Monod is credited with some of the most creative and influential ideas in modern biology. But while a few texts mention in passing that Monod was "in the Resistance" and "friends with Albert Camus," none have examined the impact of the chaos of war on his work, nor the camaraderie between these two extraordinary men—until now. In BRAVE GENIUS: A Scientist, a Philosopher, and Their Daring Adventures from the French Resistance to the Nobel Prize (Crown; September 24, 2013), leading evolutionary biologist, New York Times Science Times columnist, and National Book Award finalist Sean B. Carroll draws on a wealth of previously unknown and unpublished material to tell the dramatic and inspiring story of the lives of two men who triumphed over overwhelming adversity to pursue the meaning of existence on every level from the molecular to the philosophical.   
After the German invasion and occupation of France, Camus and Monod joined the French Resistance to help liberate the country from the Nazis; ascended to prominent, dangerous roles; and were very lucky to survive. In the aftermath of a war that saw previously unimaginable levels of cruelty, death, and destruction, both men were catapulted into a quest to understand a seemingly senseless world. For Camus, this began with helping readers who were struggling to recover from the catastrophe and who despaired for the future to find reasons for hope in his editorials, essays, and his novel The Plague. For Monod, this meant resuming his research into how genes work, research that laid a framework for scientists to understand one of life's deepest mysteries: how a complex creature develops from a single fertilized egg. 
Profoundly influenced by their experiences in the Resistance and by each other, their efforts were not merely intellectual pursuits. Both men were deeply committed to taking action in the cause of freedom, which led to staunch public opposition of the Soviet regime and even prompted Monod into the risky smuggling of refugees. 
Impeccably researched and brilliantly illuminative, BRAVE GENIUS offers an absorbing look at the intertwining lives of Camus and Monod and a fascinating and provocative exploration of the relationship between science and philosophy.  
ABOUT THE AUTHOR: Sean B. Carroll is the author of Remarkable Creatures, a finalist for the National Book Award; The Making of the Fittest, winner of the Phi Beta Kappa Science Book Award; and Endless Forms Most Beautiful. Carroll also writes a monthly feature, "Remarkable Creatures," for the New York Times' Science Times. An internationally known scientist and leading educator, Dr. Carroll currently heads the Department of Science Education of the Howard Hughes Medical Institute and is Professor of Molecular Biology and Genetics at the University of Wisconsin.
Related Posts:
You Might Also Like