Press Releases
In 50 PORTRAITS, Gregory Heisler Illuminates his creative choices
A guided tour of his innovative editorial images and iconic portraits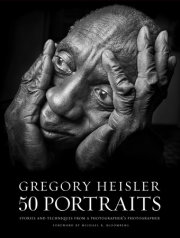 Gregory Heisler
Imprint: Amphoto Books
On sale: October 22, 2013
Price: $40.00
Pages: 224
ISBN: 9780823085651
Contact:
Kimberly Small
212-572-6067
ksmall@randomhouse.com
Widely regarded as "a photographer's photographer," Gregory Heisler has been described as having "the mind of a scientist, the heart of a journalist, and the eye of an artist." Known for his candor, humor, and generosity as a teacher, he is able to convey the most complex photographic concepts simply and elegantly. In the long awaited GREGORY HEISLER: 50 PORTRAITS (Amphoto Books, October 22, 2013, $40) he takes us on a guided tour of his innovative editorial images and iconic portraits, engagingly illuminated by his insightful and highly personal perspective.
The book draws upon 35 years of richly varied experiences as a portrait photographer working at the highest level for many national and international magazines—including Time, for which he shot more than seventy covers—corporations, advertising agencies, and private clients. Evocative portraits of celebrities and personalities such as Muhammad Ali, Tim Burton, Daniel Boulud, Mick Jagger, Denzel Washington, and Julia Roberts are accompanied by the stories behind the images, providing fascinating context. Readers will learn what Harry Belafonte, Bruce Springsteen, and Yasser Arafat were like during their shoots, why Heisler's portrait of President George H. W. Bush led to his White House clearance being revoked, and what is was like to photograph O. J. Simpson after his acquittal.
By offering a fascinating, plainspoken exploration into his creative process, Heisler generously shares exactly how he made the images, but more important, he explains the "why"—the rationale behind his creative choices, working methods, and strategies. Further, he offers insights into his favorite tools, ranging from vintage cameras to the latest lights, and explains why he used them to create specific images. Heisler is such a gifted storyteller, that for anyone with even a passing interest in photography, it's a fascinating look at the types of choices a photographer has to make and how arresting images get made.
About the Author:
GREGORY HEISLER is a photographer and educator renowned for his technical mastery and thoughtful responsiveness. His enthusiasm, curiosity, and drive are manifested in his hands-on approach to all aspects of the image-making process. His iconic portraits and innovative visual essays of celebrities, world leaders, and sports stars have graced the covers and pages of Life, Esquire, GQ, Sports Illustrated, ESPN The Magazine, and The New York Times Magazine, though he is perhaps best known for his more than seventy cover portraits for Time magazine. Among the honors he has received are the Alfred Eisenstaedt Award and the Leica Medal of Excellence. Heisler has been profiled in American Photo, Communication Arts, Esquire, Life, and numerous industry periodicals. A sought-after speaker and educator, he has taught at the International Center of Photography, the School of Visual Arts, the Smithsonian Institution, the National Geographic Society, scores of workshops and seminars throughout the country, and is currently Artist-in-Residence at the Hallmark Institute of Photography. He can be found online at www.gregoryheisler.com
Related Posts: