Press Releases
If I Live to Be 100
Lessons from the Centenarians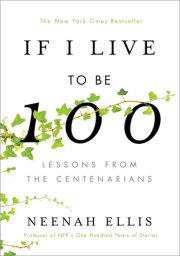 Neenah Ellis
Imprint: Three Rivers Press
On sale: March 5, 2019
Price: $16.00
Pages: 272
ISBN: 9781984823502
Contact:
Molly Breitbart
212-782-9164
mbreitbart@penguinrandomhouse.com
"A testimonial to resilience and the perseverance of individuals whose life expectancies are just a few years."
—New York Times

Neenah Ellis always wanted to live to 100. And, as a producer for National Public Radio, Ellis's fascination led her to interview centenarians from all over the country—about what life was like at the very beginning of the century and how things have changed over time. Ellis spent an unforgettable year traveling with her tape recorder and listening to the stories of America's oldest men and women, and she compiled her experiences into IF I LIVE TO BE 100: Lessons from the Centenarians (Three Rivers Press; Hardcover; On-sale March 5, 2019). With wisdom, wit, and candor, Ellis recalls her adventures, wherein she:
-Met a couple who courted by horse and sleigh in Vermont during the winter of 1918
-Spent a week with the oldest living black lesbian in America
-Interviewed Anna Wilmot, the row-boating centenarian from New England who captured the hearts of NPR listeners with her confession that she swims in the buff (albeit, only "when it's foggy and there's no fishermen around.")
Originally conceived as an American history project, Ellis's year of interviews became a personal journey of growth and transformation. Once she had put away the exigencies of her cusp-of-the-millennium life—her deadlines, the intense focus on current events, the endless email and ringing phones—Ellis began to learn the invaluable lessons that only older generations can teach us.
Following the advice of her geriatric interviewees, Ellis reveals to readers virtues of looking forward, not backward, and that the present moment is precious and fine. Ellis and her elderly companions are living proof that the richness of life is found in our connections with others—marriages and friendships, the intellectual life that we share, and the ways that we become connected. The stories told in IF I LIVE TO BE 100 add up to a guide for living well, with inspiration for all of us.
ABOUT THE AUTHOR
NEENAH ELLIS, formerly a staff producer for NPR's All Things Considered, is the general manager of public radio station WYSO in Yellow Springs Ohio, where she lives with her husband, Noah Adams.
Related Posts: