Press Releases
Hyacinth Girls by Lauren Frankel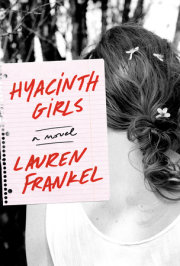 Lauren Frankel
Imprint: Crown Publishers
On sale: May 12, 2015
Price: $25.00
Pages: 304
ISBN: 9780553418057
Contact:
Rebecca Welbourn
(212) 782-9634
rwelbourn@penguinrandomhouse.com
Praise for Hyacinth Girls
"Engaging . . . Frankel perceptively depicts a spiral of brutality that would have been unheard of just a decade ago. . . . Riveting." —Publishers Weekly
"[A] twisty debut. . . . Hell hath no misery like a mean girl scorned." —Kirkus Reviews
"'Do you know your children?' Thus begins Hyacinth Girls, a book with razor-sharp teeth, a pumping heart, and wide-open eyes; a plunge into the secret, murky waters between the bullies and the bullied. In her debut, Lauren Frankel conjures up real girlhood, the kind you don't read about in storybooks: complicated, troubling, and true."—Miranda Beverly-Whittemore, New York Times bestselling author of Bittersweet
"Suspenseful and highly thought-provoking, Hyacinth Girls deftly illuminates the potentially harrowing landscape of teenage friendships while lending fresh perspective to the complex issue of bullying." —Kimberly McCreight, New York Times bestselling author of Reconstructing Amelia
---
In her remarkable debut novel HYACINTH GIRLS (Crown; May 12, 2015), Lauren Frankel crafts a nuanced and chilling portrait of female friendship and the costs of love and loyalty. Partly inspired by true events, this raw and beautiful story focuses on the lives of thirteen-year-old Callie, who is accused at the novel's outset of bullying a classmate, and her guardian, Rebecca, who has been caring for Callie ever since her parents died years earlier. As HYACINTH GIRLS moves back and forth between Rebecca's and Callie's coming-of-age narratives, Frankel weaves a heart-wrenching account of friendship, memory, and the lies we tell ourselves about those we love.
It all starts with a single phone call: Callie has thrown red paint on a girl named Robyn in the middle of art class. Rebecca, who has known Callie her whole life, protests that she would never do something like that, and defends her to the school's administrators. The other students, led by Callie's two best friends, back her up. Robyn withdraws from school, and everything seems to return to normal. But when threatening notes begin appearing for Callie, supposedly from Robyn, Rebecca struggles with how to protect the girl who is like a daughter to her, and with what she owes Callie's mother—her own childhood best friend. The notes bring back painful memories surrounding Callie's birth and early years, the true circumstances of which Rebecca still hasn't revealed to her. These memories of the past cloud Rebecca's judgment, blinding her to the tragic events unfolding right in front of her, until one day it becomes clear that Callie hasn't been telling her the whole truth.
In a world where love and betrayal are two sides of the same coin, Rebecca and Callie must reckon with the secrets they've kept, from others and from themselves. Although Rebecca supports Callie, the girl she gradually comes to know through whispered conversations, text messages, and Facebook interactions seems a world away from the innocent teenager who sits across from her at the dinner table. HYACINTH GIRLS is that rare combination of smart literary fiction and suspenseful page-turner, a novel that unflinchingly plumbs its characters' deepest secrets and motivations, right up to its startling conclusion.
ABOUT THE AUTHOR
Lauren Frankel received her BA in English from Vassar College. She has worked with young people, as both an educator and a librarian, in the US and the UK. She holds an MA in creative writing from the University of East Anglia, where she won the David Higham Award. Born in Connecticut, she now lives with her husband and son in England.
Related Posts:
You Might Also Like