Press Releases
Human Acts by Han Kang
Now in Paperback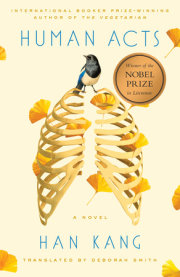 Han Kang
Imprint: Hogarth
On sale: October 17, 2017
Price: $15.00
Pages: 240
ISBN: 9781101906743
Contact:
Gwyneth Stansfield
212-366-2201
gstansfield@penguinrandomhouse.com
Praise for HUMAN ACTS                               
"Compulsively readable, universally relevant and deeply resonant . . . It lacerates, it haunts, it dreams, it mourns. . . . Human Acts is, in equal parts, beautiful and urgent." —New York Times Book Review
"Human Acts is stunning. Book reviews evaluate how well a book does what it sets out to do, and so we sometimes write nice things about books that perfectly fulfill trivial aims. Otherwise, we'd always be complaining that romance novels or political thrillers fail to justify the ways of God to men. But Han Kang has an ambition as large as Milton's struggle with God: She wants to reconcile the ways of humanity to itself."—NPR
"[E]xquisitely crafted."—O, the Oprah Magazine
"Engrossing . . . The result is torturously compelling, a relentless portrait of death and agony that never lets you look away. Han's prose—as translated by Deborah Smith—is both spare and dreamy, full of haunting images and echoing language. She mesmerizes, drawing you into the horrors of Gwangju; questioning humanity, implicating everyone. . . . Unnerving and painfully immediate."—Los Angeles Times
"Revelatory . . . nothing short of breathtaking . . . In the end, what Han has re-created is not just an extraordinary record of human suffering during one particularly contentious period in Korean history, but also a written testament to our willingness to risk discomfort, capture, even death in order to fight for a cause or help others in times of need."—San Francisco Chronicle
"[Han Kang's] new novel, Human Acts, showcases the same talent for writing about corporeal horrors, this time in the context of the 1980 Gwangju uprising."—Time
"Han Kang's Human Acts speaks the unspeakable." —Vanity Fair
"The long wake of the killings plays out across the testimonies of survivors as well as the dead, in scenarios both gorily real and beautifully surreal."—Vulture
"But where Kang excels is in her unflinching, unsentimental descriptions of death. I am hard pressed to think of another novel that deals so vividly and convincingly with the stages of physical decay. Kang's prose does not make for easy reading, but there is something admirable about this clear-eyed rendering of the end of life."—Boston Globe
"Absorbing . . . Han uses her talents as a storyteller of subtlety and power to bring this struggle out of the middle distance of 'history' and into the intimate space of the irreplaceable human individual."—Minneapolis Star-Tribune
"Though her subject matter is terrifying, her prose is too beautiful, her images too perfectly crystallized to wince and turn away from them. . . . Human Acts is a slim novel weighted with philosophical and spiritual inquiry, but if offers no consolations. Rather, it grapples with who we are, what we are able to endure, and what we inflict upon other people."—St. Louis Post-Dispatch
"Reading about human acts like these can be excruciating. But true to the urgency conveyed through its frequent use of second-person narration, Han's book is also filled with human acts involving profiles in courage that inspire hope. . . . In a novel whose heroes include editors, actors and writers—each battling to remember while censors try to forget—Han's own book embodies the miracle this passage describes."—Milwaukee Journal-Sentinel
"Kang interconnects the chapters in her novel to focus on characters who are irreparably affected by the historic Gwangju Uprising in South Korea in May 1980, in which government troops killed an estimated 600 protesters. The Guardian calls it 'an act of unflinching witness.'"—Sacramento Bee
"Human Acts is unique in the intensity and scale of this brutality. . . . [T]he novel details a bloody history that was deliberately forgotten and is only now being recovered." —The Nation
"Following The Vegetarian, one of the most stunning novels of 2016, Human Acts is yet another belatedly translated work from South Korean writer Han Kang. Centering on the killing of a young boy during a student uprising, the novel follows the rippling effects of the tragedy." —Huffington Post
"After dazzling us with The Vegetarian, which won the 2016 Man Booker International Prize, Han Kang is dropping another amazing read. Set in South Korea in 1980, in the wake of a student protest turned horrifically violent, the book follows a cast of characters as they deal with the harrowing consequences of that day."—Bustle
"Inventive, intense, and provocative . . . a work of considerable bravery . . . Human Acts is a profound act of protest in itself."—Newsday
"Kang's forthcoming Human Acts focuses on the 1980 Korean Gwangju Uprising, when Gwangju locals took up arms in retaliation for the massacre of university students who were protesting. Within, Kang tries to unknot 'two unsolvable riddles'—the intermingling of two innately human yet disparate tendencies, the capacity for cruelty alongside that for selflessness and dignity." —The Millions
"This novel is a thoughtful and humane answer to difficult questions and a moving tribute to victims of the atrocity." —BookPage
"South Korean novelist Han first gained attention stateside with The Vegetarian, her first novel to be translated into English, last year. This follow-up novel follows a group of people who are affected both directly and indirectly by the death of a young boy during a violent student protest in South Korea."—Men's Journal
"Pristine, expertly paced, and gut-wrenching . . . Human Acts grapples with the fallout of a massacre and questions what humans are willing to die for and in turn what they must live through. Kang approaches these difficult and inexorable queries with originality and fearlessness, making Human Acts a must-read for 2017." —Chicago Review of Books
"Han Kang made a big splash last year with The Vegetarian. Using several points of view to delve into the death of one adolescent boy during the Gwangju Uprising, Human Acts will surely continue Kang's praise among critics and readers. . . . Human Acts ruthlessly examines what people are capable of doing to one another but also considers how the value of one life can affect many." —Book Riot
"Han Kang's first novel to appear in English, The Vegetarian, was one of the most jarring works of fiction we've read in a while. Human Acts takes a broader view of humanity, focusing on a host of reactions to the death of a young man in a political action in South Korea. We're looking forward to experiencing her prose in a new context with this novel." —Vol. 1 Brooklyn
"Han's novel is an attempt to verbalize something unspeakable . . . [B]y placing the reader in the wake of Dong-ho's memory, preserved by his family and friends, Han has given a voice to those who were lost in the Gwangju Uprising." —Publishers Weekly
"Kang explores the sprawling trauma of political brutality with impressive nuance and the piercing emotional truth that comes with masterful fiction . . . a fiercely written, deeply upsetting, and beautifully human novel."—Kirkus Reviews
"Kang is an incredible storyteller who raises questions about the purpose of humanity and the constant tension between good and evil through the heartbreaking experiences of her characters. Her poetic language shifts fluidly from different points of view, while her fearless use of raw, austere diction emulates the harsh conflicts and emotions raging throughout the plot. This jarring portrayal of the Gwangju demonstrations will keep readers gripped until the end." —Booklist (starred)
"With Han Kang's The Vegetarian awarded the 2016 Man Booker International Prize, her follow-up will garner extra scrutiny. Bottom line? This new work, again seamlessly translated by Deborah Smith, who also provides an indispensable contextual introduction, is even more stupendous." —Library Journal (starred)
Winner of the 2016 Man Booker International Prize, South Korean author Han Kang has been widely recognized for her English-language debut THE VEGETARIAN, which Hogarth published in February 2016 and which was named a best book of the year by outlets including The New York Times Book Review, NPR, The Economist, Slate, and BuzzFeed, to name a few.
Han's second novel, HUMAN ACTS (October 17, 2017, Hogarth), is now in paperback—a "compulsively readable, universally relevant and deeply resonant" (New York Times Book Review) portrait of political unrest and the universal struggle for justice that was a London Evening Standard bestseller in the UK. Han, who was profiled in the New York Times at the release of THE VEGETARIAN, is a professor in the department of Creative Writing at the Seoul Institute of the Arts. She was a participant in the International Writing Program at the University of Iowa and has also won the Yi Sang Literary Prize, the Today's Young Artist Award, the Korean Literature Novel Award, and the Manhae Literary Prize.
Partly based on true events, HUMAN ACTS revolves around a single catastrophic act in Korean history and the consequences that spiral in its aftermath: In the midst of the violent 1980 Gwangju Uprising in South Korea, a young boy named Dong-ho is killed. The story of this tragic episode unfolds in a sequence of interconnected chapters as the victims and the bereaved encounter suppression, denial, and the echoing agony of the massacre. From Dong-ho's best friend who meets his own fateful end; to an editor struggling against censorship; to a prisoner and a factory worker, each suffering from traumatic memories; and to Dong-ho's own grief-stricken mother; their collective heartbreak and acts of hope evolves the tale of a brutalized people in search of a voice.
An award-winning bestseller in Korea published to critical acclaim in the UK and US, HUMAN ACTS is a timeless, pointillist portrait of an historic event with reverberations still being felt today, by turns tracing the harsh reality of oppression and the resounding, extraordinary poetry of humanity.
About the author: Han Kang was born in 1970 in South Korea. In 1993, she made her literary debut as a poet, and was first published as a novelist in 1994. A participant in the International Writing Program at the University of Iowa, Han has won the Yi Sang Literary Prize, the Today's Young Artist Award, and the Manhae Literary Prize. She currently works as a professor in the department of Creative Writing at the Seoul Institute of the Arts.
Related Posts: