Press Releases
How to Eat a Small Country by Amy Finley
A Family's Pursuit of Happiness, One Meal at a Time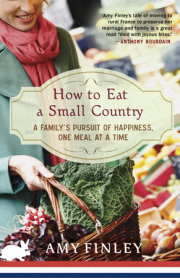 Amy Finley
Imprint: Crown
On sale: July 3, 2012
Price: $14
Pages: 304
ISBN: 9780307984968
Contact:
Mary Coyne
212-572-2247
mcoyne@randomhouse.com
How To Eat A Small Country: A Family's Pursuit of Happiness, One Meal at a Time
By Amy Finley
* Watch Amy Finley compete on Chopped: Food Network Stars on July 22nd * 
NOW IN PAPERBACK
With all-new French recipes
"An unexpected and delightful memoir."  —Anthony Bourdain
"A charming, bare-bones chronicle of a woman reclaiming her family. . . . The author's account of her determination to rework her life into one worth living is bracing and uplifting. A five-star read."   —Kirkus Reviews
"How to Eat a Small Country shares a few key traits with Elizabeth Gilbert's Eat, Pray, Love, in particular an infectiously likeable narrator and mouthwatering descriptions of European food. But Finley's memoir is less precious, more honest, and ultimately more rewarding."   —Boston Globe
"With her very capable taste buds . . . Finley explores the endless idiosyncrasies of French cuisine. Personal but never oversharing, Finley bravely relays the difficulty of her feelings during this nadir-turned-adventure, and folds her family's unlikely story into a bold bouillabaisse of a food memoir."     —Booklist
A  Paris-trained cook turned restless stay-at-home mom, Amy Finley beat the odds to win the third season of a megahit Food Network reality show and a chance to grab the brass ring of culinary celebrity.  But the camera's scrutiny also brought long-simmering marital tensions over balancing work and family to a full rolling boil. In HOW TO EAT A SMALL COUNTRY: A Family's Pursuit of Happiness, One Meal at a Time (Broadway Paperbacks; July 3, 2012), Amy invites readers on the winding, food-filled journey that one couple takes to stay together.
While Amy was hoping to bring American families together with accessible recipes from her show, The Gourmet Next Door, she ended up separating from her French husband, Greg, who couldn't handle the thought of being married to a celebrity or having their family thrust into the public eye. Amy felt betrayed. She was living a dream—or was she? She was becoming famous, cooking for people out there in TV land, in thirty minutes, on a kitchen set . . . instead of cooking and eating with her own family at home.
In a desperate effort to work things out, Amy left her budding television career behind and moved her family to France, where she and Greg lived after they first met and fell in love. HOW TO EAT A SMALL COUNTRY is Amy's incredibly personal story of her rewarding struggle to reunite her family through the simple, everyday act of cooking and eating together. In this smart, funny, deconstructed fairy tale rich in historical insight and delectable descriptions of regional dishes, Finley—her own future in doubt—reinvents herself as a food anthropologist, and flees with her husband and two small children to the isolation of a French farmhouse and a quest to cook, taste, and document imperiled food traditions. Meals play a central role in Amy's new life, from meeting the adorable little bunny destined to become their classic Burgundian dinner of lapin à la moutarde to dealing with the aftermath of a bouillabaisse binge.
The family's road trips through the not-always bucolic French countryside are the backdrop for this honest, captivating depiction of a marriage and a food culture in flux, caught between the romance of the past and the challenging realities of the present. And as she, Greg, and their two young children wend their way around rural France, they gradually reweave the fabric of their family. Inspired by all that she holds dear, Finley delivers a winning recipe for writing one's own happy ending. At times humorous and heart-wrenching, and always captivating and delicious, HOW TO EAT A SMALL COUNTRY is Amy Finley's triumphant and endearing tale of family, food, France, and forgiveness. The brand-new paperback edition includes Amy's favorite recipes from her time in France, inviting readers to "cook the book." 
ABOUT THE AUTHOR
AMY FINLEY was the winner of the third season of the hit show The Next Food Network Star. After her win, she hosted Food Network's The Gourmet Next Door. A Paris-trained cook and pastry chef, she was a regular contributor to Bon Appétit. She lives in San Diego, CA, with her husband and their children. Amy will compete on Chopped: Food Network Stars on July 22, 2012.