Press Releases
How remarkable women lead: Joanna Barsh presents a practical playbook for any woman who aspires to "sit at the table"
The breakthrough model for work and life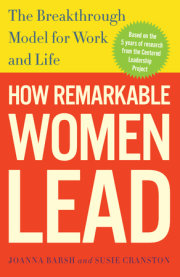 Joanna Barsh and Susie Cranston
Imprint: Crown Business
On sale: December 27, 2011
Price: $15.00
Pages: 384
ISBN: 9780307461704
Contact:
Tara Gilbride
212-572-2872
tgilbride@randomhouse.com
When Joanna Barsh turned 50, by any measure of personal and professional fulfillment her life was great. She was a senior partner at the management consulting firm McKinsey & Company and had important, exciting work with companies around the globe. She had a happy marriage and two wonderful children.  Yet on this milestone birthday something happened to her. Nothing. Absolutely nothing. She began to wonder what was wrong.
This personal question led to five years of research that is now the foundation for a profoundly unique and fresh insight into leadership as revealed in HOW REMARKABLE WOMEN LEAD: The Breakthrough Model for Work and Life.
Joanna and her colleague Susie Cranston investigated what enables some women to sustain careers that take them into top leadership positions in corporations, government, the arts and other fields, while so many women stop short, whether or not they literally opt out. 
What they discovered is that the most successful women are not only great at work; they are also great at life. Success comes from having meaning in what you do. Bringing emotions to the workplace and learning to reframe resolves difficult situations. Taking connectivity seriously to fully engage the organization both informs decisions and forges cohesive teams. Facing fears head on removes the veils from opportunities. And addressing energy flows head-on makes it possible for you to sustain a leadership career. For Joanna Barsh, these insights were a breakthrough – a welcome change from the school of deficit-based training, head-but-not-the-heart-leadership and traditional organization hierarchy, all working to stifle organization and personal energy.
HOW REMARKABLE WOMEN LEAD reveals that many qualities associated with women – resilience, empathy, connectivity, among other things – are actually better suited for today's changing times. For example women often bring more emotion to the workplace than men, and when those emotions are positive it is powerful. In fact, the research shows that these qualities – most of the time dismissed by our corporate culture – will lead individuals, women and indeed men, to be more creative and have more joy at work, both sources of energy. Something businesses need during these hard times as unemployment rises and those left in the office are struggling with an increased workload and a mandate to do more with less.
Better yet, HOW REMARKABLE WOMEN LEAD combines McKinsey & Company's data-driven approach with absorbing personal stories of some of the world's most powerful women. Among many others, readers learn about Christine Lagarde working through an impasse at Baker & McKenzie; Dame Stella Rimington rising to become the first woman Director General at MI-5; Ellyn McColgan – bouncing back from catastrophe at ICICI; and Anne Mulcahy and the connections that helped turn Xerox round. Many of the stories show that it was the hard times, both personal and professional, that helped them reach their goals. But the stories also reveal the joy of the journey that comes from emotional, physical, intellectual and spiritual well-being – the prize of being a centered leader.
So what are the key lessons? They abound in every chapter through the compelling stories, clear synthesis of academic research, and useful insights and actions. Meaning, framing, connecting, engaging and energy combine to unlock tremendous fuel for performance, for meaningful change in your organization or your life.
In these difficult times, companies need to unlock these leadership capabilities more than ever. HOW REMARKABLE WOMEN LEAD will empower leaders facing opportunity and adversity, both women and men. It also establishes the link between happiness and remarkable performance, thus providing the means for succeeding in an ever-more stressful and uncertain world.
Related Posts: