Press Releases
Home Game by Bret Boone & Kevin Cook
Big-League Stories from My Life in Baseball's First Family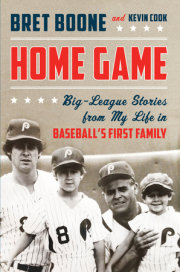 Bret Boone & Kevin Cook
Imprint: Crown Archetype
On sale: May 10, 2016
Price: $27.00
Pages: 272
ISBN: 9781101904909
Contact:
Ellen Folan
212-782-8944
EFolan@penguinrandomhouse.com
A five-foot-ten firecracker who was spurned by scouts for his small size, supposed lack of power, and cocky attitude, Bret Boone didn't care about family legacy as he fought his way into the Major Leagues in 1992; he wanted to make his own way. And he did just that, building a fourteen-year career that included three All-Star appearances, four Gold Gloves, a bout with alcoholism, and the mixed blessing of being traded three times.
Now that he's coaching minor leaguers half his age—and his teenage son has the potential to be a fourth-generation Major Leaguer for the Boone clan—Bret has a new perspective on his remarkable family, with its combined ten All-Star appearances, 634 home runs, 3,139 RBIs, and countless kitchen table debates about the game's greatest players. For the first time, he's ready to share his adventures as part of the sport's First Family.
Infused with candor and Bret's deep love of the game, HOME GAME: Big-League Stories from My Life in Baseball's First Family (Crown Archetype, May 10, 2016) traces the evolution of the game—on the field and behind the scenes—from Ray Boone's era in the 1950s to Bob Boone's in the '70s and '80s to Bret and Aaron's era in the '90s and 2000s, when players made millions, dined on lobster in the clubhouse, and, in some cases, indulged in performance-enhancing drugs. Along the way, Bret touches on pieces of Boone family lore, from Ray playing with his hero Ted Williams and Bob winning a World Series with the 1980 Phillies to Bret's flop in a nationally televised home-run derby and Aaron's historic home run in the 2003 playoffs.
Blending nostalgia, close analysis of the game, insight into baseball's unwritten codes, and exploration of its ongoing evolution as a sport and a business, HOME GAME offers a one-of-a-kind look at America's favorite pastime from a family who has seen it all.
Related Posts:
You Might Also Like