Press Releases
The Hiding Place by C. J. Tudor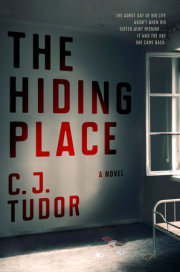 C. J. Tudor
Imprint: Crown
On sale: February 5, 2019
Price: $27.00
Pages: 288
ISBN: 9781524761011
Contact:
Sarah Breivogel
212-572-2722
sbreivogel@penguinrandomhouse.com
Select Praise for The Hiding Place Place:
"Tudor maintains a tone of creeping dread throughout the book, of something lingering always in the background, coyly hiding its face while whispering promises of very bad things to come. In the last quarter, however, she goes for broke with outright horror, giving readers an effective jolt of adrenaline that will carry them all the way to the terrifying conclusion. Readers won't know what hit them. Tudor came out swinging with The Chalk Man, but this one puts her firmly on the map. Not to be missed." —Kirkus Reviews
"Tudor has crafted another fantastic horror-tinged thriller (after The Chalk Man, 2018) in the vein of John Connolly and Brendan Duffy." —Booklist
"Tudor casts a searing light on the long-term damage wrought by grief, guilt, and regret." —Publishers Weekly
"Some writers have it, and some don't. C. J. Tudor has it big time—The Hiding Place is terrific in every way." —Lee Child
"Dark, gothic and utterly compelling, The Hiding Place pulls off a rare combination – an atmosphere of unsettling evil along with richly nuanced characterization." ­—J.P. Delaney, New York Times bestselling author of The Girl Before
"Gripping and dark, The Hiding Place descends like its very own mine shaft, getting creepier the further you go. You'll race to the finish." —Roz Nay, internationally bestselling author of Our Little Secret
"Deliciously creepy, impeccably plotted and laced with both wicked humor and genuine shocks, The Hiding Place is the kind of read-under-the-covers thriller you didn't think people wrote anymore. Lucky for us, C.J. Tudor still does. An absolute corker of a book." —Riley Sager, New York Times bestselling author of Final Girls and The Last Time I Lied
Since its initial publication in January 2018, C.J. Tudor's first novel, The Chalk Man, has proven to be one of the year's most acclaimed debuts. Praised by readers, reviewers, and authors alike, the book has reached readers in over thirty-eight territories and has been lauded by renowned writers, including Stephen King, Fiona Barton, and Joyce Maynard. Now, almost a year after her debut, Tudor is releasing her second novel, THE HIDING PLACE (Crown, on sale February 5, 2019), an expertly woven tale of psychological suspense, perplexing mysteries, and compelling characters.
Joe isn't sure he wants to return to the dreary English village he grew up in. He'd much prefer to leave the past in the past—especially after the betrayal, suicide, and murder from long ago—but after all these years he finds himself back in Arnhill, lying through his teeth to get a teaching job at his old high school. But why has he returned? To settle old scores? Or does it have something to do with the mysterious deaths plaguing the village? There is a reason Joe is back, staying off the grid, renting a deserted cottage that was once the scene of a gruesome murder. Because it looks like what happened to his sister all those years ago is happening again, and only Joe knows who's really at fault. The easy part is getting the teaching job. Facing off with former friends, none too happy about his return, while avoiding the enemies he's made in the years since—that's a bit tougher. Especially when Marie, who Joe pined for all those years ago, has married one of his former friends. And what about Beth, an enigmatic new teacher who has a hidden agenda of her own? But the hardest part of all will be returning to that abandoned mine where it all went wrong, and finally confronting the horrifying truth about his sister, this village, and himself. Because the worst moment of Joe's life wasn't the day his sister went missing. It was the day she came back.
Tudor has once again crafted an outstanding novel that brilliantly blends harrowing psychological suspense, puzzling mystery, and enough shocks and thrills to satisfy even the most seasoned reader. An unputdownable page-turner, THE HIDING PLACE undoubtedly confirms Tudor as one of today's best writers of suspense.
# # # #
About the Author:
C. J. TUDOR is the author of The Chalk Man, and lives in England, with her partner and young daughter. Over the years she has worked as a copywriter, television presenter, voice-over actor, and dog walker.
THE HIDING PLACE: A Novel
By C. J. Tudor
Crown | On Sale February 5, 2019
Pages: 288 | Price: $27.00 | ISBN: 978-1-5247-6101-1
Also available as an Ebook
Visit crownpublishing.com
You can find the author on Twitter @cjtudor
Related Posts: