Press Releases
HERS: Design with a Feminine Touch By Jacqueline deMontravel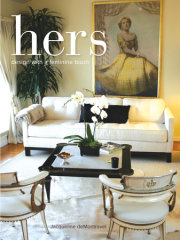 On sale: January 1, 1970
Price: $
ISBN: 9780307885982
Contact:
Nora O'Malley
212-782-8370
nomalley@randomhouse.com
"Personal space is as necessary as air and water. Today's busy lives find people in a constant swirl of interaction, following rules of conduct.  Every woman deserves one place that is unapologetically hers. With a style that defines her. Where she sets the rules." —Jacqueline deMontravel, from the Introduction
As editorial director of Beckett Media's lifestyle group and editor of Romantic Homes, Jacqueline deMontravel knows the allure of luxurious interiors; she knows how they look, how they make someone feel and how the right space can completely transform every person who steps into the room.
Now in HERS: Design with a Feminine Touch (Clarkson Potter; on sale December 13, 2011; $35.00), Jacqueline deMontravel shares her expertise with any woman looking to add a personal touch or flair to her home. Jacqueline's luscious designs delicately showcase the beauty and comfort of feminine colors, furniture shapes, and glamorous accessories, showing how any woman can not only embrace her femininity through design, but also flaunt it. From adding dimension to a small space with color, fabric, and wallpaper to carving out a luxurious private nook in a larger room, HERS is full of vintage-inspired ideas for spaces of all shapes and sizes.
In HERS, Jacqueline deMontravel transports readers to more than 25 spaces that show how feminine decor can be fresh, modern, and inviting, not fussy or saccharine. Sidebars, tips, and tricks will help women create entire rooms or appropriate spaces of their own, making the spaces sexy and special. Jacqueline's advice is smart, timeless, and easy to implement with simple suggestions, such as the list she offers to keep your room distinctive:
–PERSONALIZE: Include accent pieces that have a story, such as mementos collected from a trip, gifts you've received, or arts and crafts.
–INVEST: Spend on items that will provide enjoyment and get wide use, such as fine linens, art, or a one-of-a-kind piece of furniture.
–SHOP AROUND: Hunt for special pieces at flea markets or online.
–EDIT: If something in your room seems out of place, eliminate it. Keep only those things that maintain a harmonious balance.
–PRIORITIZE COMFORT: A room must always have one chair or sofa so comfortable that it rivals the bed. However, comfort should not have to compete with style, as a great piece can look and feel beautiful with the right fabrics and accessories.
–ENLIST THE FIVE SENSES: Run through a mental checklist to see if your room addresses all the senses.
For today's generation of women—married or single—who want a modern, romantic, feminine, grown-up room of their own, this is an empowering guide to creating a beautiful sanctuary in any space. Featuring more than 300 stunning full-color photographs of vignettes and tons of fabulously decorated rooms and transporting nooks, HERS is a must-have for any woman craving a space to call her own.
# # #
JACQUELINE deMONTRAVEL is the editorial director of Beckett Media's lifestyle group. She edits Romantic Homes magazine and oversees such publications as Cottages & Bungalows and Victorian Homes. DeMontravel has nearly two decades of experience in magazine publishing; she was formerly the editor of Country magazine, has held editor positions at Self and GQ, and has been a contributor to Harper's Bazaar. Her other books include Vintage Vavoom, The Vintage Table, and 21st-Century Etiquette (with Charlotte Ford). DeMontravel was nominated for a CFDA award for "magazine editors to watch" in 2001. Romantic Homes magazine has a subscriber base of more than 350,000 readers.
Related Posts:
You Might Also Like