Press Releases
These Heroic, Happy Dead by Luke Mogelson
Stories of life in, and after, the army.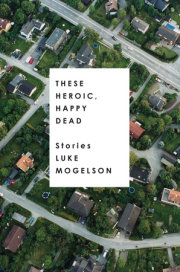 Luke Mogelson
Imprint: Tim Duggan Books
On sale: 4/26/2016
Price: $24.00
Pages: 192
ISBN: 9781101906811
Contact:
Liz Esman
212-572-6049
lesman@penguinrandomhouse.com
Advance praise for THESE HEROIC, HAPPY DEAD by Luke Mogelson
"The author's refusal to condemn or condone his characters' troubled lives gives this collection its particular power. Instead, Luke Mogelson bears witness to his soldiers and their actions, and in doing so honors their full humanity. Reminiscent of Hemingway's In Our Time, These Heroic, Happy Dead is an extraordinary debut, and it deserves a wide and appreciative audience."
—Ron Rash
"A stunning debut from a major talent; this book is up there with the best of modern war stories, from Hemingway to Tim O'Brien. This is a book which is going to last."
—Philipp Meyer
"We can now induct Luke Mogelson into that vital band of warrior storytellers—from Tim O'Brien and Michael Herr to Phil Klay and Elliot Ackerman—who, with great eloquence and moral courage, have labored, on both the battlefield and the page, to keep America honest about its foolish wars."
—Bob Shacochis
"Luke Mogelson's stories kicked me straight in the chest. The poisonous effects of war on soldiers is one of literature's most ancient subjects, yet Mogelson writes with such freshness and fire that you feel new ground being broken, you feel the tremors of the secret pain that binds together Mogelson's cast, and you feel the giant rumble of talent."
—Jonathan Miles
"The stories in this debut have the hard edge and sharp dialogue of well-observed reporting…. Mogelson shows impressive range and restraint in an area—war-related fiction—where physical and emotional extremes have been too readily deployed and exploited."
                                                                                       —Kirkus (Starred Review)
"This subtly interrelated and frequently gory collection of Afghan War tales packs a wallop. Mogelson, who writes for The New York Times Magazine and other periodicals, captures the grim realities of war and, even more, its aftermath in these raw and deceptively simple stories…. This is hard stuff to read, definitely worth it, but be prepared."
—Booklist
________________________________________________________________________________________________________________________________
THESE HEROIC, HAPPY DEAD (Tim Duggan Books; April 26, 2016), a poignant debut by National Magazine Award winner Luke Mogelson, forms an intensely moving portrait of the war in Afghanistan, and life in, and after, the army. Mogelson is a contributing writer at The New York Times Magazine, with his fiction appearing in The New Yorker, The Paris Review, The Hudson Review, and others. The seeds for THESE HEROIC, HAPPY DEAD were planted while Mogelson was overseas in Kabul reporting for the New York Times Magazine. Over a period of three years, Mogelson was embedded, as a reporter, with U.S. Army units in eastern Afghanistan, with Marines in Helmand Province, and with the Afghan National Army in central Afghanistan.
This harrowing collection of stories provides an unsentimental, unflinching glimpse into the lives of those forever changed by war. These powerful stories, linked together with graceful subtlety, distill the consequences of combat for both soldiers and civilians when the trauma and violence experienced overseas seep into life at home.
Troubled veterans first introduced as criminals in "To the Lake" and "Visitors" appear later in "New Guidance" and "Kids," during the deployments that shaped their futures. A seemingly minor solider in "New Guidance" become the protagonist of "A Human Cry," where his alienation from society leads to a shocking confrontation. The fate of a hapless Gulf War veteran who reenlists in "Sea Bass" is revealed in "Peacetime," the story of a New York City medic's struggle with his tendency toward calamity. A shady contractor job gone wrong in "A Beautiful Country" is a news item for a reporter in "Total Solar." Shifting in time and narrative perspective—from the home front to active combat, between experienced leaders, flawed infantrymen, a mother, a child, an Afghan-American translator, and a civilian journalist—these stories take the full measure of the cost of war.
THESE HEROIC, HAPPY DEAD is an evocative, deeply powerful work about duty, loss, and the redemptive force of storytelling, charting the legacy of violence and the plight of people hungry for atonement. Luke Mogelson introduces himself as a writer of prodigious talent and ambition. Written with remarkable insight, this stunning debut heralds the arrival of an extraordinary new talent.
ABOUT THE AUTHOR: LUKE MOGELSON is a contributing writer at The New York Times Magazine and a recipient of the National Magazine Award in 2014. His fiction has appeared in The New Yorker, The Paris Review, The Hudson Review, The Missouri Review, and The Kenyon Review. He lives in Paris.
Related Posts: