Press Releases
THE HEIRS by Susan Rieger
A Novel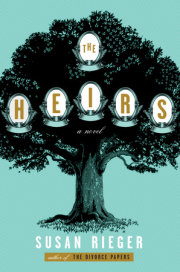 Susan Rieger
Imprint: Crown
On sale: May 23, 2017
Price: $26.00
Pages: 272
ISBN: 9781101904718
Contact:
Sarah Breivogel
212-572-2722
sbreivogel@penguinrandomhouse.com
Praise for THE HEIRS
"Both original and moving—and a whole lot of fun. . . . With grace and finesse, Rieger (whose previous novel was "The Divorce Papers") swings effortlessly from character to character. . . . The major players are so richly alive, their search for the truth so absorbing, that you might tear some pages in your rush to turn them."
—New York Times Book Review
"Elegant literary prose and supremely likeable characters make this a must-read."
—People, Book of the Week
"Love and sex and money and betrayal make for excellent storytelling. And The Heirs has all of that… As an exploration of the hidden lives of Rupert and Eleanor Falkes, it is a posh soap opera written by Fitzgerald and the Brontes. As a window on a family shaken by death, it is The Royal Tenenbaums, polished up and moved across town. But its beauty, economy and expensive wit is all its own."
—NPR.org
"A thoroughly engaging family saga and an incisive probe into the upper crust of Manhattan society—a slice of Edith Wharton transported to the 21st century . . . Rieger's intimate look at this intriguing family is an erudite and witty take on a social circle that most readers can only imagine."
—Bookpage
"[An] assured novel of family, money, and secrets, reminiscent in theme and tone of Edith Wharton . . . Just in time for poolside reading, this elegant novel wears its intelligence lightly."
—Kirkus (starred review)
"Incisive . . . Rieger wrestles perceptively with difficult questions . . . a tense, introspective account of looking for truth, and instead finding peace."
—Publishers Weekly (starred review)
"Brilliantly constructed and flawlessly written . . . an emotional and satisfying story of how a complicated family and their outliers handle life's most pivotal moments." |
—Library Journal
"Told both in flashbacks and at the turn of the millennium, there's something timeless about this family drama; take it back one hundred years, and it would easily fit in among the novels of the Gilded Age. It is a charming, slightly haunting look at a family dealing with the inheritance of legacy rather than money and wondering if what happens after a relationship matters as much as how it was experienced at the time."
—Booklist
"Susan Rieger is thrillingly erudite and compulsively readable, a satisfying combination hard to find in any section of the bookstore. The Heirs is an absorbing page-turner, full of sex and secrets, and I loved getting to know the entire Falkes clan."
—Emma Straub, New York Times bestselling author of Modern Lovers
"What a sure-footed and unfoolable writer Susan Rieger is—and what a great book The Heirs is. Unstoppably entertaining and astute, it describes its characters—the charismatic fauna of old, upper class New York—with a strange, merciless sympathy.  Wonderful stuff."
—Joseph O'Neill, author of The Dog and Netherland
In 2014, Crown published Susan Rieger's smart, entertaining debut novel, The Divorce Papers, a modern-day epistolary work that tells the story of a highly contentious divorce through friendly and hostile e-mails, scorching and confessional letters, brisk memoranda, newspaper articles, interviews, cases, and laws. The book received glowing reviews from the New York Times Book Review, People, The New Yorker, Entertainment Weekly, NPR, and other media outlets. In her beautifully-rendered, absorbing new novel, THE HEIRS (Crown; May 23, 2017), Rieger wrestles with the nature of inheritance and legacy as it affects a memorable, gilt-edged Manhattan family.
Written with cool intelligence, wit, and charm, THE HEIRS tells the story of the inimitable Falkeses: Rupert, a charming Englishman and lawyer at a white shoe law firm; his wife, Eleanor, an elegant, razor-sharp woman raised by a mother who preferred bloodlines to intelligence; their five clever, charismatic sons; Harry, an eminent law professor at Columbia; Will, a canny Hollywood agent; Sam, an insightful doctor and scientist; Jack, a jazz trumpet prodigy; and Tom, an altruistic federal prosecutor; and the sons' partners. For the Falkes brothers, identity and success have always been inextricably tied to their loyalty to their parents and each other. When Rupert, the bedrock of the family, dies of cancer, the brothers unexpectedly find themselves unanchored without him. As they grieve, a woman steps forward claiming that she had two sons with Rupert and that they are entitled to their share of his estate. The brothers struggle to fathom the painful meaning of her claims: Could their beloved father have been living a lie? Could he have betrayed their mother? Could Eleanor have known? The brothers cannot agree on what to do, but when one suggests a paternity test, they are stunned to find out that their mother has plans of her own.
While writing THE HEIRS, Rieger drew unconsciously on her own family history. She was eleven when her mother's father died, old enough to read his obituary in the New York Times. Her mother had often talked about her father, a poet and labor organizer, but they were estranged and rarely saw each other. At the end of his obituary, the list of survivors included two daughters. Rieger knew of only one daughter, her mother; when she inquired, her mother said that her father had been married before and that he'd had a daughter with his first wife. The two daughters did not like each other—Rieger's mother saw the other daughter at the funeral for the first time in decades, and would never see her again. When Rieger began writing her second novel, she didn't think of her mother's unknown half sister. It was months later, after reading through the last draft, that she understood her mother's secret was the germ of the novel.
Fans of rich, compelling family stories such as & Sons, Seating Arrangements, The Privileges, The Nest, and The Emperor's Children will be drawn to Rieger's elegant, incisive, and sly commentary on elite Manhattan society and the dynamics of family relationships.
About the Author: Susan Rieger is the author of the 2014 novel The Divorce Papers. She is a graduate of Columbia Law School and has worked as a residential college dean at Yale and as an associate provost at Columbia. She lives in New York City with her husband, writer David Denby.
Related Posts:
You Might Also Like