Press Releases
THE HEART'S INVISIBLE FURIES by John Boyne
From the beloved New York Times bestselling author of The Boy in the Striped Pajamas comes a sweeping, heartfelt saga about the course of one man's life in postwar Ireland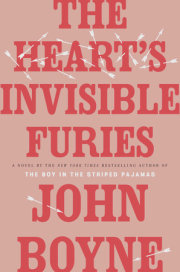 John Boyne
Imprint: Hogarth
On sale: August 22, 2017
Price: $28.00
Pages: 592
ISBN: 9781524760786
Contact:
Rebecca Welbourn
212-782-9634
rwelbourn@penguinrandomhouse.com
Advance US Praise for THE HEART'S INVISIBLE FURIES
"Enchanting… Boyne explores Cyril's life in luscious detail… With evocative descriptions of each city and fateful plot turns that twist the narrative in surprising ways, Boyne adroitly captures Cyril's shifting identity as he grapples with nationality, class, and sexuality. The book becomes both an examination of Cyril's life and a catalogue of Western society's evolution from post-war to present day, with all its failings, triumphs, complexities, and certainties… The life of Cyril Avery is one to be relished." —Publishers Weekly
"Boyne, who has a wonderful gift for characterization, does a splendid job of weaving these various lives together in ways that are richly dramatic, sometimes surprising, and always compelling . . . Often quite funny, the story nevertheless has its sadness, sometimes approaching tragedy. Utterly captivating and not to be missed." —Booklist (starred review)
"With quick strokes and bitter humor, Boyne's opening scene encapsulates the Irish church's hypocrisy . . . Boyne continues his crusading ways with the quiet keening of this painful, affecting novel." —Kirkus Reviews (starred review)

"Cyril's life story is extraordinary, tragic, and triumphant . . . Boyne dedicates his wise, beautiful fifteenth novel to John Irving. This tribute fits a story calling to mind the humane sagas of T. S. Garp, Owen Meany, and the humble tale of Piggy Sneed. Readers will fall in love with Boyne's characters, especially Mrs. Goggin and Cyril's adoptive mother, Maude Avery, in this heartbreaking and hilarious story." —Library Journal
International Praise for THE HEART'S INVISIBLE FURIES 
"This is nothing less than the story of Ireland over the past seventy years, expressed in the life of one man . . . highly entertaining and often very funny . . . Big and clever." —The Times Sunday Review
"An epic full of verve, humour and heart . . . sure to be read by the bucket load . . . deeply cinematic [and] extremely funny." —Irish Times
"A picaresque, lolloping odyssey for the individual characters and for the nation that confines them . . . The book blazes with anger as it commemorates lives wrecked by social contempt and self‑loathing . . . a substantial achievement." —The Guardian
 
"By turns savvy, witty, and achingly sad . . . This is a novelist at the top of his game." —Mail on Sunday
"An epic novel . . . The Heart's Invisible Furies proves that John is not just one of Ireland's best living novelists but also one of the best novelists of Ireland." —Express
"Boyne creates lightness out of doom, humour out of desperately sad situations . . . a terrific read." —Press Association
---
One of Ireland's most acclaimed and best-known writers, John Boyne has won fans around the world for his novels for adults and younger readers, including the New York Times bestseller The Boy in the Striped Pajamas, A History of Loneliness, and The Absolutist. He now brings us his most ambitious novel yet, THE HEART'S INVISIBLE FURIES (August 22, 2017, Hogarth), a masterful epic that earned raves in the UK, tracing the life of an ordinary Irish man from 1945 to 2015 as he grapples with his relationships, his sexuality, and his search for a place and people that truly make him feel at home.
Cyril Avery is born out of wedlock to a sixteen-year-old girl cast out by the priest in her rural village in western Ireland (in front of the entire congregation, no less). He's adopted by a well-to-do but cold Dublin couple who lives in an imposing house in Dartmouth Square: Charles, a banker, and Maude, a brilliant novelist who abhors attention. Cyril isn't a real Avery, as his adoptive parents never cease to remind him. But if he isn't an Avery, then who is he?
Cyril grows up adrift in moneyed Dublin society, questioning his identity and the feelings he's beginning to develop for other boys—especially his best friend and boarding school roommate, the infinitely more glamorous and dangerous Julian Woodbead—within the confines of strict Irish social mores. At the mercy of fortune and coincidence, he travels from Dublin to Amsterdam to New York, only to return home again. Despite finding love along the way, he will spend a lifetime struggling to understand where he came from, as well as how to accept himself for who he really is.
Boyne's most transcendent work to date, THE HEART'S INVISIBLE FURIES gives the reader a front-row seat to the story of Ireland from the 1940s to modern times, seen through the eyes of one man at seven-year intervals throughout his life. We watch Ireland evolve alongside Cyril as he bears witness to watershed moments in history, from IRA activities in Dublin in the 1960s, to the global AIDS crisis, to the aftermath of the referendum legalizing same-sex marriage in Ireland in 2015. Featuring an unforgettable cast of characters and told with Boyne's keen sense of humor and expansive, generous vision, THE HEART'S INVISIBLE FURIES is a heartbreaking, funny, fearless masterpiece—a novel to make you laugh and cry while reminding us of the redemptive power of the human spirit.
About the author: John Boyne is the author of ten novels for adults, five for younger readers, and a collection of short stories. His 2006 novel, The Boy in the Striped Pajamas, was an international bestseller, selling more than 7 million copies worldwide and being made into a film, a play, a ballet, and an opera. In his native Ireland, he has won three Bord Gáis Irish Book Awards and been short-listed on ten separate occasions. He has also won or been short-listed for a host of international literary awards, including a Stonewall Honor Award and a Lambda Literary Award in the United States. A regular participant in international literary festivals, Boyne has also been a member of the jury for the International Dublin Literary Award, and in 2015 he chaired the jury for Canada's Scotiabank Giller Prize. His novels are published in more than fifty languages.
Related Posts: