Press Releases
Healthy soul food recipes from a mother-daughter literary duo who explores four generations of cooking and eating in one black American family
Soul Food Love: Healthy Recipes Inspired by One Hundred Years of Cooking in a Black Family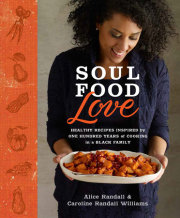 Alice Randall and Caroline Randall Williams
Imprint: Clarkson Potter
On sale: February 3, 2015
Price: $30.00
Pages: 224
ISBN: 9780804137935
Contact:
Anna Mintz
212-572-6186
amintz@penguinrandomhouse.com
In May 2012, Alice Randall, bestselling author of The Wind Done Gone, penned an op-ed in the New York Times titled "Black Women and Fat," chronicling her quest to be "the last fat black woman" in her family. Born from that piece, Soul Food Love: Healthy Recipes Inspired by One Hundred Years of Cooking in a Black Family (Clarkson Potter; February 3, 2015; $30.00; Hardcover), written with her daughter, Caroline Randall Williams, uses the authors' fascinating family history to explore both the forgotten triumphs and the often-fraught relationship African American women have had with food.
Soul Food Love tells the story of five kitchens—three generations of women who each weighed more than two hundred pounds, and a fourth generation that absolutely refused to ever weigh this much. It's the story of one hundred years of cooking and eating in one black American family. In these pages, Alice and Caroline share the kitchen memories and foodways that sustained two great-grandmothers, a grandmother, and, of course, themselves—a mother and daughter.
Once a place of servitude, scarcity, and often violence, kitchens were reclaimed by black cooks as havens of creativity and treasure chests of community memory. Tragically, with the rise of industrialization, kitchens and home cooking have too often been abandoned in favor of fast food, resulting in a culture that celebrates overabundance and overindulgence as compensation for loss. With obesity rates currently skyrocketing in the African American community, Alice and Caroline advocate a powerful new way forward that honors their cultural and culinary heritage by highlighting healthy forgotten soul foods and translating recipes and traditions handed down by generations of black cooks into easy, affordable, and indulgent, but healthful, soul food dishes, including:
SIPS & BITES: Caroline's Hotty Toddy; Pepper Jelly Coins; George Washington Carver's Homemade Peanut Butter
SOUPS: Sweet Potato Broth; African Chickpea Soup; Cold Cucumber Soup
MAIN DISHES: Joan's Niçoise with Okra Ladyfingers; Poet's Pot Pie; Red Bean and Brown Rice Creole Salad; Peanut Chicken Stew
SIDES & SALADS: Any Day Snap Beans; Deford's Spicy Roasted Sweet Potatoes with Pomegranate; Resurrection Salad with Grilled Plums
DESSERTS: Chocolate Communion; Sinless Sweet Potato Pie; Honey Peanut Brittle
Alice and Caroline are two incredibly compelling Southern women who will make a welcome addition to the Southern food conversation, which has been devoid of strong black voices for some time.
# # #
ABOUT THE AUTHORS:
ALICE RANDALLis the New York Times bestselling author of the novels The Wind Done Gone, Pushkin and the Queen of Spades, Rebel Yell, and Ada's Rules and the only person to ever study with Julia Child for credit at Harvard. An acknowledged authority on African American cookbooks, Randall teaches the course "Soul Food, in Text, as Text" at Vanderbilt University. She also writes country music, including Trisha Yearwood's now classic "XXX's and OOO's (An American Girl)." Randall has been recognized by the National Institutes of Health as a Health Champion and is Jamie Oliver's Food Revolution Nashville Ambassador.
CAROLINE RANDALL WILLIAMS, an award-winning published poet and Harvard graduate, is currently pursuing her MFA at the University of Mississippi. She spent two years teaching public school in the Mississippi Delta as a corps member with Teach for America, during which time she coauthored The Diary of B.B. Bright, Possible Princess with her mother, Alice Randall. She owns more than 1,000 cookbooks.
Related Posts:
You Might Also Like