Press Releases
HEADSTRONG: 52 WOMEN WHO CHANGED SCIENCE—AND THE WORLD by Rachel Swaby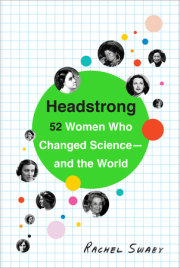 Rachel Swaby
Imprint: Broadway Books
On sale: April 7, 2015
Price: $16.00
Pages: 288
ISBN: 9780553446791
Contact:
Sarah Breivogel
212-572-2722
sbreivogel@penguinrandomhouse.com
Praise for HEADSTRONG
"With a deft touch, Rachel Swaby has assembled an inspiring collection of some of the central figures in twentieth-century science. Headstrong is an eye-opening, much-needed exploration of the names history would do well to remember, and Swaby is a masterful guide through their stories." —Maria Konnikova, New Yorker writer and New York Times bestselling author of Mastermind
"Rachel Swaby's fine, smart look at women in science is a much-needed corrective to the record—a deftly balanced field guide to the overlooked (Hilde Mangold), the marginalized (Rosalind Franklin), the unexpected (Hedy Lamarr), the pioneering (Ada Lovelace), and the still-controversial (Rachel Carson). Swaby reminds us that science, like the rest of life, is a team sport played by both genders." —William Souder, author of On a Farther Shore and Under a Wild Sky

"Headstrong is a true gem. So many amazing women have had an incredible impact on STEM fields, and this book gives clear, concise, easy-to-digest histories of 52 of them—there's no longer an excuse for not being familiar with our math and science heroines. Thank you, Rachel!" —Danica McKellar, actress and New York Times bestselling author of Math Doesn't Suck
"Swaby tells the scientists' stories with energy and clarity. Refreshingly, spouses and children are mentioned only when relevant—and the book is recipe-free." —New York Times Book Review

"Although many of these women may not be familiar names outside their courses of study, the author's spadework should bring them to the forefront, allowing the general public to learn about the females who pushed beyond sexist attitudes to undertake and achieve success in a male-dominated arena. These short accounts should inspire girls who want to study science to follow their dreams. . . . succinct and informative." —Kirkus Reviews
"[W]omen just don't get the encouragement they need and deserve to pursue careers in science. Here's a handy book to help encourage young women to put themselves on the SciTech path, with profiles of 52 women from Nobel Prize winners to major innovators and more who have made a difference in science."—Library Journal
"Swaby's exuberant portrayals make this a compulsively readable title. There is no good reason why every single woman here is not a household name, and now, thankfully, Swaby is helping rectify history's oversight."—Booklist
The number of women working in the fields of math and science lags far behind that of men. While girls take the same number of math and science credits in high school as do boys, and even earn slightly higher grades, by college only 15 percent of women entering a university plan on majoring in a STEM field (science, technology, engineering, and medicine). What accounts for this huge decline? What can be done to inspire more women to enter the fields of genetics, physics, math, astronomy, biology, medicine, and technology? And who are the role models for today's budding female scientists?
In HEADSTRONG: 52 Women Who Changed Science—and the World (Broadway Books, April 7, 2015), Rachel Swaby delivers a powerful and entertaining response. Swaby, a journalist whose work has appeared in Wired, NewYorker.com, O, The Oprah Magazine, Runner's World, and more, writes about science and technology through the lens of human experience. Swaby was galvanized to write HEADSTRONG after coming across a March 2013 New York Times obituary for Yvonne Brill, a brilliant, award-winning rocket scientist who invented a propulsion system to keep communications satellites in orbit, but whose obituary began, "She made a mean beef stroganoff, followed her husband from job to job, and took eight years off from work to raise three children." The obituary—and consequent outcry in response—acted as a flash point, highlighting that the stories told about women in science are skewed. It's not that young women considering STEM fields are lacking role models; it's that the incredible accomplishments of scientists like Brill are often buried. HEADSTRONG seeks to change that."While there are many amazing women working in STEM fields," Swaby says, "the problem is that we aren't reading about them."
HEADSTRONG includes fifty-two insightful and inspiring profiles of women who were recognized during their lifetimes for the notable contributions they made to science, technology, engineering, and math: the first American astronomer to spot a comet, the doctor who developed the Apgar score for newborns, the seismologist who discovered Earth's inner core, the first computer programmer, to name a few.Covering Nobel Prize winners and major innovators, as well as lesser-known but hugely significant scientists who influence us every day, these engaging profiles span centuries of courageous thinkers and illustrate how each subject's ideas developed, from their first moment of engagement with science through the research and discovery for which they're best known. Swaby's book gives these women the attention and respect they deserve—with the aim to encourage and inspire a new generation of girls to put on their lab coats.
ABOUT THE AUTHOR: Rachel Swaby is a freelance journalist. Her work has appeared in  Wired, O, The Oprah Magazine, Runner's World, New Yorker.com, Afar, and other publications. She is a senior editor at Longshot magazine, the editor-in-chief of The Connective: Issue 1, a former research editor at Wired, and a past presenter at Pop-Up magazine. She lives in Brooklyn.

Related Posts: