Press Releases
The Happiness of Pursuit by Chris Guillebeau
Finding the Quest that will Bring Purpose to Your Life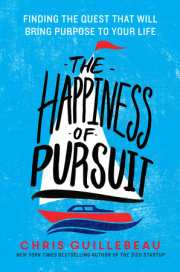 Chris Guillebeau
Imprint: Harmony Books
On sale: September 9, 2014
Price: $26.00
Pages: 304
ISBN: 9780385348843
Contact:
Lauren Cook
212-782-9486
lcook@penguinrandomhouse.com
From visionary social entrepreneur and lifestyle architect, Chris Guillebeau, comes a book about finding purpose and meaning by committing to a life-changing project or quest.
"Even if you prefer never to leave your armchair, this book will inspire you to take a beautiful voyage—one that can be either physical or mental as you chase the thrill of steady accomplishment."
—Susan Cain, cofounder of the Quiet Revolution and New York Times bestselling author of Quiet: The Power of Introverts in a World That Can't Stop Talking
"If you like complacency and mediocrity, do not read this book. It's dangerously inspiring. The Happiness of Pursuit is a how-to guide for avoiding a boring life."
—A. J. Jacobs, New York Times bestselling author of The Know-It-All and The Year of Living Biblically
When he set out to visit all of the planet's countries by age thirty-five, compulsive goal seeker Chris Guillebeau never imagined that his journey's biggest revelation would be how many people like himself exist—each pursuing a challenging quest. The more Chris spoke with these strivers, the more he began to appreciate the direct link between questing and long-term happiness—how going after something in a methodical way enriches our lives—and he was compelled to complete a comprehensive study of the phenomenon and extract the best advice for his new book, THE HAPPINESS OF PURSUIT.
THE HAPPINESS OF PURSUIT is a playbook for making your life count. Guillebeau has discovered that happiness comes from incremental striving (a "quest," if you will) where we see the concrete evidence of what our life has been building toward taking shape.
Chris met hundreds of other questers during his 193-country journey who were committed to years-in-the-making projects: jaw dropping, and thought provoking, attempts to blaze a new artistic trail, reach an intellectual summit, change the world through philanthropy, or smash through a physical barrier. And amazingly, even the quests that weren't superhero scaled—those that consisted of an ordinary job done amazingly well—delivered immeasurable happiness when tackled in an immersive way.
Some of the questers Chris discusses in the book include;
Scott Young who completed the four-year M.I.T. Computer Science curriculum in one year
Sasha Martin who cooked a meal from every country in the world
John Francis who abstained from motorized transport and maintained a vow of silence for 17 years
Alicia Ostarello who went on 1 date in each of the 50 states
Thomas Hawk, on track to take, process, and edit one million photos
In THE HAPPINESS OF PURSUIT, Guillebeau draws on interviews with his fellow questers, revealing their secret motivations, their tricks for leaping the hurdles of time and money, the role played by friends and family, and the importance of writing it all down.
Guillebeau provides us with an inspiring book that challenges us to make our lives have a greater purpose. THE HAPPINESS OF PURSUIT shows us how to get there, the difficulties we may face along the way, and ultimately the joy that can be gained from the journey.
###
About the Author: Chris Guillebeau is an entrepreneur, traveler, and New York Times bestselling author. His first two books were The Art of Non-Conformity and The $100 Startup. Recently, he completed his quest to visit every country in the world before the age of 35. Host of the World Domination Summit, an international gathering of creative people, Chris is focused on encouraging individual quests while also giving back. His main website, ChrisGuillebeau.com, is visited by more than 500,000 people per month.
Related Posts: